A one-week-old baby girl was choking, losing her pulse, and her face began to turn blue in a portrait studio inside a JCPenney store.
This happened at the Clackamas Town Center in Oregon, shortly after noon on Sunday, Sept. 30. The baby's name is Audrey.
When Audrey's parents, Kaylob Harmon and Jessie Siefer, took her to the mall to take family portraits, they noticed something went terribly wrong.
Her mom called 911. Her dad and some shoppers tried to perform CPR but didn't know if they did it correctly.
Three deputies, Jonathon Zacharkiw, Dan Olson, and Jonah Russell, from Clackamas Sheriff Office raced to the studio after receiving the call.
"It looked bad," Russell said. "We didn't know how long she had been without oxygen."
Audrey was unresponsive at that time.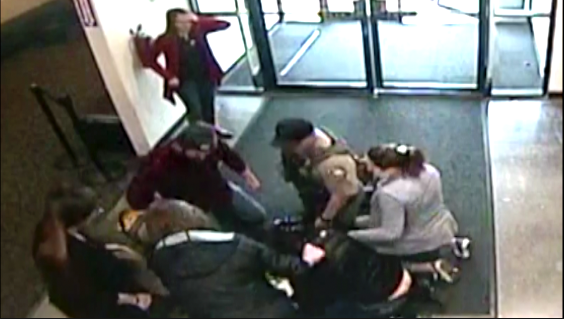 Zacharkiw believed she was choking on fluids and started performing chest compressions while Olson checked the infant's airway with his finger. Russell stabilized Audrey's head, keeping her neck arched and airway open.
Then, Zacharkiw turned Audrey over on her stomach and performed a burping chest pat to remove fluid from the baby's airway.
Zacharkiw turned Audrey over afterward, used a bulbous nose sucker to remove fluid from Audrey's nose and got her pulse back.
Two minutes later, paramedics arrived on the scene and took Audrey to intensive care at the Oregon Health & Science University.
A week later, the three deputies were invited to the hospital room to visit little Audrey whose condition is steadily improving including having her breathing tube removed. Audrey was only 15 days old on Oct. 10.

A wonderful update to yesterday's story. Baby Audrey continues to improve. https://t.co/GXu4ZwRnlp

— Clackamas Sheriff (@ClackCoSheriff) October 10, 2018
"How do you say thank you to somebody who saves your child's life? You can't thank them enough," Audrey's father Kaylob Haron said.
They took a group photo.
"Kaylob told us he wanted a picture to show Audrey one day of the guys who saved her life," reported Zacharkiw. "It was unbelievably heartwarming to be invited back, and amazing to see how far she has progressed since last Sunday. Shortly after we left, Kaylob texted me a few more pictures, excited that the EEG leads had been removed from Audrey's head."

From The Epoch Times