An 11-year-old student at Robb Elementary School in Uvalde, Texas, survived Tuesday's massacre by covering herself with the blood of a friend and playing dead, according to the girl's family.
Miah Cerrillo was forced to watch as her teacher and friends were shot by a lone gunman who massacred 19 students and two teachers before being killed by law enforcement officials.
The girl quickly went into what her aunt described as "survivor mode," making herself appear wounded by smearing the blood of an unidentified female friend on her body.
"Miah got some blood and put it on herself to pretend that she was dead," the girl's aunt, Blanca Rivera, told news station KPRC in an interview.
Rivera's brother said Miah sustained mild injuries, adding that she was hospitalized for treatment but has since been released.
According to a GoFundMe campaign organized to help cover the medical expenses for the girl, she had bullet fragments in her back. Her family also said the terrifying ordeal has left her traumatized.
"She will need a lot of help with all the trauma that she is going through," said Abigale Veloz, Miah's mother and organizer of the fundraiser. "We will need help with her medical expenses that were caused by the bullet fragment on her back."
Before Miah pretended to be dead, she managed to grab the phone of Eva Mireles—a teacher who was killed in the mass shooting—and dialed 911 for help, The Washington Post reported.
In a bid to survive, Miah decided to lay on top of her wounded classmate, so that they both looked dead. The classmate was still breathing when she tried to prevent any further harm to her friend by covering her, but Miah's classmate has since succumbed to her injuries, her father, Miguel Cerillo, confirmed.
Adalynn Ruiz, Mireles's daughter, said on Facebook that her mother died trying to protect her students after she "selflessly jumped in front" of the children.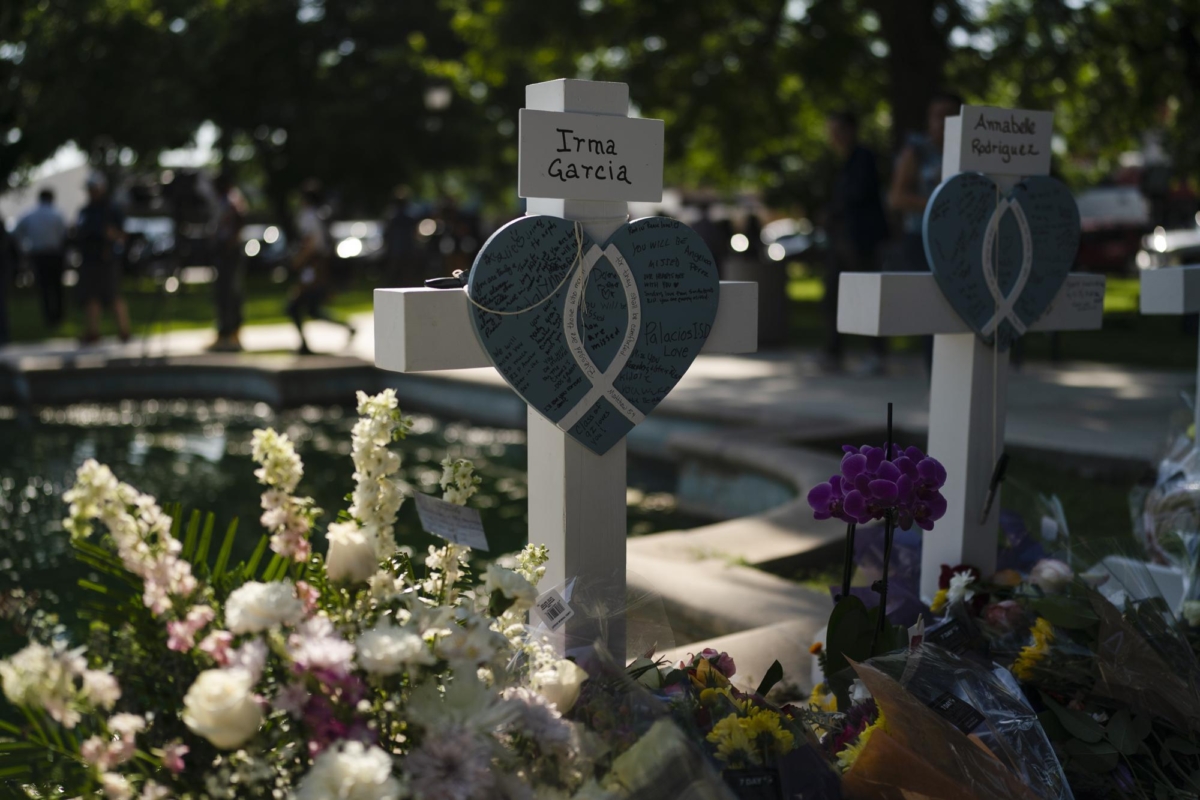 Irma Garcia, another teacher killed at Robb Elementary School, also "sacrificed herself protecting the kids in her classroom," John Martinez, a nephew of the victim, has said.
The Uvalde shooting was the deadliest school shooting in almost a decade and the second-worst elementary school shooting in U.S. history.
A Texas Department of Public Security (DPS) official said the gunman, 18-year-old Salvador Ramos, appeared to have walked "unobstructed" into the building before the incident unfolded.
Members of a U.S. Border Patrol tactical unit breached the classroom and apparently killed Ramos, with one agent wounded in an exchange of gunfire, officials said.