Authorities in Mexico discovered 123 migrants, including 34 children, from Central and South America stuck inside a trailer in the central Mexican state of San Luis Potosi on Nov. 8, officials said.
The migrants were found in the town of Matehuala, a city on the border of Nuevo Leon, after residents reportedly heard cries for help from people inside the abandoned trailer and alerted law enforcement.
Officials who arrived at the scene helped free the migrants and provided them with food, medical assistance, and temporary accommodation, according to Mexico's National Migration Institute (INM).
No injuries have been reported, authorities said.
The majority of the migrants were from Guatemala, Nicaragua, Honduras, and El Salvador, according to officials. Four of those found were also from Ecuador and one was from Cuba.
It is not clear how or why the migrants were abandoned in the trailer or exactly where they were heading, and officials didn't comment further on the matter, although such groups typically attempt to reach the United States.
The discovery of the migrants came on the same day that police in Ciudad Juarez—which is located across the border from El Paso, Texas—found 11 Guatemalan migrants trapped inside a house.
Three alleged human smugglers, two of whom are just 16 years old, have been arrested in relation to the discovery of those migrants, according to the Chihuahua state security department.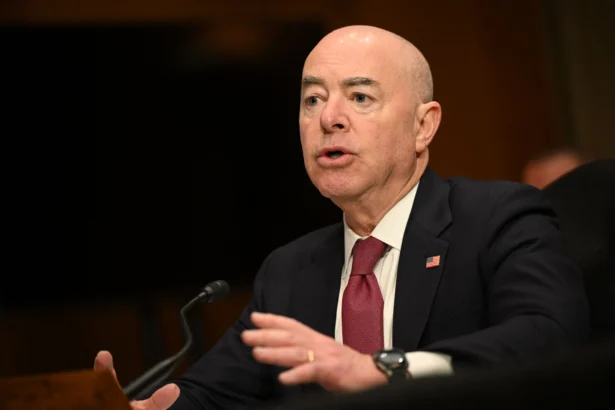 Resolution Calls for Mayorkas Impeachment
Chihuahua's attorney general has also opened an investigation into the suspects.
The latest discovery of migrants stuck inside the abandoned trailer came just one day before Rep. Marjorie Taylor Greene (R-Ga.) introduced a resolution calling for the impeachment of Department of Homeland Security (DHS) Secretary Alejandro Mayorkas over his handling of the southern border.
Republicans have in recent months called for Mr. Mayorkas—President Joe Biden's top border official—to resign amid the ongoing immigration crisis, pointing to, among other things, the Biden administration's decision to roll back a number of policies put in place by former President Donald Trump that made it harder for most immigrants to claim asylum protections.
A report released in October by the House Judiciary Committee Chairman Jim Jordan (R-Ohio) and Immigration Subcommittee Chairman Tom McClintock (R-Calif.) found that the Biden administration had failed to remove more than 99 percent of illegal immigrants encountered at the U.S.–Mexico border between Jan. 20, 2021 and March 31, 2023.
Reading out the resolution Thursday, Ms. Greene accused Mr. Mayorkas of violating his oath of office by failing to sufficiently handle the record numbers of migrants arriving at the border.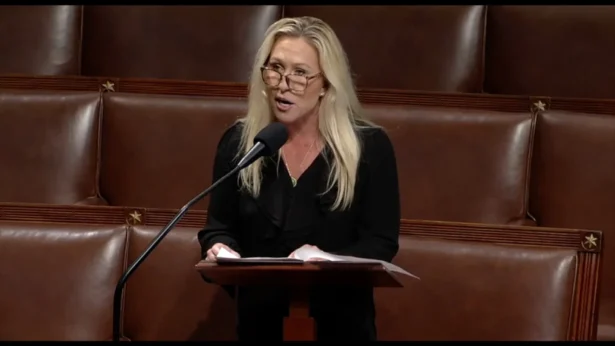 DHS Condemns 'Baseless Attacks'
She also accused him of high crimes and misdemeanors related to the surge in immigrants which has also led to an increase in drug traffickers.
"Alejandro Nicholas Mayorkas, in his inability to enforce the law, has engaged in a pattern of conduct that is incompatible with his duties as a civil officer of the United States," Ms. Greene said.
Prior to delivering the resolution, Ms. Greene told reporters that two of her constituents were killed recently in a car accident when a vehicle suspected of carrying smuggled immigrants fled from police during a high-speed chase and crashed.
"This isn't just a southern border issue, it's affecting our whole country and we have to do something about it," the Republican lawmaker said after introducing the privileged resolution.
Thursday's motion requires the Republican-led House to vote on the matter within the next two legislative days and could still be blocked by Democrats.
Mr. Mayorkas and DHS have repeatedly denied Republicans' claims that he has broken the law during his time in office.
Responding to the impeachment motion Thursday, DHS spokeswoman Mia Ehrenberg said in a statement to ABC News, "While the House Majority has wasted months trying to score points with baseless attacks, Secretary Mayorkas has been doing his job and working to keep Americans safe."
"Instead of continuing their reckless impeachment charades and attacks on law enforcement, Congress should work with us to keep our country safe, build on the progress DHS is making, and deliver desperately needed reforms for our broken immigration system that only legislation can fix," Ms. Ehrenberg added.
The Associated Press and Reuters contributed to this report.
From The Epoch Times