Sen. Bill Cassidy (R-La.), the ranking member of the Health, Education, Labor, and Pensions (HELP) Committee, and 16 of his Senate Republican colleagues are backing a resolution under the Congressional Review Act (CRA) to disapprove of President Joe Biden's proposed Income-Driven Repayment (IDR) college loan bailout plan.
"Once again, Biden's newest student loan scheme only shifts the burden from those who chose to take out loans to those who decided not to go to college, paid their way, or already responsibly paid off their loans," Mr. Cassidy said in a statement. "Our resolution protects the 87 percent of Americans who don't have student debt and will be forced to shoulder the burden of the President's irresponsible and unfair policy."
The Cassidy CRA (pdf) mirrors an identical measure introduced in the House of Representatives by Rep. Lisa McClain (R-Mich.). Joining Mr. Cassidy in co-sponsoring the Senate CRA are Senate Minority Whip John Thune of South Dakota, as well as Sens. John Cornyn of Texas, John Barrasso and Cynthia Lummis of Wyoming, Mike Braun of Indiana, Mike Crapo and James Risch of Idaho, Steve Daines of Montana, Joni Ernst and Chuck Grassley of Iowa, Cindy Hyde-Smith of Mississippi, Ron Johnson of Wisconsin, James Lankford of Oklahoma, Roger Marshall of Kansas, Tim Scott of South Carolina, and Thom Tillis of North Carolina.
Secretary of Education Miguel Cardona unveiled President Biden's second attempt—named the Saving a Valuable Education (SAVE) Act—to provide forgiveness for an estimated $559 billion in government-subsidized loans taken out by millions of present and former undergraduate and graduate students.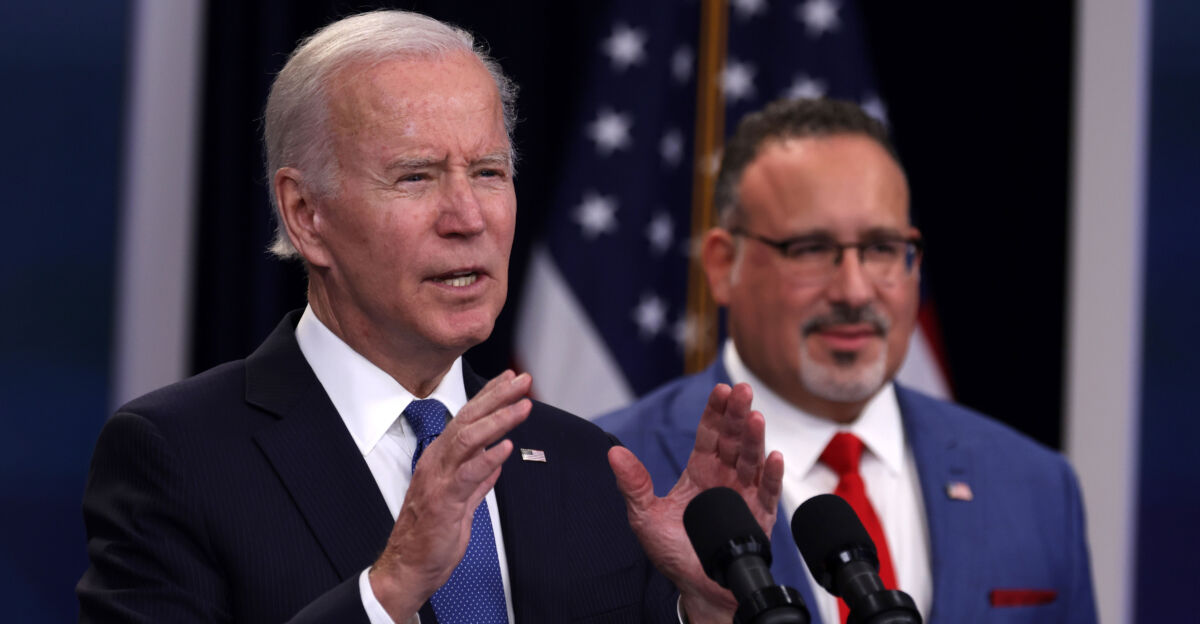 Previous Defeat in Supreme Court
The SAVE proposal followed a 6–3 Supreme Court decision on June 30 that held Biden's first college loan forgiveness proposal to be an unconstitutional unilateral exercise of presidential authority. That proposal would have forgiven more than $400 billion in unpaid loans, according to the Congressional Research Service, but a Wharton School analysis said the cost could go beyond $1 trillion.
Mr. Cassidy and other Republicans in both the Senate and the House had introduced similar resolutions prior to the Supreme Court decision and aimed at the first Biden proposal. Simple majorities in both the Senate and the House must vote for the CRA resolution to stop a proposed executive branch rule like the SAVE Act.
In announcing the second Biden proposal, Mr. Cardona said "starting today, millions of borrowers can reduce their monthly student loan bills by enrolling in the SAVE plan, the most affordable repayment plan in history. The SAVE plan is another huge step forward in President Biden's tireless efforts to fix the broken student loan system, reduce the burden of student debt on working families, and put borrowers first."
Mr. Cardona added that the SAVE approach "isn't just about helping borrowers today, it's about creating a more affordable pathway for millions of aspiring students who dream of earning college degrees and achieving the American dream. That's exactly what the Biden-Harris Administration has fought to do since day one."
But congressional Republicans view the Biden proposal as "incredibly unfair" to individuals who either didn't go to college or those who did attend but saved enough money to avoid having to take out loans, as well as those who already repaid their loans, according to Mr. Thune.
Mr. Cornyn said the CRA resolution "would stop this indefensible debt scheme in its tracks and shield Americans from an unfair financial burden."
Among the objectionable provisions of the Biden proposal, according to the Senate Republicans, are those that reduce payments for undergraduate loans from 10 percent of discretionary income to 5 percent, and that increases assumed expenses to 225 percent of the federal poverty line, up from 150 percent, thus making it all but certain the individual would have no discretionary income and thus no payment due.
Among the consequences of allowing the Biden proposal to become law, according to Republicans, are making 91 percent of all student loan debt transferable to taxpayers, and in the long run only half of every dollar loaned will ever be repaid.
From The Epoch Times