The Chinese Communist Party (CCP) sent 18 aircraft and four naval vessels toward Taiwan on Saturday, Taiwan's Defense Ministry said, as Taiwanese President Tsai Ing-wen visited the island's Central American allies.
Taiwan's military detected the Chinese aircraft and naval vessels at around 6 a.m. (local time), with 10 aircraft spotted crossing the Taiwan Strait median line, the ministry said in a statement posted on Twitter.
Taiwan responded by deploying aircraft, navy vessels, and land-based missile systems to monitor the Chinese military's activities.
This came after Beijing threatened retaliation if Tsai meets with U.S. House Speaker Kevin McCarthy (R-Calif.) during her 10-day trip to Guatemala and Belize—two of the 13 nations that have formal diplomatic ties with Taiwan—which began on March 29.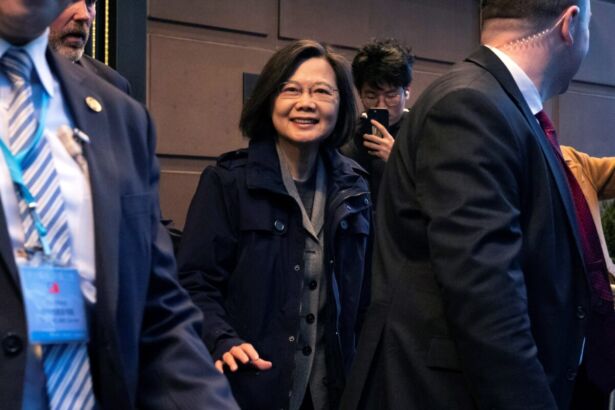 Tsai arrived in Guatemala on Friday and met with her counterpart, Alejandro Giammattei. The two nations signed a "basic cooperation agreement" after the leaders' meeting, according to Tsai's Office.
The Taiwanese leader is expected to visit Belize afterward and make stopovers in Los Angeles on her way back.
CCP Warns of 'Serious Confrontation'
Taiwan's government has said Tsai's trip to Central America involves transits that are standard practice and has warned Beijing not to use them as a pretext for aggressive action toward the self-ruled island.
However, China's charge d'affaires Xu Xueyuan said the CCP views her transit as a disguise for Tsai's intention to advocate Taiwan's independence and warned that it could lead to "serious confrontation in the U.S.-China relationship."
"As we say, 'those who play with fire will perish by it.' This is not a threat. The Chinese government must react to violations of the 'One China' principle," Xu told reporters in Washington on Wednesday.
The CCP staged military drills around Taiwan following then-House Speaker Nancy Pelosi's (D-Calif.) visit to the self-ruled island in August 2022, and restricted military-to-military communication with the Pentagon.
It remains unclear whether Beijing will respond with a comparable action this time.
US Defends Tsai's Visit
U.S. National Security Council Coordinator for Strategic Communications John Kirby said the transit was in line with policy and the history of trilateral relations between the United States, China, and Taiwan.
"It is Taiwan's decision to make these transits based on their own travel," Kirby said. "Transits are not visits, they are private and they are unofficial."
"I would also remind everyone that this is not new. Every Taiwan president has transited the United States."
Kirby said Tsai had transited the United States six times since 2016 without incident. The United States and China should continue to peacefully manage the situation as such, he added.
"The United States and China have differences when it comes to Taiwan, but we have managed those differences for more than 40 years," he said. "There's absolutely no reason for Beijing to act differently in this regard."
'Taiwan Cannot Be Isolated'
Tsai said on Wednesday that Taiwan's partnerships with the United States and other democracies have become "more critical than ever" given the "tremendous challenges" faced by the island.
"In facing these challenges, we know that we are stronger when we stand together, in solidarity, with fellow democracies," she said at a banquet with the local and Taiwanese expatriate communities in New York.
"Taiwan cannot be isolated, and we do not take friendship for granted. We are thankful to all those who stand with us, and we are confident that Taiwan will continue to stand tall, free, democratic, and with dignity."
The CCP views Taiwan as part of its territory that must be united with mainland China by any means necessary. Beijing had repeatedly warned U.S. officials not to meet with Tsai as it views such meetings as support for Taiwan's desire to be seen as an independent country.
Though the United States and Taiwan do not share formal diplomatic relations, the two powers have pursued deep commercial and cultural ties over the course of decades.
Andrew Thornebrooke and Katabella Roberts contributed to this report.
From The Epoch Times