Two California men made plans to blow up the Democratic Party headquarters in Sacramento, authorities said in recently lodged charging documents.
Ian Benjamin Rogers, 45, of Napa, and Jarrod Copeland, 37, of Vallejo, prompted by the outcome of the 2020 presidential election, began on Nov. 25, 2020, to plot an attack against targets they linked with Democrats.
Within days, the men chose the John L. Burton Democratic Headquarters in Sacramento, the state capitol, as their first target, and reached out to an anti-government militia group to attempt to gather support for the plan, according to court documents obtained by The Epoch Times.
Copeland allegedly told Rogers in December 2020 that he obtained material that would be used in the bombing while Rogers allegedly told Copeland about a month later that "I want to blow up a democrat building bad," adding, "I'm thinking sac office first target."
"I agree," Copeland allegedly responded on a messaging platform. "Plan attack."
"Let's see what happens after the 20th we go to war," Rogers is accused of saying.
President Joe Biden was sworn into office on January 20.
Law enforcement officers found between 45 and 50 guns as well as thousands of rounds of ammunition and five pipe bombs when they searched Rogers' house on January 15. A search of Rogers' home two days later included the seizure of electronic devices, on which were communications with Copeland that were missing from Copeland's phone.
Copeland deleted the communications, authorities allege.
The men face multiple counts, including conspiracy to destroy a building and possession of unregistered destructive devices. They face decades in jail if convicted.
The indictment was filed last week but unsealed Thursday.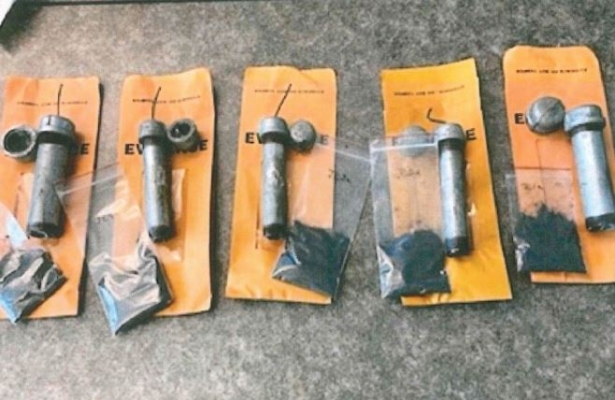 Rogers was initially arrested in January. An FBI agent said Rogers admitted to building the pipe bombs found in his home but claimed they were for entertainment purposes only. She said a sticker on his vehicle indicated he identified with the "Three Percenters," a network that ascribes to anti-government and pro-gun beliefs. And she said that text messages recovered from Rogers' phone indicated that he believed former President Donald Trump won the 2020 election and wanted to attack Democrats to try to keep Trump in office.
"I hope 45 goes to war if he doesn't I will," he allegedly wrote in one message. Trump was the nation's 45th president.
A bomb technician with the Napa County Sheriff's Office examined the bombs and deemed them fully operational.
Rogers was already being held and is due to appear in court on July 30. Copeland was arrested Wednesday and is slated to appear next week.
A lawyer for Rogers did not respond to a request for comment. Copeland did not have a lawyer listed.
"Firebombing your perceived political opponents is illegal and does not nurture the sort of open and vigorous debate that created and supports our constitutional democracy," Stephanie Hinds, the acting U.S. attorney for the Northern District of California, said in a statement. "The allegations in the indictment describe despicable conduct. Investigation and prosecution of those who choose violence over discussion is as important as anything else we do to protect our free society."
The FBI and the Napa County Sheriff's Office cooperated in the investigation.
California Democratic Party Chair Rusty Hicks said the allegations were "extremely disturbing."
"We are relieved to know the plot was unsuccessful, the individuals believed to be responsible are in custody, and our staff and volunteers are safe and sound," Hicks said in a statement to news outlets. "Yet, it points to a broader issue of violent extremism that is far too common in today's political discourse."
From The Epoch Times