Nearly half the governors in the United States have thrown their support behind Texas Gov. Greg Abbott, saying they're ready to help deal with the spike in illegal immigration at the southern border.
"The federal government's response handling the expiration of Title 42 has represented a complete failure of the Biden Administration," Iowa Gov. Kim Reynolds and 23 other Republican governors said in a May 16 statement. "While the federal government has abdicated its duties, Republican governors stand ready to protect the U.S.–Mexico border and keep families safe."
Title 42, a public health order that enabled the quick expulsion of some illegal immigrants due to concerns they carried COVID-19, expired at the start of May 12. U.S. officials had predicted a jump in illegal immigration when Title 42 ended, on top of an already-elevated number of illegal immigrants streaming across the border each day under President Joe Biden's loosened border policies, though they said on Monday that the number of encounters had actually dropped after the order expired.
Officials have also announced several new policies, including one restricting eligibility for asylum, but some have been put on hold by courts.
Abbott, a Republican, on Tuesday urged governors across the nation to step in to help his administration amid what he described as the federal government's "absence."
"We, as Governors, must band together to combat President Biden's ongoing border crisis and ensure the safety and security that all Americans deserve," he wrote in a letter sent to each governor. "Join us in the mission to defend our national sovereignty and territorial integrity and send all available law enforcement personnel and resources to the Texas-Mexico border to serve alongside our thousands of Texas National Guard soldiers and Texas Department of Public Safety (DPS) troopers."
The 24 governors said in response that Abbott "has exemplified leadership at a critical time … to prevent illegal crossings and keep the border secure" and that they support his efforts.
In addition to Reynolds, the supportive governors are Alabama Gov. Kay Ivey, Alaska Gov. Mike Dunleavy, Arkansas Gov. Sarah Sanders, Florida Gov. Ron DeSantis, Georgia Gov. Brian Kemp, Idaho Gov. Brad Little, Indiana Gov. Eric Holcomb, Missouri Gov. Mike Parson, Mississippi Gov. Tate Reeves, Montana Gov. Greg Gianforte, Nebraska Gov. Jim Pillen, North Dakota Gov. Doug Burgum, New Hampshire Gov. Chris Sununu, Nevada Gov. Joe Lombardo, Ohio Gov. Mike DeWine, Oklahoma Gov. Kevin Stitt, South Carolina Gov. Henry McMaster, South Dakota Gov. Kristi Noem, Tennessee Gov. Bill Lee, Utah Gov. Spencer Cox, Virginia Gov. Glenn Youngkin, West Virginia Gov. Jim Justice, and Wyoming Gov. Mark Gordon.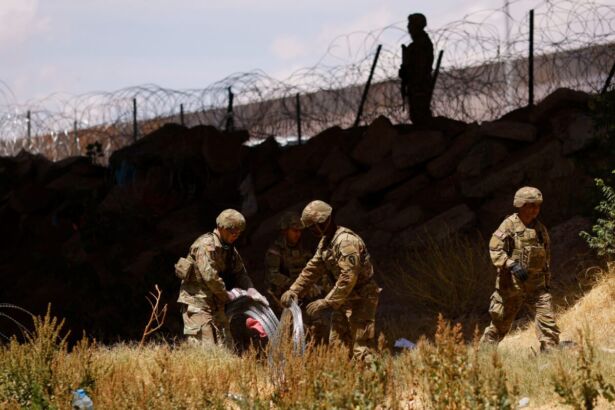 Troops Sent
Several of the governors have dispatched troops to Texas.
Reeves said he was deploying National Guard troops to help combat drug and human trafficking.
"Every state has become a border state, and every day we're seeing the terrible impact of this humanitarian and national security crisis," Reeves said in a statement. "What happens at the border doesn't stay there. Drugs and people are trafficked to every state in the nation—including Mississippi."
DeSantis said he was deploying law enforcement and National Guard personnel to the border in response to Abbott's request.
"The impacts of Biden's Border Crisis are felt by communities across the nation, and the federal government's abdication of duty undermines the sovereignty of our country and the rule of law," DeSantis said in a statement. "While Biden ignores the crisis he created, Florida stands ready to help Texas respond to this crisis."
The federal government has challenged critics who say officials are ignoring the crisis. Homeland Security Secretary Alejandro Mayorkas said more than 24,000 Border Patrol agents and officers were prepared to enforce border policies as Title 42 ended, with support from thousands of troops deployed on orders from Biden.
"Do not believe the lies of smugglers. The border is not open," he said in a statement. "People who do not use available lawful pathways to enter the U.S. now face tougher consequences, including a minimum five-year ban on re-entry and potential criminal prosecution. Together with our partners throughout the federal government and Western Hemisphere, we are prepared for this transition."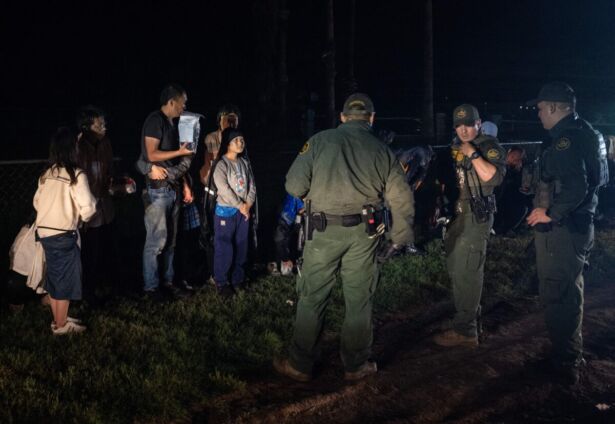 Encounters Drop
The number of encounters with illegal immigrants dropped to an average of 5,000 per day since Title 42 ended, down from daily highs of more than 10,000 last week, Blas Nunez-Neto, a Department of Homeland Security official, told reporters on a call on Monday.
He described the situation as "very fluid" while attributing the decrease to several factors, including the Biden administration's tightening of asylum eligibility and countries to the south stepping up border security.
"This is a continuously evolving situation that we are monitoring in real time," Nunez-Neto said. "We are processing people safely, orderly and humanely, and quickly delivering consequences to those that do not establish a legal basis to remain in the United States."
Thousands of illegal immigrants were deported over the weekend, the official said.
Under Biden, officials have repeatedly released illegal immigrants into the U.S. interior, including some without a court date. Many asylum seekers are ultimately rejected but deportations have plunged under the current administration. A U.S. judge ordered the administration to stop releasing illegal immigrants without a court notice, and threatened on Monday to hold Biden officials in contempt after some illegal immigrants continued to be released after he ordered a halt to the practice.
Reuters contributed to this report. 
From The Epoch Times