MEMPHIS, Tenn.—Five former Memphis police officers on Friday pleaded not guilty to second-degree murder and other charges stemming from last month's death of Tyre Nichols.
Police video captured images of the officers beating and kicking Nichols, hitting him with a baton, spraying him with pepper spray and firing a stun gun at him on Jan. 7 following a traffic stop.
The five officers, all of them out on bail, entered their pleas during an arraignment in Shelby County Criminal Court in Memphis, where they are formally charged with second-degree murder, aggravated assault, aggravated kidnapping, official misconduct and official oppression.
The five officers—Tadarrius Bean, Demetrius Haley, Emmit Martin, Desmond Mills Jr., and Justin Smith have been fired from the police force, and the special unit to which they belonged has been disbanded.
Shelby County Judge James Jones set a May 1 date for the next hearing in the case against the officers, who face a maximum penalty of 60 years in prison if convicted of the murder charge.
"We understand that there may be some high emotions in this case, but we ask that you continue to be patient with us," Jones said during the hearing. "Everyone involved wants this case to be concluded as quickly as possible."
A sixth officer, Preston Hemphill, was also fired, as were three Memphis Fire Department emergency medical technicians who arrived after Nichols was beaten. Two Shelby County sheriff's deputies who responded to the scene were suspended five days without pay.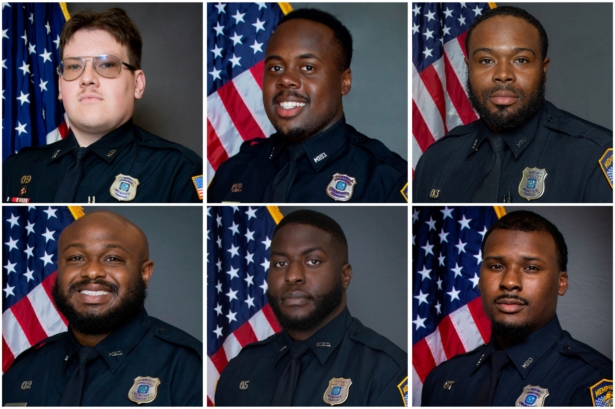 Nichols—a 29-year-old father, avid skateboarder and student of photography—attempted to converse with police as they shouted orders and threatened him with violence during last month's ordeal.
Officers on the video said Nichols had swerved through traffic dangerously, and one said Nichols attempted to grab his gun during the scrum.