Former President Donald Trump's fans in a Fox News audience made it clear: They like his toughness—and they miss the ways his policies benefited America and the world during his presidency.
The town hall-style forum in Clive, Iowa, began and ended with cheers and standing ovations from the crowd, which applauded and whistled when host Sean Hannity said he assumed that almost everyone there would be voting for Trump to become the Republican party's nominee for president.
Hannity told Trump that he often hears people ask why Trump has to call people names and behave so brashly. They wonder why he doesn't "tone it down", Hannity said.
Trump responded: "I won an election. It was unprecedented … and from the day I got in [office], I was under siege … If I wasn't tough, I wouldn't be here right now." That answer drew one of the most sustained cheers of the hourlong event.
Hannity said the "massive, incredible, enthusiastic" audience came out in "rain, thunder and lightning" for the chance to hear Trump speak in person and possibly ask him a question. During the live town hall, only two audience members were able to ask questions. But Hannity said another segment with more audience questions would be videotaped for later broadcast.
Trump's appearance in a friendlier atmosphere at the more conservative Fox network contrasted sharply with the town hall that left-leaning CNN hosted three weeks ago. Although the CNN audience was filled with Republican voters who seemed mostly Trump-friendly—drawing criticism from CNN's liberal audience—CNN moderator Kaitlan Collins frequently interrupted Trump and got into contentious exchanges with him.
Hannity said: "Unlike 'fake news' CNN, it's not my job to sit here and debate the candidate. We're going to ask him about the issues of the day that actually matter to the people."
Here are five takeaways from Hannity's interview and the two audience questions.
Veteran Misses Trump
The first question from the audience came from a man named Mike who was wearing a Trump T-shirt with the words, "Do you miss me?"
Mike said he was a veteran who used medical services through the Veteran's Administration (VA). He was able to see doctors promptly there while Trump was in office. Within a month of Trump's departure from office, wait times increased dramatically. Mike said he had to wait up to eight months for subsequent appointments.
When he asked why, Trump said, "They let the system break."
Energy Prices, Inflation, Taxes Too High
Another audience member asked Trump what he would do to fix the economy; Trump said, "Inflation is a killer of countries … it's a cancer to a country."
He said he would return to increasing oil production, which would help energy prices to decrease, followed by overall inflation.
"Our economy right now is a total mess," Trump said.
The audience applauded when he reminded them that gasoline was at $1.87 a gallon or even lower while he was in office, in contrast to today's prices. The current national average is $3.57 per gallon, according to AAA.
Fans also cheered Trump for cutting taxes and providing $28 billion in subsidies to farmers, funded with tariffs on Chinese imports.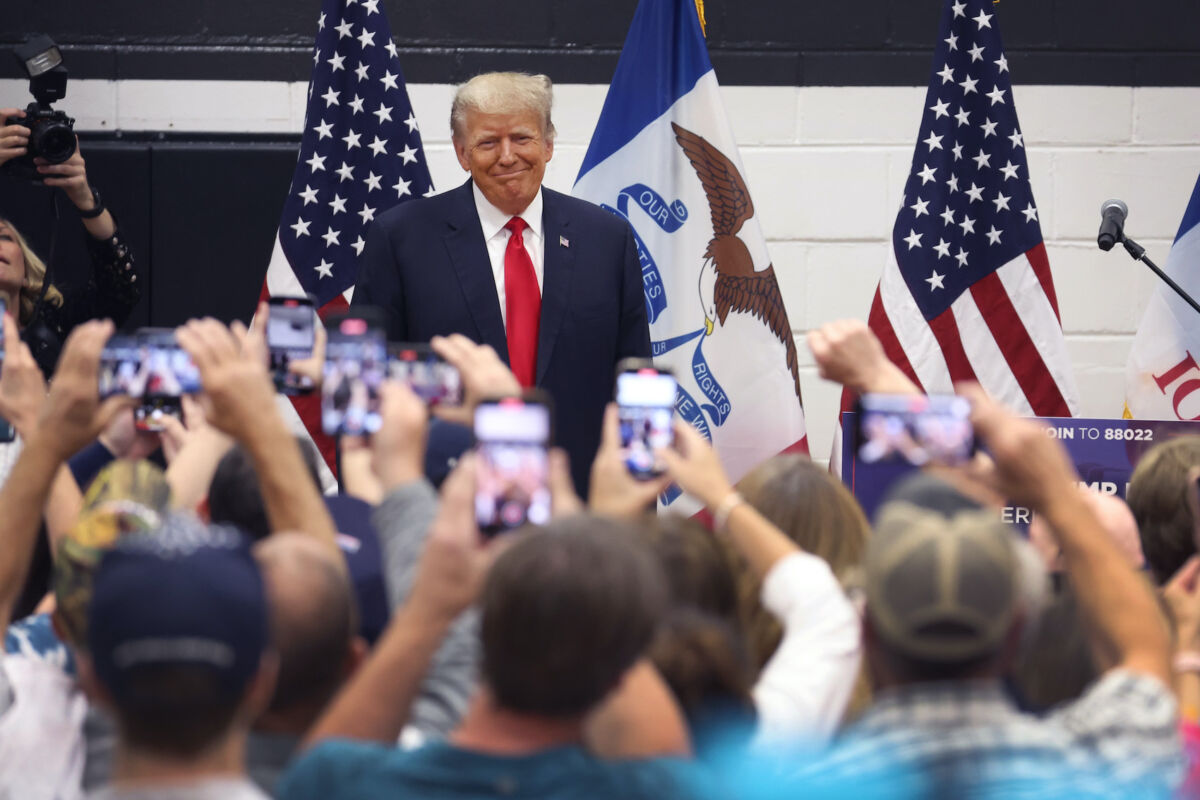 Better Than Biden, Others
Trump said it doesn't really bother him that the Republican field of candidates for the presidency is growing. But he also said he couldn't figure out why some of the candidates are entering the race or continuing when they have little or no chance of winning.
Polls show some of the other candidates pulling only 1 percent of the vote, Trump said.
"The one who's second" in the polls, Florida Gov. Ron DeSantis, stated that it would take two terms—eight years—to clean up the mess our nation now faces. But Trump, who has already served four years, could only serve one more term. Trump responded that he only needed six months to get the economy "hopping."
"If he needs eight years, don't vote for him," Trump said.
Trump only took a few swipes at Democrat President Joe Biden, even though Hannity pointed out the president's embarrassing fall at an Air Force Academy graduation in Colorado earlier in the day.
In fact, Trump revealed that he had previously counseled Hannity that he shouldn't make light of Biden's apparent deteriorating physical condition.
Trump and Hannity both said polls are showing that Trump has the best chance of beating Biden among all the other Republican presidential hopefuls.
"We can't take a chance on this election," Trump said as the audience cheered.
Trump decried the fact that he has been investigated relentlessly while Biden "is being protected" by federal agencies that should have instead aggressively investigated him and his son, Hunter Biden, for foreign business deals and influence-peddling.
The former president also insists that he did nothing wrong with his handling of classified documents. He said Biden "has 1,850 boxes" with a lot of classified materials in them.
That investigation and others are "about election interference," Trump said, adding: "It's a continuation of the greatest witch hunt of all time. It's a hoax."
Safer World
Trump has repeatedly stated that he would end the war between Ukraine and Russia in 24 hours. When Hannity asked how he would do that, Trump said he knows how to talk to leaders of both countries.
He also said he was able to see that Russian President Vladimir Putin wanted to take over Ukraine.
"It was always the apple of his eye. I could see that," Trump said.
Trump hinted about the threats that he apparently made to keep Putin in check.
"I said things that were very bad, very nasty," Trump said without disclosing specifics.
Trump thinks Putin believed only about "10 percent" of Trump's admonition, but that was enough.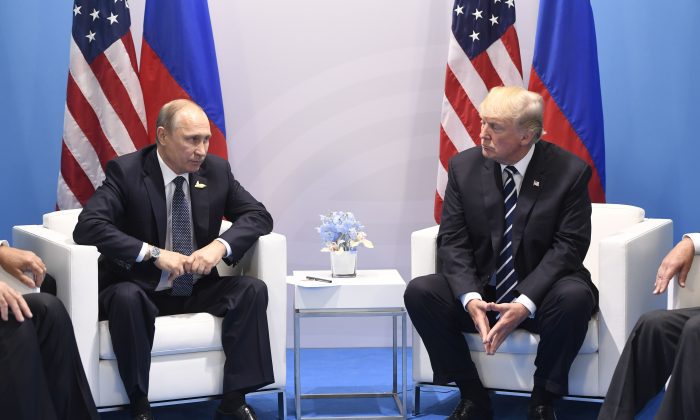 After Biden hastily pulled U.S. forces out of Afghanistan and left military equipment behind, Putin and other world leaders saw that as a sign of American weakness, Trump said.
Abortion Stance Like Ronald Reagan
When Hannity noted that abortion has again emerged as a significant campaign issue, Trump took credit for appointing the U.S. Supreme Court justices who helped overturn the Roe v. Wade ruling that had stood for a half-century, protecting the right to abortion in most cases.
Trump said his views on abortion are similar to those espoused by the late President Ronald Reagan. Both believe that abortions should be allowed in cases of rape, incest, or danger to the mother's life.
He thinks about 85 percent of people are willing to agree with that sort of compromise.
As for candidates who say they have done more on the abortion issue, Trump said, "Only stupid people say that."
From The Epoch Times