Some 6 months of ongoing conflict between the Sudanese Armed Forces (SAF) and the Rapid Support Forces (RSF) paramilitary group has claimed 9,000 lives and displaced 5.6 million people, a U.N. head of humanitarian affairs has said.
"For six months, civilians—particularly in Khartoum, Darfur, and Kordofan—have known no respite from bloodshed and terror," wrote Martin Griffiths, under-secretary general for humanitarian affairs and the United Nations' emergency relief coordinator, in a statement.
"Horrific reports of rape and sexual violence continue to emerge, and clashes are increasingly taking place along ethnic lines, particularly in Darfur," he said.
According to the U.N., since April the armed conflict has driven more than 5.6 million people from their homes. Some 1.2 million, including many without passports, have fled the nation, and sought refuge in neighboring countries—primarily Egypt, Chad, and South Sudan.
According to the U.N., about 25 million Sudanese nationals—more than half of the population—is currently in need of humanitarian aid.
"The impact of this conflict on Sudan and the region cannot be overstated," Mr. Griffiths said.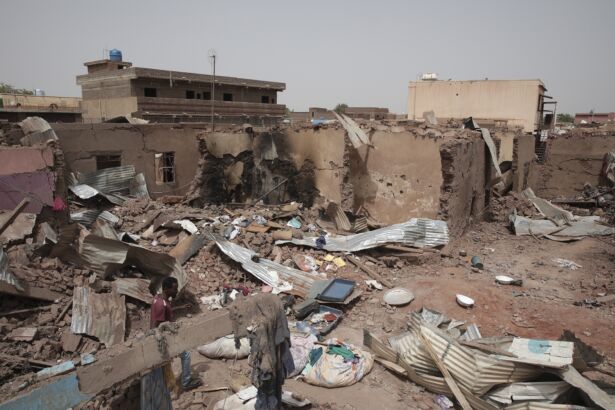 Many areas affected by the conflict remain inaccessible to U.N. field teams. This is partly due to administrative hassles but is also related to security concerns, as at least 45 aid workers—all Sudanese nationals—have either been killed or detained since mid-April.
"Even in areas we can access, humanitarians are hamstrung by underfunding: Just 33 per cent of the $2.6 billion required to help those in need in Sudan this year has been received," Mr. Griffiths wrote.
As early as July, U.N. Secretary-General António Guterres appealed to the warring forces for a "durable cessation" of hostilities to at least allow humanitarian initiatives to take place.
The same month, the International Criminal Court's prosecutor declared that an investigation into alleged war crimes and crimes against humanity was being launched in the wake of the latest atrocities in the region.
The war has turned the greater Khartoum area—the capital of Khartoum and the cities of Omdurman and Khartoum North—into the main battleground, with airstrikes and shelling taking place on a regular basis.
"Basic services are crumbling. More than 70 percent of health care facilities in conflict areas are out of service. The fighting is keeping 19 million children out of school, significantly setting back their education and the country's future," Mr. Griffiths said.
To make matters worse, a cholera outbreak has been reported in the capital of Khartoum and in 2 other states—with more than 1,000 suspected cases in total.
"It is time for parties to the conflict to uphold their obligations under international humanitarian law," he concluded. "It is time for them to honor the commitments they made in Jeddah to protect civilians and allow humanitarian aid. It is time for them to recommit to dialogue at the highest levels to end this conflict, once and for all."
The RSF is a paramilitary force composed of allied Arab militias that fought on the side of the Sudanese government in the war in Darfur. Their actions in Darfur have been described as crimes against humanity by the U.N., Human Rights Watch, and other human rights watchdogs.
The RSF aided the SAF military junta in taking control of the country in 2019, but turned against the junta in April.