Seven people were killed and up to six were injured on Sunday morning after they were struck by a vehicle while waiting at a city bus stop outside of a shelter for illegal immigrants in the border city of Brownsville, Texas, police said.
Brownsville police investigator Martin Sandoval told The Associated Press the crash happened about 8:30 a.m. local time. He told local outlets that seven people died at the scene and 10 others were injured and taken to nearby hospitals.
One of the victims alleged that they were sitting on the curb near a bus stop when a Range Rover hit the group. Luis Herrera said that he and others were waiting to go to the airport when they were hit. He didn't provide details about whether he was with a group of illegal immigrants.
"We were going to the airport and it happened unexpectedly because a woman in a car passed by and advised us to separate and moments later the killer was coming in the car gesturing and insulting us," Herrera told
Speaking to the Valley Central, Sandoval said the driver was arrested on charges of reckless driving but more charges will likely be filed. It appears to be an intentional act, Sandoval said.
However, he told CNN that some witnesses said the driver appeared to have "los[t] control" of the vehicle.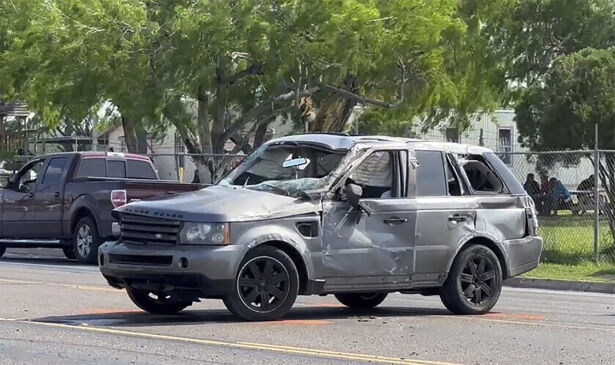 Authorities told
The director of the nearby Bishop Enrique San Pedro Ozanam Center told AP that most of the victims were of Venezuelan origin. Nearly all of them were males, he said.
He said that video footage captured an SUV that "ran the light that was about a hundred feet away and just went through the people who were sitting there in the bus stop," director Victor Maldonado told AP.
Brownsville, Texas, is located in the very southern tip of Texas across from Matamoros, Mexico. The town has been beset with illegal immigrants in recent years, namely after Trump-era restrictions were lifted by the Biden administration.
It comes as the Trump administration's Title 42 health order to prevent the spread of COVID-19 is slated to expire. Some immigration officials have said that another wave of illegal migrants will enter the United States when restrictions are lifted on May 11.
The incident comes just hours after a suspect shot and killed nine people and injured more in a mall in Allen, Texas, located near Dallas. Few details about that incident, including the suspect or motive, have been released.
The Associated Press contributed to this report.
From The Epoch Times