At least seven people have been killed and dozens are still missing after torrential rains hit Greece, Turkey, and Bulgaria on Sept. 5, prompting flash flooding.
In Turkey, two people died in the city of Istanbul after flash flooding swept through the streets in the districts of Arnavutköy, Başakşehir, and Küçükçekmece, leaving many of them completely submerged, minister of internal affairs Ali Yerlikaya said.
Video footage shared online shows some residents left stranded, forced to stand on top of their vehicles as the streets were turned into giant lakes.
The country's minister of health Fahrettin Koca said 12 people also sustained injuries owing to flooding, while the Istanbul Municipality said around 1,754 houses and workplaces were also impacted by the heavy rain.
The flooding also temporarily shut down some subway stations, a hospital, and some main roads, officials said.
More than 2,000 emergency personnel were deployed overnight to help locals stranded in their homes, businesses, and vehicles following the flooding, according to officials.
Elsewhere in the country, Mr. Yerlikaya said two people were killed and four others were missing after flash flooding swept into a campsite in Kirklareli province, which is located near the border with Bulgaria.
Approximately 12 people were holidaying in the area at the time when the flash flooding occurred, he said.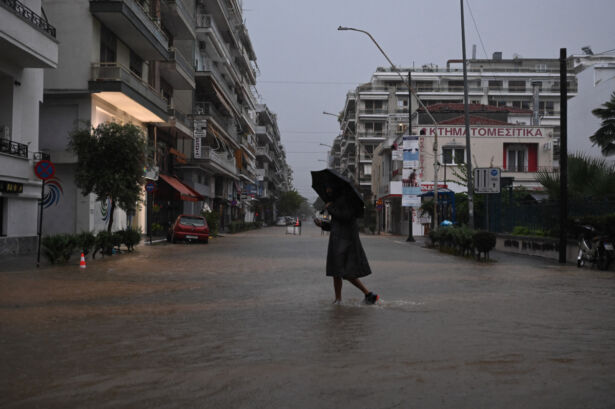 Record-Breaking Rainfall
Mr. Yerlikaya said on X, formerly known as Twitter, later on Tuesday that search teams are still attempting to locate the missing individuals while sharing his condolences with those who lost their lives.
Elsewhere in Greece, one person was killed and at least five people were reported missing following Tuesday's flash flooding, with the central town of Volos, the nearby mountain region of Pilion, and the resort island of Skiathos receiving record amounts of rainfall within just hours.
Greece's weather service said a Pilion region village received 75.4 centimeters (nearly 30 inches) of rain late Tuesday, breaking records for the highest level recorded since at least 2006.
The average annual rainfall in the Athens region is around 40 centimeters (15.75 inches), it noted.
Video footage shared online shows the streets completely submerged as residents struggle try to sweep water out of their homes. The flooding left some residents forced to make their way through the streets in plastic boats.
At one point in Volos, residents ignored orders not to drive, prompting the city's mayor to wade through flooded streets to plead with motorists to go home.
Greece's fire service said a 51-year-old Albanian national died after a wall buckled and collapsed on him. Local media identified him as a cattle breeder who was trying to reach his animals.
Among the missing is a 42-year-old Greek man who reportedly exited his vehicle to help push his 16-year-old son to safety when floodwaters swept in, a fire service spokesman, Vassilis Vathrakoyiannis, told The New York Times.
"The boy was found in the car," he said. "We're still looking for the dad."
The flash flooding and heavy rain in Greece—which is expected to ease Wednesday—came on the heels of wildfires that hit the nation in recent weeks, killing 20.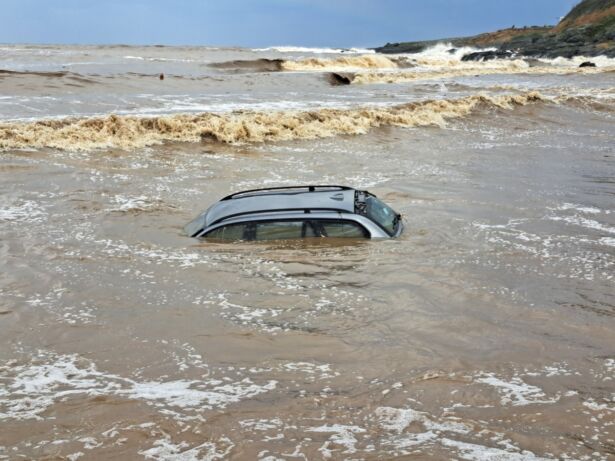 2 Dead in Bulgaria
In Bulgaria, two people died in the coastal town of Tsarevo after it received a historical amount of rainfall, the Ministry of the Interior announced, according to local reports.
The intense downpours, which continued for more than 24 hours, left rivers overflowing, flooded streets, and shut down roads, prompting the evacuation of residents.
A state of emergency was later declared in Tsarevo, according to local reports, and residents have been warned not to drink tap water owing to contamination from floodwaters.
Meanwhile, rescue teams are still searching for at least three people who are reportedly missing in the area.
Prime Minister Nikolay Denkov held a crisis meeting with officials on Tuesday. At a press conference following the meeting, he told reporters that those who died were one man and one woman.
Flash flooding also hit Spain on Monday, killing at least three people while three more were missing amid record-breaking rains.
The sudden downpours turned streets into rivers of mud, heavily impacting regions such as Madrid, Castile-La Mancha, Catalonia, and Valencia, while some areas experienced strong hail.
Among the victims was a young man who was trapped in a lift that filled up with water, and another male who was trapped inside his vehicle as it flooded, police said.
A 50-year-old man was also found by police floating in a river near his home in the town of Camarena, officials said.
The Associated Press contributed to this report.
From The Epoch Times