LONDON—An 8-year-old girl is in a life-threatening condition in a hospital following a car crash at an elementary school in Wimbledon that claimed the life of another girl of the same age, London police said Friday.
The Metropolitan Police also said a woman in her 40s is in critical condition following the crash Thursday on a usually quiet, narrow road in southwest London.
A Land Rover crashed through a fence and hit a building at the Study Preparatory School for girls aged between 4 and 11.
Police said the crash, which occurred while the children were having an end-of-year party in the garden, was not terror-related. They did not explain how the car careened off the road so badly.
The Met said a woman arrested on suspicion of causing death by dangerous driving has been released on bail pending further investigation until later in the month. She was also taken to a hospital but her life was not in danger, police said. It was unclear whether she was still hospitalized.
A number of other people, including a 7-month-old girl, were also taken to the hospital but were not in critical condition, police said.
On Thursday, London's ambulance service said 16 people, including the girl who died, were treated at the scene for injuries. Ten of them were later hospitalized.
The Met said that it understands that the school-age children who were injured were pupils at the school and that the injured adults were parents or carers, not staff members.
"It is difficult to imagine the pain and upset the families of those involved are going through and we will do all we can to support them as our investigation continues," said Detective Chief Superintendent Clair Kelland, the local police commander for southwest London.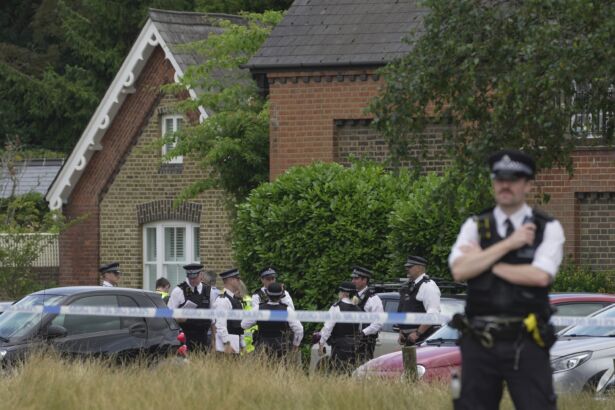 "This was the largest local policing deployment in southwest London since 2017 and our officers, along with members of the other emergency services, were met with a challenging and traumatic scene," she said.
The crash occurred about a mile (1.6 kilometers) from the All England Lawn Tennis and Croquet Club, which is hosting the world-famous Wimbledon tennis tournament.
Ian Hewitt, the club's chairman, was one of many who laid flowers at the scene on Friday after the cordon around the crash site was lifted by police.
"We feel closely associated with the community," he said. "What a tragic incident. We just offer our heartfelt sympathies to all affected."
Unlike the grand slam tennis event, the school is located in a fairly remote part of Wimbledon surrounded by few buildings, local parks, horse trails and golf courses.
Members of the Wimbledon Common Golf Club, which is opposite the site of the crash, held a minute's silence outside the school gates on Friday afternoon.
The group stood on the road to pay its respects and lay flowers.
"It's just so sad to lose someone so young," said the club's chairman, Peter Thompson.
By Pan Pylas