An aboriginal leader defended an off-duty liaison officer that killed a wombat by stoning in a viral video, saying that the officer is "native title holder" and didn't breach any traditional hunting laws.
Peter Miller, chairperson of the Far West Coast Aboriginal Corporation in SA, Australia, believes that even though the video shouldn't have been posted, the practice is consistent with native customs, reported 9News.
"We believe that the video should never have been posted on social media, but the practice it shows is consistent with traditional law and custom," he said.
According to News.com.au, the video—posted by the Wombat Awareness Organisation on Facebook—showed Senior Community Constable, Waylon Johncock, throwing rocks at the marsupial.
Johncock and another man are seen following the wombat in a vehicle on a dirt road. The car stops before Johncock, who was not on duty, pursues the animal with rocks in his hand.
Police Commissioner Grant Stevens told local news outlet 7News that other officers are outraged.
"I am aware of the community outrage regarding this matter and want to reassure everybody that the actions in the video do not align with the values and behaviours I expect from my employees, nor does it align with community standards," he said. "Numerous employees of South Australia Police have also expressed to me that they, too, find the footage detestable and not consistent with their values."
However, Miller said in a statement, "We are aware that the Aboriginal man in the video shared that animal with his family and it was eaten. Wombat is a much sought after traditional food on the Far West Coast. The practice of killing and eating wombat has a 60,000-year history."
"It is accepted that the video is distressing to many people who are not familiar with hunting native species for food. Aboriginal traditional hunting is a continuing cultural practice and a vital part of Aboriginal lifestyle passed down from generation to generation," he added.
"It remains today a means for gathering and sharing traditional food for many Aboriginal families and is a significant expression of their feeling for land and culture," adding that if someone is killing an animal for gratification it wouldn't be acceptable by Aboriginal law.
"The young man involved has not breached any traditional laws by killing the wombat. He is a native title holder and has native title rights to hunt for wombat, which has always been a traditional food source for the people for people of the Far West Coast," said Miller.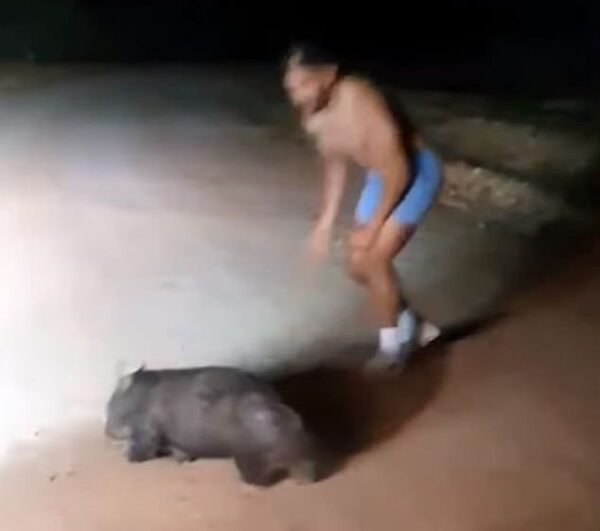 The Wombat Awareness Organisation said the video was sent to it.
"Healthy wombat stoned to death by off duty police officer," it wrote on Facebook. "I am tired of reporting such cruelty for it to be ignored. If this gets your support, something may be done. Please share, this is not entertainment. This has to stop!"
According to the Daily Mail, Johncock works as a liaison officer on the South Australian Police Force. He works to assist in communications between Aboriginal and non-indigenous people.
Photo credits: Wombat Awareness Organisation
Epoch Times reporter Jack Phillips contributed to this report.