Actor Jay James Johnston, best known for his role on the animated TV comedy "Bob's Burgers," was arrested and charged on June 7 for his role in the Jan. 6, 2021, breach of the U.S. Capitol, according to the Department of Justice (DOJ).
Johnston, 54, of Los Angeles was charged in a criminal complaint filed in the District of Columbia.
The actor faces four charges: civil disorder, entering and remaining in a restricted building or grounds, disorderly and disruptive conduct in a restricted building or grounds, and impeding passage through Capitol grounds or buildings.
Johnston surrendered to the FBI in Los Angeles on June 7 and appeared before a judge in California later that day, the DOJ said. He was later released on a $25,000 bond, The Washington Post reported.
Prosecutors allege that Johnston was near the front of a "mob" that illegally amassed on the West Plaza of the Capitol Building on the day of Jan. 6 and that after police in the area were forced to retreat, he "pushed against police and aided other rioters" into a tunnel that leads into the Capitol Building.
The FBI said in court filings that flight records showed that Johnston had booked a round-trip flight reservation from Los Angeles to Washington departing on Jan. 4, 2021, and returning on Jan. 7, 2021.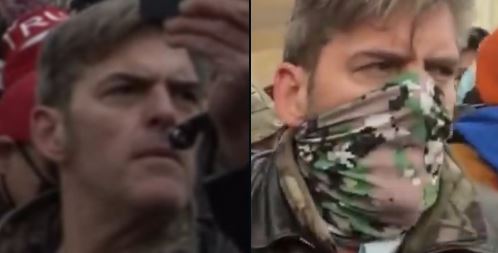 Allegations
Agents also reviewed body-worn camera footage from the day of the breach showing that at approximately 2:05 p.m., Johnston was among the crowd of "rioters" who "confronted law enforcement officers "at the West Plaza of the Capitol.
He could be seen in video footage holding up a cellphone to take photos and/or video, they said.
After entering the tunnel at approximately 3:05 p.m., Johnston came face to face with law enforcement officers who had formed a "protective line" with riot shields in an effort to defend the entrance to the Capitol building, prosecutors said.
"While inside the tunnel, Johnston was handed a stolen U.S. Capitol police riot shield by other rioters. Johnston then participated with other rioters in a group push effort against the police in the tunnel," prosecutors said in court filings (pdf).
"Johnston then walked back toward the entrance of the tunnel before turning around and again participating in another group push effort, during which the crowd called, 'HEAVE! HO!' as it pushed against the police," officials said, adding that Johnston left the tunnel just 8 minutes later allegedly carrying "another stolen U.S. Capitol Police riot shield, which he handed to another rioter as he exited the tunnel."
'It Was a Mess'
Prosecutors noted that at one point, Johnston appeared to stop and help another individual pour water into their eyes after seemingly being tear-gassed by police.
One of Johnston's associates later provided the FBI with a text message in which Johnston acknowledged being at the Capitol on Jan 6, but stated that "the news has presented it as an attack. It actually wasn't."
"Thought it kind of turned into that. It was a mess. Got maced and tear gassed and I found it quite untastic [sic]."
Johnston, originally from Chicago, is best known as the voice of the character Jimmy Pesto on Fox's animated sitcom "Bob's Burgers." He also appeared on the HBO comedy sketch program "Mr. Show with Bob and David," as well as "The Sarah Silverman Program" and "Arrested Development."
The actor has also appeared in the movies "Anchorman" starring Will Ferrell and "Men in Black 2."
According to a 2021 report from The Daily Beast, Johnston was "banned" from "Bob's Burgers" in the wake of Jan. 6.
The Epoch Times has contacted a lawyer for Johnston for comment.
More than 1,000 individuals across nearly all 50 states have been charged in connection with the breach of the Capitol building, according to officials, including nearly 350 people who were charged with assaulting or impeding law enforcement.
The investigation remains ongoing.