Israeli forces have reasserted control over areas near the border with the Gaza Strip, according to an Israeli military spokesman.
"In the last day, not a single terrorist [Hamas militant] entered via the [Gaza-Israel] fence," Israeli military spokesman Daniel Hagari said on Oct. 10.
The announcement comes three days after Hamas, a Palestinian militant faction that governs the Gaza Strip, carried out a cross-border raid that left hundreds of Israelis—both military and civilian—dead.
According to Mr. Hagari, the Israeli army has since regained full control over the border area after three days of fighting with Palestinian militants.
The spokesman, however, went on to admit that a "small number" of militants were still likely "hiding in Israeli territory."
Israeli army units, he added, were planting mines in the border area and repairing breaches in the formidable wall that separates Israel from the Gaza Strip.
On Oct. 7, Hamas carried out a multi-pronged assault from Gaza into Israel, which, according to Israeli sources, left more than 1,000 Israelis dead.
The cross-border assault, which appeared to take Israel completely off guard, began with hundreds of rockets being fired into Israeli territory.
During the raid, militants captured scores of Israeli hostages, whom Hamas eventually hopes to exchange for Palestinian prisoners languishing in Israeli jails.
On Oct. 10, Israel's military said 123 of its soldiers had been killed in ongoing violence.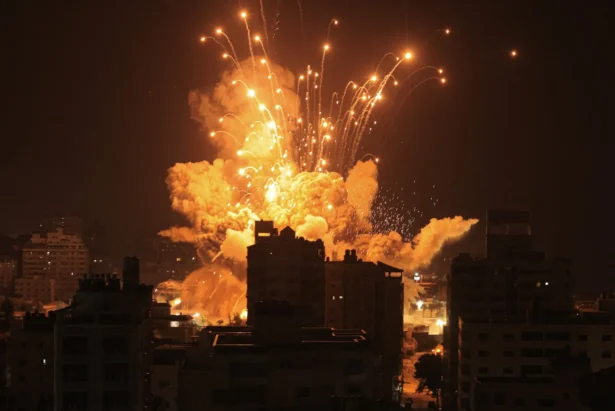 'Complete Siege'
Israel has responded by launching "Operation Swords of Iron" with the stated aim of destroying Gaza-based militant groups, including Hamas and Islamic Jihad.
Since Hamas carried out its cross-border raid, Israeli warplanes have pounded the Gaza Strip, which is home to some 2.3 million Palestinians.
On the morning of Oct. 10, Gaza's health ministry said at least 765 Palestinians had been killed—and thousands more injured—by repeated Israeli airstrikes.
In a statement issued the same day, Israel's military confirmed it had struck over 200 targets—including high-rise buildings—in overnight strikes from air and sea.
Israel claims it is confining its strikes to Palestinian militant targets.
Palestinian sources, however, including Gaza's health ministry, say civilian areas have also come under attack.
According to the United Nations, an estimated 180,000 Palestinians in Gaza have been rendered homeless by the ongoing bombardments.
On Oct. 10, Israeli Energy Minister Israel Katz said that Gaza's water supply had been cut.
"All the water pipelines from Israel to the Gaza Strip have been disconnected," he said in televised comments.
He added that all electricity and fuel supplies to the enclave were halted on Oct. 8.
On Oct. 9, Israeli Defense Minister Yoav Gallant vowed to impose a "complete siege" on Gaza, asserting that no electricity, food, water, or fuel would be allowed into the enclave.
"I have given the order," Mr. Gallant said. "Gaza will be under complete siege."
U.N. Secretary-General Antonio Guterres warned that the move would cause Gaza's "already dire" humanitarian situation to "deteriorate exponentially."
Israel has also announced an unprecedented call-up of 300,000 army reservists, suggesting plans may be underway for a full-scale invasion of Gaza.
In 2014, Israel carried out a massive, six-week assault on the Gaza Strip, which included a wide-ranging ground offensive involving hundreds of troops.
More than 2,000 Palestinians—and scores of Israelis—were killed in that conflict, which led to the collapse of U.S.-backed talks between Israel and the Palestinian Authority.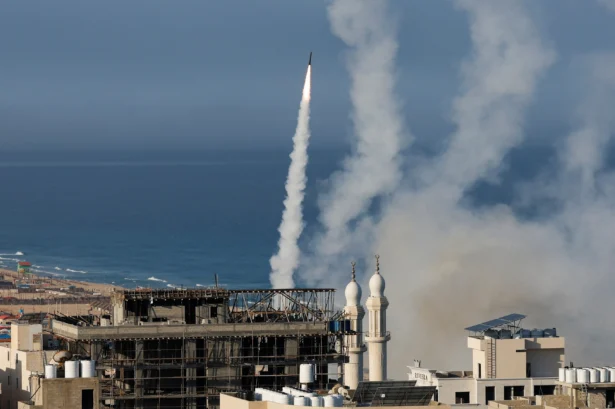 Longstanding Grievances
Hamas's cross-border assault was the deadliest incursion into Israel since 1973, when Egypt and Syria launched a surprise attack on the Jewish state in an effort to recapture territory lost earlier.
Hamas says the raid—dubbed "Operation Al-Aqsa Flood"—was a response to recent incursions by Jewish settlers into Jerusalem's Al-Aqsa Mosque compound.
Muslims regard the Al-Aqsa Mosque as the world's third holiest site after Mecca and Medina.
According to the militant group, the raid was also a response to Israel's harsh treatment of Palestinians in the West Bank, a separate territory run by the Palestinian Authority.
Hamas further claims that its deadly raid came in response to a years-long embargo of Gaza by Israel and Egypt, both of which share borders with the coastal enclave.
Only 225 square miles in size, the Gaza Strip has remained under a draconian blockade—by air, land, and sea—since 2007.
On Oct. 10, Israeli military spokesman Richard Hecht advised terrified Gazans to flee into neighboring Egypt.
"The [Gaza-Egypt] Rafah crossing is still open," he told reporters. "Anyone who can get out, I would advise them to get out."
Hours later, Mr. Hecht's office issued a "clarification," stating, "The Rafah crossing was open yesterday, but now it is closed."
On the same day, the Gaza-Egypt border crossing came under heavy Israeli bombardment, according to Gazan officials and Egyptian security sources.
Reuters contributed to this report.
From The Epoch Times