Republican National Committee (RNC) Chairwoman Ronna McDaniel faces another hurdle in her bid to retain leadership in a vote later this month, as the Alabama GOP issued (pdf) a vote of no confidence for her and called on a leadership change following the midterm elections.
"The Alabama Republican Party leadership is committed to representing our grassroots members, and defending the core conservative values that the people of Alabama stand for," party leaders said in a statement released Monday. "We believe that RNC leadership needs a new vision for future elections."
The Alabama GOP further stated its belief the RNC needs to prioritize "defending the American people and their God-given rights and freedom," and stand strong for the party platform and GOP principles.
"We believe that the RNC needs fresh, new leadership who can inspire and lead grassroots Republicans to victory," leaders continued. "For these reasons, the Alabama Republican Party's Steering Committee cannot support or endorse Ronna McDaniel for RNC Chair and declare our vote of no-confidence in her leadership."
They further called on all RNC members across the country to support a leadership change at the RNC Winter Meeting, to be held in California beginning Jan. 25.
Leadership Race at RNC
As McDaniel seeks her fourth term as chair of the RNC, she enjoys support from some major GOP donors, according to Fox News, including Dave Kelsey, Melinda Hildebrand, Dr. James Reibel, Jeff Burns, Bobby Schostak, and Marianne and John Gibson.
Since the beginning of McDaniel's tenure as chair of the RNC in 2017, those donors have contributed in total at least $14 million to the Republican Party, Fox reported.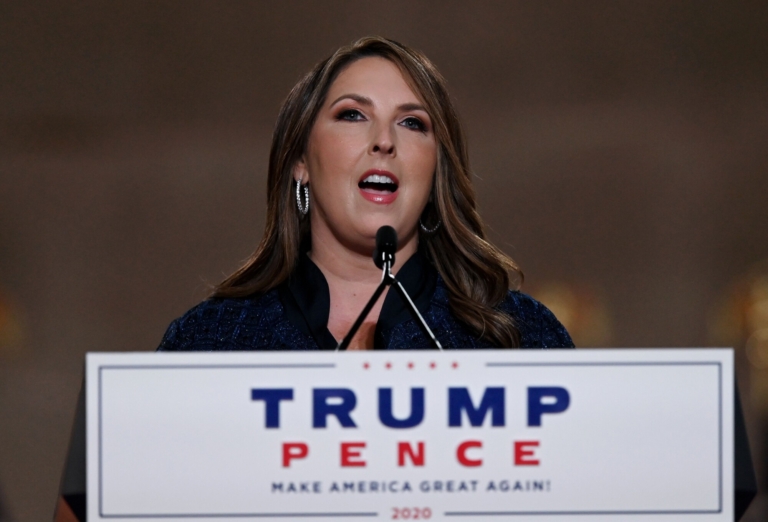 But she also faces calls from Republican leadership in Arizona for her to resign, with Republican Party leaders in Nebraska and Texas also expressing disinterest in a fourth term for McDaniel.
A Texas GOP Committee in December also issued a vote of no confidence in her leadership, specifically noting losses in the 2020 election and less-than-spectacular showings in the 2022 midterm elections that left the GOP with only a small majority in the House and failing to flip the Senate.
"The grassroots have lost faith in Chairman [sic] McDaniel and the RNC and believes the Party needs new leadership that will address deficiencies in fundraising, messaging, GOTV, and election integrity and put the party in closer alignment with its grassroots supporters and voters," the Texas resolution stated.
The Republican Party of Arizona, meanwhile, called on McDaniel to step down in order for "fresh and bold leadership" to assume control of the RNC.
Attorney Harmeet Dhillon and MyPillow CEO Mike Lindell are challenging McDaniel.
Voting members in Tennessee, Virginia, Vermont, and other states expressed they would vote to change RNC leadership at this month's meeting.
McDaniel circulated a letter in November that showed she had the support of enough members to win the election before it took place, including the names of 101 of the 168 RNC voting members.
Emma Vaughn, a spokesperson for McDaniel, told news outlets that McDaniel's decision to run for another term was "member driven."
"Members of the 168 rallied around the chairwoman because of her unprecedented investments in the grassroots, election integrity, and minority communities, and for taking on Big Tech and the biased Commission on Presidential Debates," Vaughn said, adding that support for McDaniel "has only grown since her announcement and she looks forward to speaking with each and every member to discuss how the party can continue building upon our investments and make the necessary improvements to compete and win in 2024."
Challengers
Dhillon announced her bid earlier in December, saying that "we really need to radically reshape our leadership in order to win."
"We really have to modernize to compete with the Democrats dollar-for-dollar—in the ways they fundraise, the way they deliver their ballots to the ballot boxes. Our messaging needs to be fresh and positive and not just reactive to news cycles and what the Democrats are doing," Dhillon added.
Lindell, meanwhile, said he is running because the RNC's strategy "has been a disaster not only for the Party but even more importantly it has been disaster for the Country as Democrats pursue their woke socialist agenda."
"This is a critical time for the RNC. The Donors need a return on their investment and so does the country. I have done my due diligence and can't figure out why my opponent would even consider running again," Lindell said.
Zachary Stieber and The Associated Press contributed to this report.
From The Epoch Times