InfoWars host Alex Jones filed for bankruptcy on Friday after he was ordered to pay about $1.5 billion for his comments about the 2012 Sandy Hook mass shooting.
A filing from Jones said that he has between $1 million and $10 million in assets and between $1 billion and $10 billion in liabilities. His lawyers made the filing (pdf) at a U.S. bankruptcy court in Houston, asking for Chapter 11 protection from creditors.
The extent of Jones's personal wealth is not clear, according to the filing.
"I, Alexander E. Jones, the Debtor in the above-styled bankruptcy proceeding, state under penalty of perjury and pursuant to 11 U.S.C. § 1116(1)(B) that I have no balance sheet, statement of operations, or cash-flow statement," it further states.
An attached document says attorney Vickie L. Driver, who filed the bankruptcy petition for Jones, was being paid $500,000 for legal services and was paid $48,193 to file the petition on Friday.
It comes months after Jones's primary company, Free Speech Systems, filed for bankruptcy protection. Several of his other companies—InfoWars, Prison Planet, and IW Health—filed for bankruptcy in April.
The 48-year-old Jones was ordered to pay some $1.4 billion in a Connecticut case and $45.2 million in a separate case in Texas to families who say they were harmed by his claims about the Sandy Hook mass shooting that left 20 children and six adults dead. Both Jones and his lawyers said he will appeal both cases.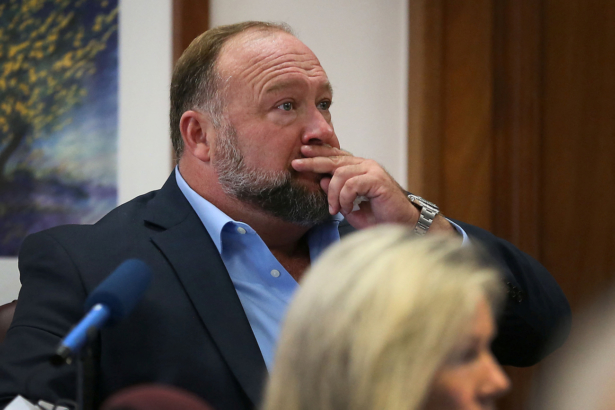 A Connecticut jury in October awarded Sandy Hook families $965 million in compensatory damages, while a judge added an additional $473 million in punitive damages. A jury in Texas awarded the parents of a child who died in the mass shooting the $49 million in damages, and earlier this week, a Texas judge rejected Jones's bid to reduce the millions he owes to the families.
Jones has acknowledged the 2012 shooting took place and tried to correct the claims that he initially made. However, media outlets "won't let me take it back," he said.
After the $965 million verdict was handed down, Jones stated that he will not pay it back, in part, because he doesn't have the money.
"So, look, nobody's talking about the appeal," Jones told Newsmax in mid-October. "We are very, very sure—like 99 percent—that this is such a joke, this thing is such a fiasco, such a kangaroo court, such a railroad job that these will be overturned, both the Texas rulings and the Connecticut rulings, at the Supreme Court of Connecticut and Texas, if not the Supreme Court of the United States."
Jones noted that the verdict "doesn't matter at the end of the day" because "I don't have $10 million cash."
"I got a couple of houses, a couple million bucks in the bank," he remarked. "It's a total joke. And so if they think they're gonna get 900-plus million dollars, they're gravely mistaken."
Response
An attorney for the Sandy Hook families released a sharply critical statement after Jones filed for Chapter 11 bankruptcy protection on Friday.
Lawyer Chris Mattei told news outlets that Jones's filing for "bankruptcy will not work," adding, "The bankruptcy system does not protect anyone who engages in intentional and egregious attacks on others, as Mr. Jones did."
"The American judicial system will hold Alex Jones accountable, and we will never stop working to enforce the jury's verdict," Mattei stated.
The filing from Jones Friday also lists the plaintiffs who won verdicts against Jones as his largest unsecured creditors. Among them are Robert Parker, father of 6-year-old Emilie Parker, who was awarded $120 million by the Connecticut jury, and FBI agent William Aldenberg, who was among the first law enforcement officers on the scene of the 2012 shooting.
Connecticut judge Barbara Bellis had temporarily blocked Jones from moving any personal assets out of the country at the request of the plaintiffs, who claimed Jones was trying to hide assets to avoid paying.
The families have sued Jones in Texas state court seeking to unwind what they say are millions of dollars worth of illegitimate transfers from Jones's company to shell entities he controls. They allege those transactions were intended to shield Jones's assets from potential judgments.
Authorities said that Adam Lanza, 20, shot and killed 26 people at Sandy Hook Elementary School in Newtown, Connecticut, in December 2012 before he turned the gun on himself. The mass shooting triggered a slew of gun control measures in several different Democrat-led states, including New York, Connecticut, Maryland, and Colorado.
Reuters contributed to this report.
From The Epoch Times