The U.S. State Department issued a travel advisory urging American citizens to leave Lebanon amid the ongoing Israel-Hamas war and as top Hezbollah officials issued warnings about an escalating conflict.
"The [State Department] recommends that U.S. citizens in Lebanon leave now while commercial flights remain available due to the unpredictable security situation," the U.S State Department posted to X, formerly known as Twitter, on Saturday.
Currently, Lebanon is under a Level 4 State Department advisory, meaning Americans should "not travel" to the country amid the escalating tensions in the region. The State Department warning comes about a day after Hezbollah leader Hassan Nasrallah made a public speech and made a variety of threats against the United States and Israel.
The agency on Saturday also suggested that Americans still in Lebanon, located north of Israel, should "have a plan of action for crisis situations that does not rely on U.S. government assistance," adding that "U.S. military-assisted evacuations of civilians from a foreign country are rare."
"There is no guarantee the U.S. government will evacuate private U.S. citizens and their family members in a crisis situation," the department continued to say. It did not list any specific threats that Americans in Lebanon might face.
Other countries in the region under the Level 4, or "do not travel," designation include Iraq, Syria, Yemen, and Iran, as well as Israel's West Bank and Gaza regions.
Last month, the State Department issued a "worldwide caution" alert for Americans, which the State Department appeared to renew on Saturday. "Due to increased tensions in various locations around the world, the potential for terrorist attacks, demonstrations or violent actions against U.S. citizens and interests, the Department of State advises U.S. citizens overseas to exercise increased caution," the bulletin says.
Threats
The U.S. government, Israel's strongest backer, previously warned Hezbollah and its patron Iran against entering the fray and sent warships to the Mediterranean in October, a move Mr. Nasrallah said "will not scare us."
"Some say I'm going to announce that we have entered the battle," Mr. Nasrallah said Friday, Nov. 3. "We already entered the battle on Oct. 8." He argued that Hezbollah's cross-border strikes have pulled away Israeli forces that would otherwise be focused on Hamas in Gaza.
Exchange of gunfire has been on the rise along the Lebanon-Israel border following the Oct. 7 attack by the Palestinian terrorist Hamas group that killed more than 1,400 civilians and troops in southern Israel. Israel has since launched a wide aerial and ground attack on Gaza, while Hezbollah started attacking Israeli positions on Oct. 8 in the disputed Chebaa Farms area along the Golan Heights and within days the attacks spread to cover the whole border area.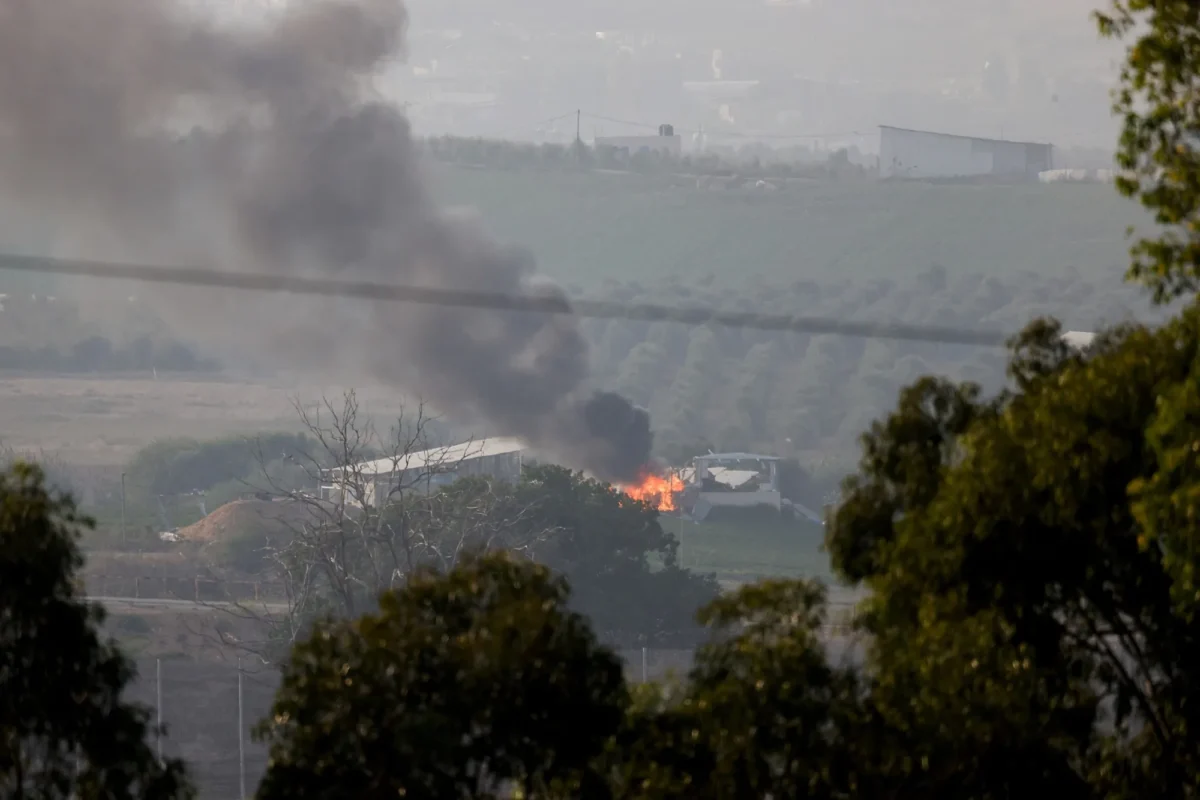 Hezbollah is prepared for all options, he declared, "and we can resort to them at any time." The fighting would "not be limited" to the scale seen so far, he added. In recent weeks, Hezbollah has fired rockets across the border daily, mainly hitting military targets in northern Israel, but it has a substantial arsenal capable of hitting anywhere in Israel and thousands of battle-hardened fighters.
Mr. Nasrallah praised Hamas' Oct. 7 rampage across southern Israel. The militants attacked farming villages, towns and military posts, killing more than 1,400 people—most of them civilians—and taking hundreds of hostages back to Gaza while Israeli forces responded.
The attacks, he said, were "proof that Israel is weaker than a spider's web" and one month into the war, it "has not been able to make any achievement."
On Sunday, the State Department's top diplomat, Secretary of State Antony Blinken, met with Palestinian Authority chief Mahmoud Abbas in Ramallah in the West Bank, according to a readout of the meeting.
Mr. Blinken and Mr. Abbas "discussed efforts to restore calm and stability in the West Bank, including the need to stop extremist violence against Palestinians and hold those accountable responsible," the readout said.
The U.S. has "reaffirmed the United States' commitment to the delivery of life-saving humanitarian assistance and resumption of essential services in Gaza and made clear that Palestinians must not be forcibly displaced," the written readout added.
The Associated Press contributed to this report.
From The Epoch Times