Attorney General Merrick Garland on Feb. 1 told the Senate Judiciary Committee that the fentanyl crisis raging across the United States was started "on purpose" by Mexican drug cartels.
Fentanyl and Mexican drug cartels were a key focus for Republicans during the hearing, which marked Garland's third appearance before the Judiciary Committee as attorney general but his first appearance during the 118th Congress.
"It's a horrible epidemic, but it's an epidemic that's been unleashed on purpose by the Sinaloa and the new generation Jalisco cartels," Garland said.
Fentanyl precursors manufactured in China are shipped to Mexico and processed by these cartels to the final product before they're trafficked into the United States across the Southern border.
Republicans have long rallied against President Joe Biden's policy in regard to the U.S.–Mexico border, where the rate of illegal immigration has hit unprecedented levels.
Americans living along the border have recounted in numerous interviews that the threat is one that they deal with daily: residents say they don't let their children go outside alone, and never leave the houses themselves without a firearm. Citizen encounters with drug runners and cartel affiliates are commonplace along the border.
The effects of these drugs, Ranking Member Lindsey Graham (R-S.C.) said during his opening statement, are particularly pronounced among younger populations.
Graham noted that the drug, a synthetic opioid that is 50 times more potent than heroin, kills more young people than gun violence and car accidents combined.
"The leading cause of death for Americans 18-45 is fentanyl poisoning," Graham said.
Often, people who overdose on fentanyl do not even know that the drug they are consuming contains the substance.
Fentanyl, by far the most dangerous opioid on the market, is often "cut" into other drugs to increase the cartels' bottom line. This means that someone could overdose on fentanyl while thinking they were consuming some other psychoactive substance.
"We're going after those who are killing our kids from fentanyl," Graham said, asking Garland if those who sell drugs cut with fentanyl should be held legally responsible for murder.
Garland demurred from going this far, but said that existing laws cover this circumstance and suggested that there is no reason to change the law.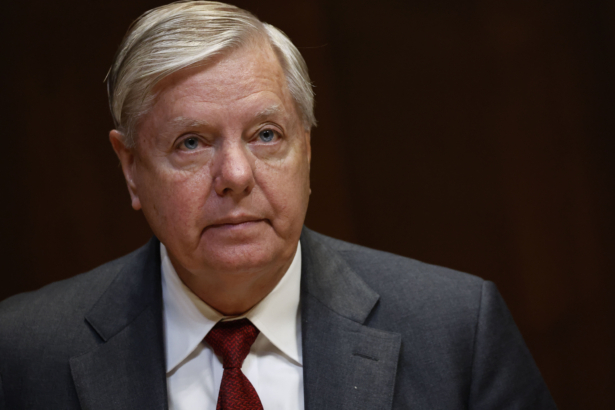 Call for Fentanyl to Be Scheduled
Later, Garland said that he would be in favor of making all fentanyl products Schedule I drugs, a classification reserved for potentially or actually addictive drugs for which the federal government recognizes no legitimate medical purpose.
On its website, the Drug Enforcement Administration (DEA) states that "Schedule I drugs have a high potential for abuse and the potential to create severe psychological and/or physical dependence."
Some Schedule I drugs include heroin, lysergic acid diethylamide (LSD), marijuana, methylenedioxymethamphetamine (ecstasy), peyote, and others.
"All fentanyl-related drugs should be scheduled," Garland said.
Asked whether the United States should increase mandatory minimum sentences for fentanyl pushers, Garland demurred, opining that the country currently has the resources to target those trafficking the synthetic opioid.
Terror Group Designation
Graham also asked Garland about whether Mexican drug cartels should be labeled as foreign terrorist organizations. But the attorney general indicated his opposition to the proposal.
Republicans have increasingly pushed for the current administration to designate drug cartels as foreign terror threats.
Doing so would give Washington more resources to fight the cartels, but critics argue that it could serve to further destabilize foreign relations between the United States and Mexico.
Garland suggested that labeling the Sinaloa and other cartels as terror threats is a non-starter, adding that existing U.S. policy toward the cartels is sufficient.
"They [the cartels] are already designated in any number of ways and sanctioned by the [U.S.] Treasury," Garland said.
Later during the hearing, Graham asked Garland more bluntly, "Are they [our drug policies] working?"
"They are not stopping fentanyl, if that's what you're asking," Garland acknowledged.
From The Epoch Times