WEST PALM BEACH, Fla.–Former President Donald Trump says his successor's policies strengthened Iran, making the recent terror attacks on Israel "inevitable"—and increasing the United States' vulnerability to terrorists.
"Under [President Joe] Biden, the same people that attacked Israel—killing, raping, torturing, and maiming innocent civilians—are right now pouring into our once-beautiful USA," President Trump told more than 3,000 people at a sold-out gathering of his largest fan club, Club 47 USA, on Oct. 11.
President Trump has long advocated for the United States to more tightly control its borders.
In contrast, he said, President Biden's immigration policies allow potential terrorists to seep through the country's porous borders undetected, imperiling Americans.
"The recent terror attacks are also a reminder of the deadly dangers that we face from Joe Biden's demolition of our own borders," President Trump said.
"I look at what's happening in Israel, and I say, 'Are they looking to do the same thing over here?'" the former president wondered aloud.
President Trump advocates reinstating a travel ban that he had imposed on people coming to the United States from nations that support terrorism.
Further, he blamed President Biden for lifting economic sanctions against Iran, thus enriching that Middle Eastern country's ability to supply Hamas, a Palestinian terror group that seeks to destroy Israel.
"Under my leadership, Iran was weak and broke and desperate for love … and now they're rich as hell," President Trump said. "They got hundreds of billions of dollars … and they're probably 90 days away from having a nuclear weapon."
The Epoch Times has sought comment from the White House but did not receive a reply before publication.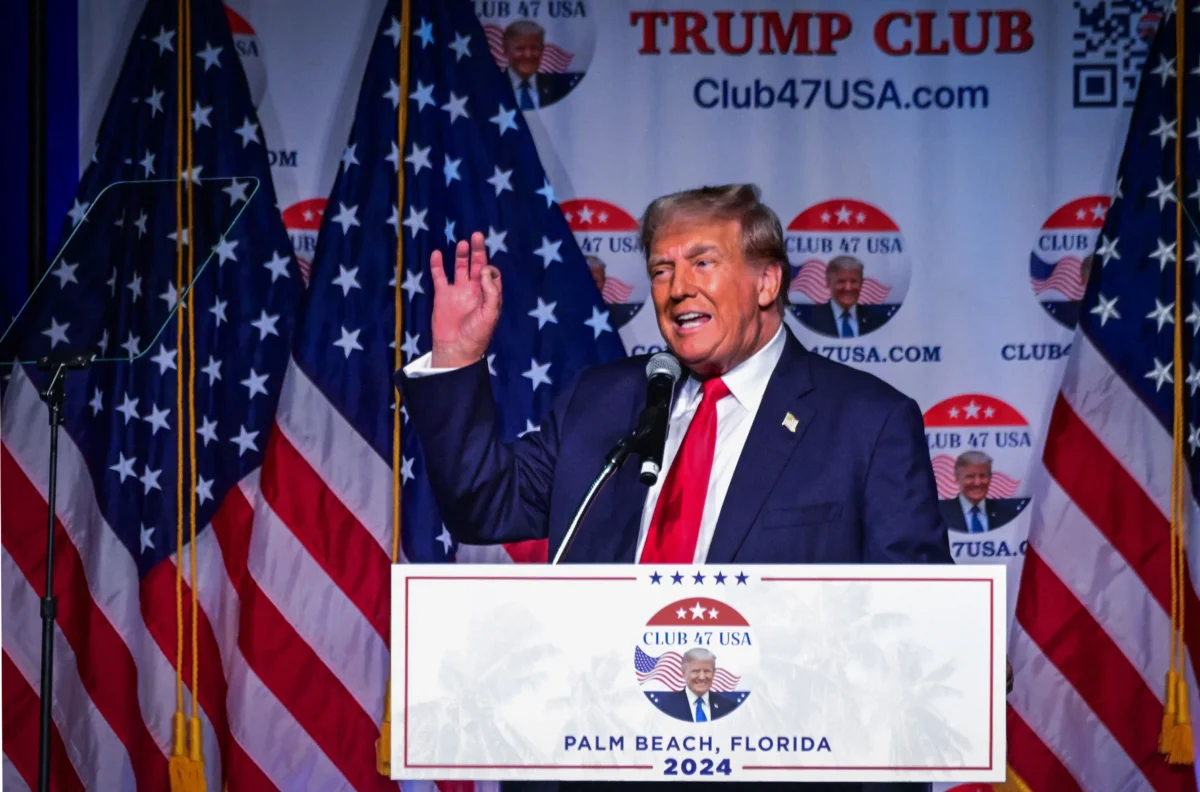 A Presidential Promise
Now in the midst of his third presidential run, the former president made a promise. If he wins reelection, "the United States will fully support Israel, defeating, dismantling, and permanently destroying the terrorist group, Hamas."
"The state of Israel is a blessing to the world … We will stand with Israel 100 percent."
President Trump, speaking at the Palm Beach County Convention Center, devoted much of his 100-minute speech to the war in Israel. The Jewish state declared war against Hamas after terrorists staged a multi-pronged ambush on Oct. 7, the festival of Sukkot, a Jewish holiday.
The terrorist attacks came from land, sea, and air, killing about 1,200 people at last count. More than two dozen Americans are among the dead, according to the latest updates from American and Israeli officials.
Including those killed in Israeli counter-strikes, the death toll numbers in the thousands thus far. The invaders also abducted an unknown number of hostages from multiple countries, including the United States.
Because of the violence, "we're inches away" from World War III, President Trump said.
While his early detractors believed that his brash talk would provoke global conflict, the former president said his policies maintained world peace. During his tenure, 2017-21, the United States was involved in no new wars.
Opposes $6 Billion Payment to Iran
During his latest speech, President Trump joined fellow Republicans in calling for President Biden to re-freeze $6 billion that otherwise will go to Iran.
The United States recently agreed to release those funds from an account holding Iranian oil revenue. In exchange, Iran promised to free five American prisoners.
During a State Department news briefing on Oct. 10, spokesman Matthew Miller denied that the funds would or could be used to fund terror attacks.
He insisted that the United States has "strict oversight" of the funds to ensure that Iran uses the money for "humanitarian" purposes.
The $6 billion accrued in Iran's oil accounts during the Trump administration, Mr. Miller said, adding that the Biden administration added restrictions for the use of the funds.
"We have the ability to freeze those funds if we need to; we have not made any decisions," he said.
Even so, the infusion of cash could allow Iran to tap its other sources for nefarious purposes, one reporter noted. But Mr. Miller responded: "There is no evidence that that is accurate."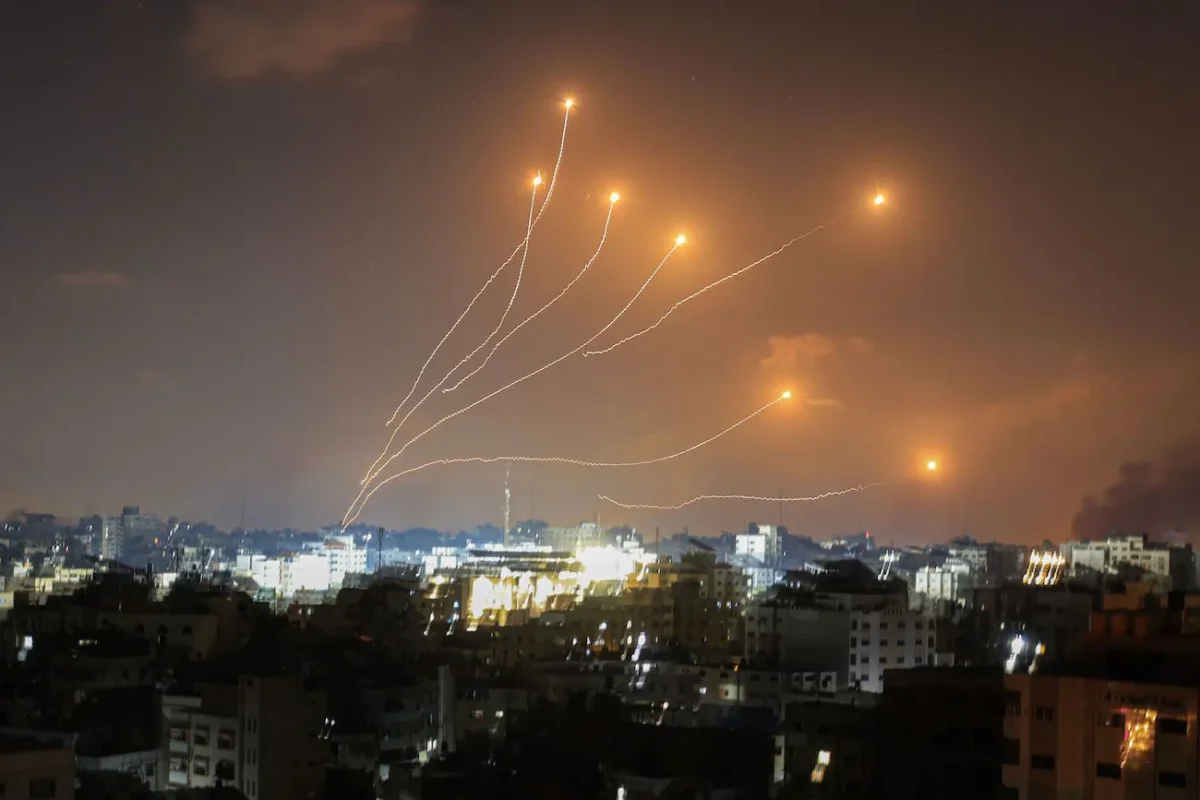 And the president of Iran, Ebrahim Raisi, told NBC News through an interpreter: "This money belongs to the Islamic Republic of Iran—and, naturally, we will decide … to spend it wherever we need it."
During his speech, President Trump said the Biden administration's decision to release the funds in exchange for the American prisoners set "a terrible precedent."
"I got back 58 hostages, including from North Korea, which is tough," he said, drawing applause from his Florida audience. "We've never had to pay."
Besides cutting off Iran's access to the $6 billion prisoner-swap money, President Biden "must immediately halt all funding to corrupt Palestinian entities" that helped deploy the attack on Israel, President Trump said.
Sanctions Hurt Iran
The former president pointed out that he withdrew from the Iran nuclear deal, signed under the administration of President Barack Obama in 2015, while Joe Biden was vice president.
Iran agreed to postpone its nuclear development program for 10-15 years and give up most of its enriched uranium. In exchange, the United States discontinued many of its sanctions against Iran.
But after Israeli intelligence operations found documents showing that Iran was secretly developing nuclear weapons, President Trump negated the deal. In 2018, President Trump instated what he called the "toughest-ever" sanctions on Iran, including blocking certain financial transactions and exports, including oil.
Those measures had a "substantial impact" on Iran, the BBC reported in 2019.
"The reinstatement of U.S. sanctions … caused foreign investment to dry up and hit oil exports," the report said. Under the measures, U.S. companies were banned from trading with Iran or with "foreign firms or countries that are dealing with Iran."
As a result, Iran's unemployment and the cost of living rose. The country's gross domestic product shrank. And its currency hit record lows.
President Trump said the sanctions cut off "money to pay to the terrorist thugs."
"Biden loosened my tough sanctions on Iran and allowed them to sell massive amounts of oil, making them $80 billion a year," he said, adding wryly, "Congratulations."
"They were making nothing with us," he said.
"They became rich and powerful, and then they traded the hostages," the former president said, referring to the $6 billion deal reached in August.
Respect or Not?
President Trump repeated past criticisms of President Biden, casting him as weak and ineffective.
"Under my leadership, the world was peaceful and calm because America was respected; the president was respected," he said.
President Trump said other nations were "afraid of America" because world leaders knew he meant business.
"Today, they laugh at our country," he said. "With Crooked Joe Biden, you have chaos, bloodshed, war, terror, and death … because the occupant of the White House is a laughingstock all over the world.
"Every monster, villain, dictator, and terrorist … all over the planet, they're having a field day," he said, "because they know they will never have it better than they do with Crooked Joe—who, in many cases, received money from those countries."
Congressional committees are investigating millions of dollars that foreigners deposited into bank accounts tied to President Biden's family while he served as vice president. He has denied wrongdoing while an impeachment inquiry continues.
Strong Ally for Israel
President Trump said that, during his administration, he acted more strongly on Israel's behalf than any other U.S. president.
Several previous presidents pledged to relocate the American embassy to Jerusalem. President Trump made good on that promise in late 2017, during his first year in office.
Before President Trump's speech, the crowd observed a moment of silence for Israel. Several of the former president's prominent supporters spoke, including Israeli-born Siggy Flicker, a star of the reality TV show, "Real Housewives of New Jersey."
She gave an emotional testimonial. "All my nieces and nephews are on the front line; they're all serving" in Israel, she said.
The TV personality, who came to the United States as a legal immigrant at age 5, said she is "in love with the United States of America," and "got to live the American Dream."
Ms. Flicker expressed gratitude for President Trump's unwavering support of her family's homeland; she lauded him for brokering the Abraham Accords. That 2020 agreement among several nations was considered an important step toward stabilizing the Middle East. It forged cooperation among nations that clashed over investments, tourism, energy, and other key issues.
Controversy Over Criticisms
Even so, President Trump made remarks about Israel that drew fire from people supporting his political rivals, President Biden and Florida Gov. Ron DeSantis. Some pointed out that the former president described terrorists as "smart." But social media users pushed back, saying that President Trump's remarks were taken out of context.
Trump campaign spokesman Steven Cheung told The Epoch Times: "President Trump was clearly pointing out how incompetent Biden and his administration were by telegraphing to the terrorists an area that is susceptible to an attack. Smart does not equal good. It just proves Biden is stupid."
Mr. Cheung provided speech excerpts in which the former president repeatedly states that he is standing with Israel.
Providing an unedited clip of the former president's speech, @joma_gc wrote on X, formerly Twitter: "You can clearly see that Trump is mocking Biden's failed foreign policy and his national security team disclosing Israel's vulnerabilities."
President Trump also has faced backlash for asserting that, while Benjamin Netanyahu's administration had assisted with gathering intelligence about terrorist Qasem Soleimani, at the last minute, the Israeli prime minister backed away from helping the United States "take out" the man known as "the Iranian butcher" in 2020. 
Soleimani also was sometimes called, "the father of the roadside bomb," President Trump said.
"When you see a soldier walking around,  a person walking around with no legs, no arms, or a face that's been absolutely obliterated, it was Soleimani that did it. He was responsible for about 94 percent of the bombs that were made in Iran."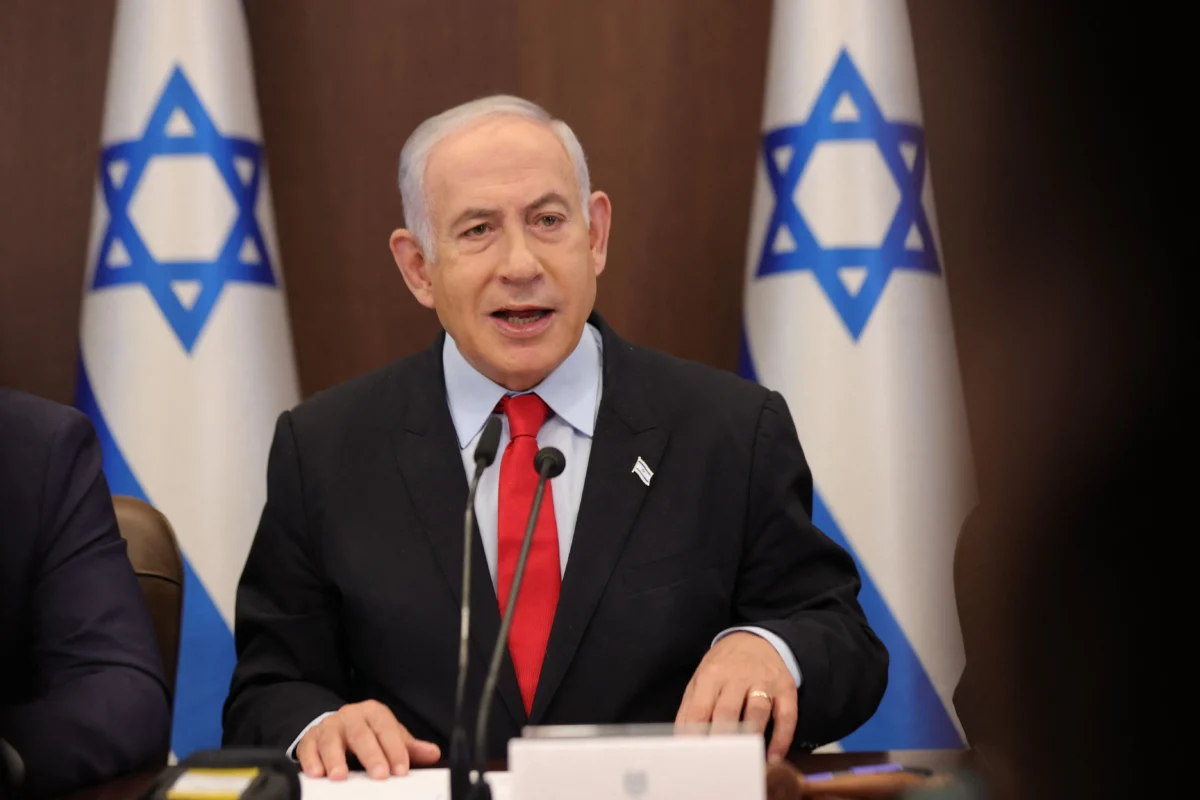 The former president said it troubled him greatly that Mr. Netanyahu "let us down" during the planned strike against the Iranian terrorist. He encouraged Israel to "strengthen themselves up."
President Trump said he had never before revealed that account publicly, "but I like to tell it to Club 47 because you have been so loyal." The club has been host to the former president on two previous occasions and is based near his Mar-a-Lago home in Palm Beach, Florida.
He added: "You never, ever would have had anybody attacking Israel if I were president."
After hearing the former president's speech at the Club 47 event, Wendy Kafka of Boca Raton, Florida, expressed her belief that President Trump is the only man who can restore peace to the world and strength to America.
She said: "He made me feel safer, better."
The Associated Press contributed to this story.
From The Epoch Times