The number of used homes listed for sale recently skyrocketed in China's industrial hub Suzhou, prompting a local financial expert to assert that the city's housing prices would collapse by the year's end.
According to information on Lian Jia, a Beijing-based real estate trade platform, the number of second-hand homes for sale in Suzhou was 163,108 units on May 1.
"It can be said that a home-selling tide has arrived," said Wu Shengbiao on April 28, a Suzhou-based finance columnist for China's portal NetEase, adding that the city's foreclosed houses and abortive auctions are climbing every day.
More second-hand homes released in the market means more people flee the city, especially foreign investors who are leaving Suzhou after losing confidence.
"With foreign capital outflowing and immigrant workers returning to hometowns, the property inventory in the market will backlog," Wu said.
Over-saturated real estate inventories would make it difficult for the municipal authorities to maintain high housing prices. Therefore, "at the end of this year, [Suzhou's] housing prices are bound to collapse," Wu said.
Suzhou, the most populous city in eastern coastal Jiangsu Province with more than 12,700,000 people, is well-known as China's "strongest prefecture-level city" for its economic advantages. It was ranked sixth Chinese city in terms of GDP in 2022, just next to Guangzhou, the capital of Guangdong Province.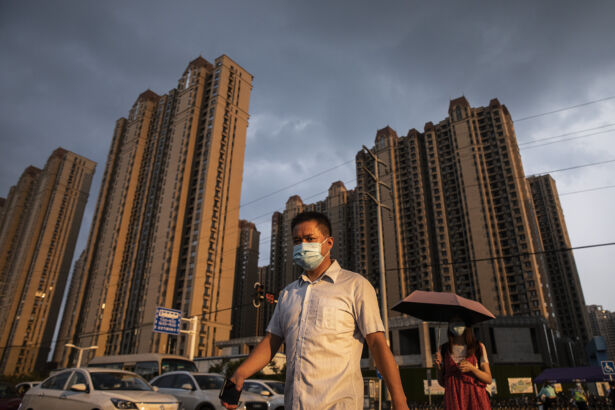 On April 30, the "Top 100 China Real Estate Companies Sales Ranking for January-April 2023" released by CRIC, a Chinese private real estate research institute, showed that sales of the top 100 Chinese real estate companies fell 14.4 percent year-on-year in April, with less than 30 percent of them maintaining sales growth.
The report pointed out that "real estate enterprises will continue to diverge in 2023," with small and medium-sized real estate firms lagging behind state-owned enterprises and some large private enterprises due to their weaker competitivities.
Wu believes the downturn in the property market is partly due to a decline in industrial development.
The Statistics Bureau said on April 27 that in the first three months of this year, from January to March, the profits of industrial enterprises above the national scale have fallen 21.4 percent.
Central vs Local Authorities 
Yao Yang, director of Peking University's National Development Institute, said in a talk show that the central authority intends to lower housing prices. At the same time, local authorities are reluctant to do so for fear that falling housing prices will undermine local fiscal revenue, according to Sohu reports on April 19.
"Over the past year, China's real estate sales volume has dropped by 30 percent, yet real estate prices stayed quite robust, with first-tier cities remaining almost stable at high prices," said Yao.
But such a strange phenomenon won't possibly happen in Western countries, Yao added.
"None of the local authorities would like to see their housing prices fall as it is somewhat [a way to let the central authority know] that they are not managing well. This [housing price manipulation] is the game between the central and local authorities," he said.
"So, the final result is that housing prices can never go down as [the local authorities] won't allow it to go down even though it should [as per the market]," he said.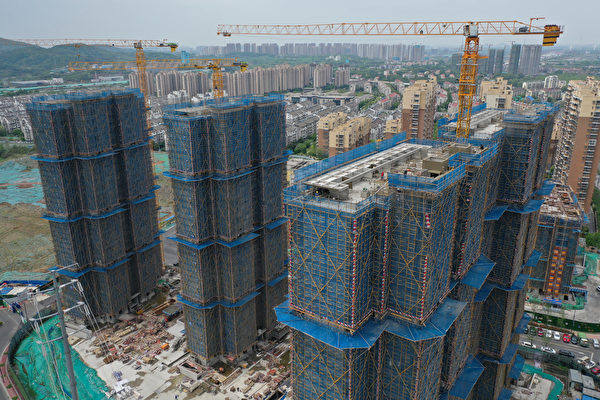 Unparalleled Risks
Veteran political and economic researcher, Albert Song, told The Epoch Times on May 2 that "China's real estate industry involves a broader scope of [interest groups], and the risks are unparalleled in the world."
Song said: "Unlike other countries, the government is the biggest stakeholder in China's real estate sector, followed by developers and banks. All those interest groups, including those who have already bought a home, don't want house prices to fall and damage their gains."
In a normal society, "the trend of the property market can be speculated based on prices of the second-hand property," he said, "as these prices represent the market's natural response."
But the Chinese Communist Party (CCP), from the central level to the local authorities, strives not to mention "reducing housing prices" but mostly expresses "stabilizing housing prices." That is because a fall in house prices "would greatly impact the CCP," Song said.
Local authorities' failure to sell land will lead to a loss in fiscal revenue, and the property developer's debt defaults will affect banks, Song said.
Large numbers of ill-performing loans will result in reduced loan disbursements, he said.
Business entities will suffer, and enterprises may go bankrupt and lay off staff, Song said about other possible outcomes.
Young Buying a Home
According to Yao, China's real estate sector can be seen as "a significant uncertainty."
This can be proved in Suzhou's second-hand house market. For example, on the morning of April 28 and May 2, 461 and 2,159 second-hand residential units were sold in the city, 99 and 1,797 more than the daily average of 362 units sold in the past week, respectively, creating a giant difference in a matter of days.
As for young people buying houses, Yao conveyed in an official interview program on March 15, 2022, warning people not to treat buying a house as a means to accumulate wealth.
"It is very unreliable and a foolish mechanism for young people," he said. Because "in another ten years or so, Chinese houses could be worthless, so house-buying cannot preserve and raise its value."
He advised young people to rent a house first instead of buying one too early.
Yao's advice sparked hot debate on Weibo at the time. Some questioned that many post-90s young people expected buying a home to address hurdles such as marriage, resident settlement, and local employment limits.
Song suggested it's better to wait and see if young people are not in urgent need, "three-year-long lockdown has resulted in local authorities' having unsustainable fiscal revenue, so the risk of debt default is increasing."
From The Epoch Times