With Tropical Storm Hilary making landfall in the Los Angeles area on Sunday night, another state has declared a state of emergency as flash floods and torrential rain are expected to intensify as the eye of the storm arrives in the United States.
Nevada Gov. Joe Lombardo said in a statement on Sunday, "Today, I am declaring a state of emergency due to the imminent impact of Hurricane Hilary across the state. My administration will continue to work diligently with state, federal, tribal, and local partners in preparation and response to this severe weather event."
National forecasters say their models are predicting severe weather in southern Nevada, including flash flooding, rockslides, and mudslides from rainfall that is expected to exceed annual totals.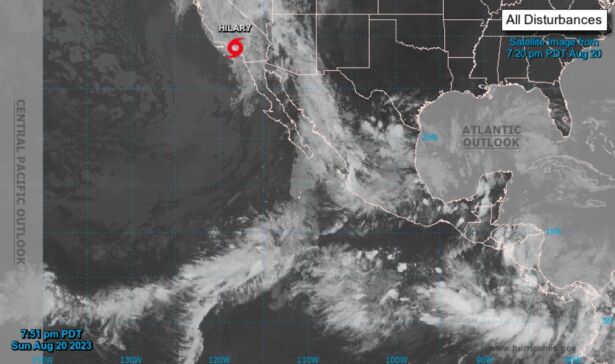 The National Hurricane Center (NHC) said in its 8 p.m. update on Sunday evening, "Intense heavy rainfall associated with Hilary is expected across the Southwestern United States through early Monday morning. Rainfall amounts of 3 to 6 inches, with isolated maximum amounts of 10 inches, are expected across portions of southern California and southern Nevada leading to dangerous to catastrophic flooding. Across portions of Oregon and Idaho, rainfall totals of 1 to 3 inches with local maxima to 5 inches are expected through Tuesday morning, resulting in localized, some significant, flash flooding."
A HIGH risk is in effect in our Day 1 Excessive Rainfall Outlook. More details: https://t.co/FQU5sbmsxo pic.twitter.com/KL9BVgIjpd

— NWS Weather Prediction Center (@NWSWPC) August 21, 2023
Earlier on Saturday, Mr. Lombardo activated 100 Nevada National Guardsmen to assist residents in southern Nevada.
Clark and Nye counties have already declared states of emergency due to flooding, the governor said. Depending on how the storm system moves, he said that additional declarations from counties and tribes would be possible over the coming days.
"Hurricane Hilary represents a serious threat to our communities, and once again, I implore all Nevadans to prepare for flooding, remain vigilant, and to follow all guidance from state and local emergency officials," the governor said.
Nevada's declaration means that the White House has granted federal assistance to help state officials as they work to protect residents and mitigate damage to critical infrastructure from the storm. The Federal Emergency Management Agency (FEMA) has had staff in Nevada since Saturday to support the response efforts.
The White House said on Sunday evening that the Biden administration had "deployed federal personnel to Nevada to ensure the state has additional support, and we will continue to coordinate with California, Nevada, and Arizona on any resources they might need."
Los Angeles in Eye of Storm
California declared a state of emergency on Saturday. A tropical storm warning remains in place from the California-Mexico border to Point Mugu just north of Los Angeles.
President Joe Biden spoke with California Gov. Gavin Newsom on Sunday.
"I continue to be briefed on our preparedness efforts, and the storm's potential impact—including flooding," Biden added. "My administration stands ready to provide additional assistance as requested."
He also said that he and his team have been "closely monitoring" the earthquake that occurred in Ventura County, Southern California, on Sunday afternoon "and any resulting impacts."
On Sunday, very heavy rain fell across much of Ventura and Los Angeles Counties, with the total volumes at 7 p.m. reaching 6.15 inches at Leona Valley and 5.94 inches at Lewis Ranch.
Latest radar loop at 612 PM.

Moderate to heavy rain continues from eastern #SantaBarbara county to #LosAngeles county.

Some impressive rates:

Deals Flat (in the Eastern Santa Monicas) 0.47 inches in 10 minutes.#CAwx pic.twitter.com/vcf9MlmddJ

— NWS Los Angeles (@NWSLosAngeles) August 21, 2023
Some schools in Los Angeles county have been closed for Monday.
Tropical Storm Hilary, which currently has maximum sustained winds of around 45 mph, is weakening and forecast to become a post-tropical cyclone by early Monday. However, according to forecasters, the warm surfaces waters in the eastern Pacific Ocean still mean that moisture-heavy air will drive "rounds of heavy rainfall and high wind gusts throughout the West on Monday."
The president also urged residents in the West on Sunday evening "to take this storm seriously, and listen to state and local officials."
President Biden and members of his family are in Lake Tahoe, Nevada, on vacation for a week, while the president will also travel to Maui, Hawaii, on Monday to support residents as they look to for answers and to rebuild after the deadly wildfires that killed at least 114 people.
From The Epoch Times