SACRAMENTO—Chanting "go home Nazis" and "trans rights are human rights," more than 100 activists—some carrying Antifa insignia and wielding clubs—attacked journalists across the street from the state Capitol building on March 10.
The transgender activists, carrying a black-and-red flag and signs with other Antifa insignia, staged a "Day of Rage" protest about an hour before a planned and permitted rally promoting Detransition Awareness Day on the steps of the Capitol.
A detransitioner is someone who has either socially or medically transitioned their gender, but later regretted the decision and re-embraced their original birth gender.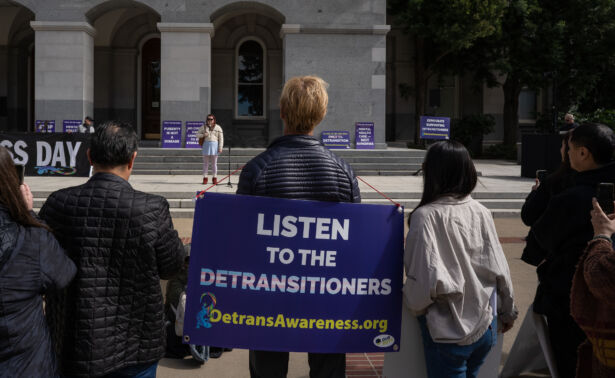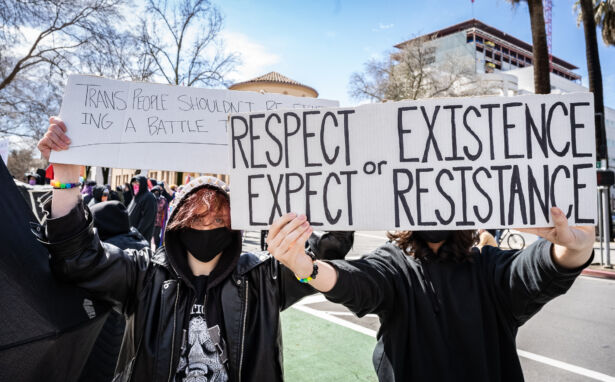 A few days ago, a flier calling for a "a day of rage" against well-known detransitioner Chloe Cole and calling her supporters a "gang of astroturf transphobes," surfaced online. Cole, 18, from the Central Valley, is currently suing health care provider Kaiser Permanente for giving her a double mastectomy when she was 15 years old, and she has spoken against legislation that made California trans sanctuary state.
Cole and other detransitioners have criticized transgender ideology and gender transition surgeries for minors and adults under 25 years old.
The counter-protesters gathered in the intersection of 10th and N streets just outside the jurisdiction of the California Highway Patrol (CHP) Capitol protection unit, shouting "all cops are bastards" at more than two dozen officers.
The trans activists assaulted at least four journalists who were photographing and filming the mayhem, including a TV crew whose cameras were damaged as activists marched down N Street in front of the Legislative Office Building. They assaulted another man on the street who—bleeding from a wound over his right eye—ran to the Capitol grounds for refuge. At least two fire trucks and an ambulance responded to the scene where paramedics bandaged the man's head and eye.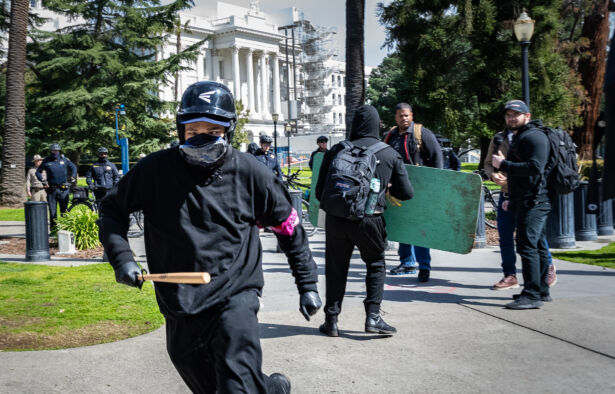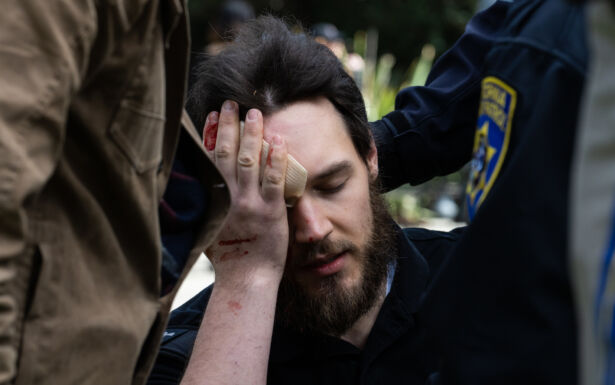 The Sacramento Police Department said in an email to The Epoch Times that officers arrested Joseph Conradsen, 31, for multiple counts of assault with a deadly weapon and multiple counts of "assault with force likely to produce great bodily injury." Conradsen was booked into the Sacramento County Main Jail on the charges, according to a public information officer.
Police will continue to investigate the incidents stemming from the protest, the spokesman said. Victims and witnesses are encouraged to contact the dispatch center at (916) 808-5471 or Sacramento Valley Crime Stoppers at (916) 443-HELP (4357).
The CHP capitol police made no arrests.
Detransitioner Awareness
The peaceful detransitioner rally, led by Our Duty, a non-partisan, non-religious international group of parents who oppose transgender ideology, featured several speakers, including Cole, the former female-to-male teen transitioner.
Cole said nobody knows the true number of detransitioners because many are afraid to speak up about their regret.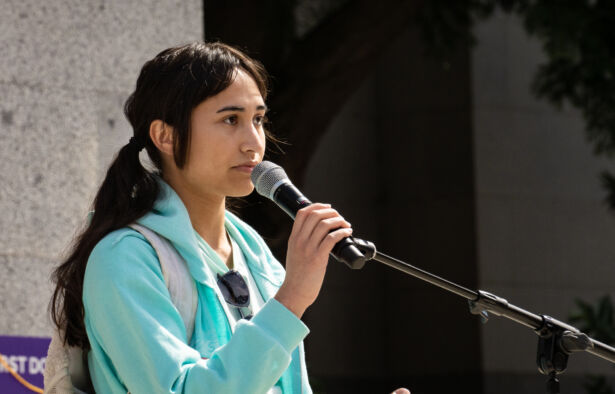 "I started socially transitioning at the age of 12, and just six months after being diagnosed with gender dysphoria, I was put on puberty blockers and then testosterone," she said. "When I was 15 years old … I had my breasts permanently removed."
It wasn't very long after that, that Cole realized these medical interventions she thought would help her become "whole and healthy … and happy" were really harming her.
"You may hear that detransitioners don't exist, or that clinically, they are not significant, that transgender people only try and detransition because of societal or social pressures, or because they can't find work, or because it's too difficult, or because you don't have support from the friends or family or those around them. This is not true," she said.
When she announced her detransition, Cole said trans activists accused her of using resources that could have been used to treat "real" transgender people, and that it was her own fault because she was 13—not 5—when she began to hormone replacement treatments and should have known what would happen to her body.
"For a while, I didn't know how to fight back. I didn't know how to speak up. I certainly didn't want to harm the community people that I thought loved me, that I was a part of once," she said.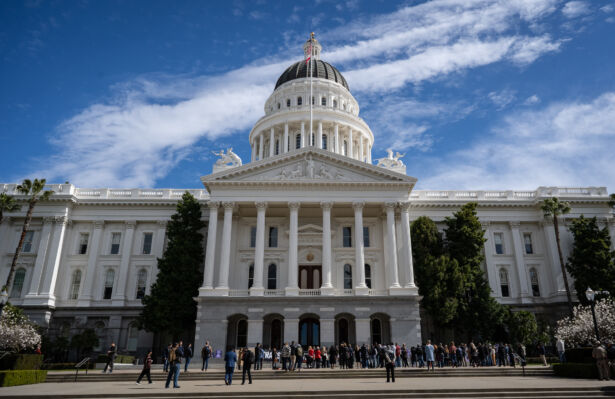 Abel Garcia, a former male-to-female transitioner, told the crowd of more than 100 supporters he regrets using cross-sex hormones and getting breast implants, and that children and young adults should not be used for medical experiments.
Garcia said he empathizes with the struggles of the transgender people who are caught in the ideological debate.
"We already had one activist here yell at us earlier, and we have all of them to the left of us," he said from the Capitol steps. "I don't hate anyone. Honestly, I have empathy. I have sadness for these people because they're lost."
Garcia urged people to take a second look at the side effects of transgender treatments.
"They're killing themselves slowly with poison," he said, referring to cross-sex hormones. "Take a step back, slow down. You're hurting yourself."
Erin Friday, a western U.S. regional co-leader for Our Duty, told supporters the rally was held two days in advance of Detransition Awareness Day, Sunday March 12, at the state Capitol to raise awareness.
"The vast majority of our membership are Democrats or former Democrats who left the party because of gender ideology," she said. "Our message is not one of hate, but of love—love of reality, love of one's body as perfectly imperfect as it is without drugs and surgeries, and love of children and vulnerable adults."
"Gender affirmative" care is harming thousands of children and young adults, Friday said.
"We are here to honor the brave detransitioners who are subjected to hate and threats from those who want to deny their existence, who say that their stories are lies or some mystic gender journey, who say that they are speaking up for political reasons, and worse, for stardom," she said.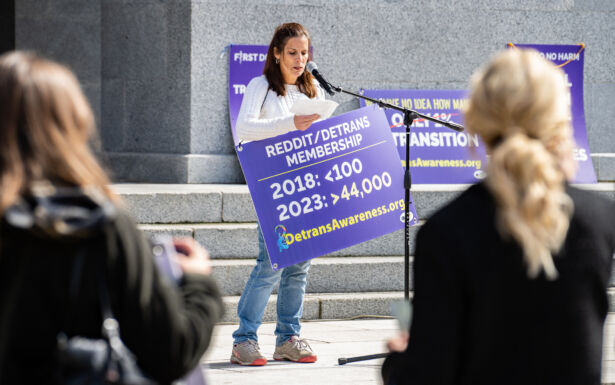 To the contrary, the detransitioners deeply regret gender transition and would rather "turn back time" and "undo the harm" they have suffered at the hands of the health care communities, Friday said.
"They don't want to be here. They don't want center stage," she said, "but they are compelled to be here because they don't want what happened to them to happen to others."
Friday, a longtime Democrat, urged parents to pay attention new legislation moving through the California that she said threatens parental rights.
Detransition Awareness Day events were scheduled in several other California cities as well many across the nation.
From The Epoch Times