Arizona Gov. Katie Hobbs announced her immigration policy alongside state and law enforcement leaders on Monday, as Title 42 is set to end this Thursday.
Hobbs called on the White House to deliver more funds for border communities across the state and outlined a five-point plan highlighting public safety, partnerships, and more.
During the press conference, the governor revealed that she sent President Joe Biden and Homeland Security Secretary Alejandro Mayorkas letters outlining action they need to take ahead of Thursday's end to the COVID-related border policy.
Title 42 allows U.S. officials to quickly expel illegal immigrants. The policy went into effect during the pandemic in March 2020 and has been used to expel nearly 2.8 million people, according to statistics by U.S. Customs and Border Protection.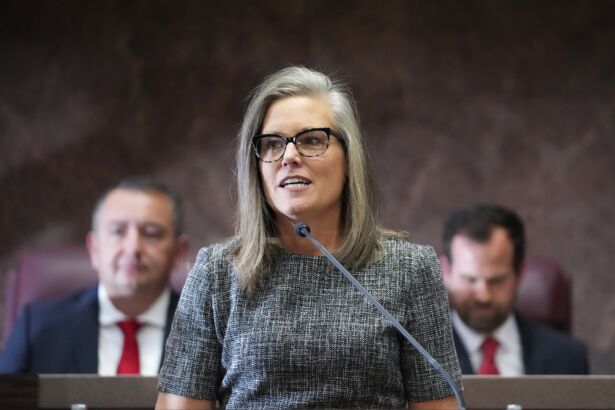 Officials are expecting thousands of migrants who have been waiting at the border to enter the United States, as California, Arizona, and Texas have already seen an increase in migrants crossing the states' borders.
Hobbs believes effective partnerships between local, state, and federal governments are the only way to protect U.S. borders and keep border communities safe from any illegal immigrant-related issues.
"While we are prepared to take state action in any way we can, we cannot manage this influx alone," Hobbs said. "Without much more robust action from the federal government, the current situation will only get worse."
President Joe Biden has defended his decision to send 1,500 troops to the southern U.S. border ahead of the Title 42 expiration date.
"I've asked this Congress for help in terms of what they need at the border. They need more agents," Biden said in an interview with Stephanie Ruhle, host of "The 11th Hour" on MSNBC.
The newly dispatched troops are "there to free up the border agents that need to be on the border," Biden added. "And we're having another thousand people coming in; they are asylum judges, to make judgments to move things along."
Under federal law, active-duty troops cannot directly enforce U.S. laws, including immigration laws.
Hobbs's five-point "preparedness plan" will provide the state with resources to help with public safety, partnerships with non-governmental organizations, migrant transportation, and more shelters.
The state's Department of Emergency & Military Affairs will provide transportation for illegal immigrants within and outside of Arizona in coordination with humanitarian organizations, along with providing funds for temporary emergency shelters.
Hobbs said she is doing her best to protect Arizona's borders but there was only so much the state can do. She vowed to keep pressuring the Biden administration to get the state the resources it needs. She called on the federal government to finalize a shelter program that would reimburse states.
Yuma Mayor Douglas Nicholls, who joined the news conference, agreed with Hobbs's border control plan and said the number of people crossing from Mexico into the Border Patrol's Yuma Sector has gone from 300 per day a month ago to 1,000 people Sunday.
"Time and time again, [border] communities like Yuma step up," Nicholls said. "This task is going to be too great. The influx has already begun."
Officials emphasized that immigration laws will still be enforced under Title 8, and those who cross the border unlawfully are subject to criminal consequences, such as deportation and a five-year ban on reentering the United States, with Title 8.
"Let me be clear: Our border is not open, and will not be open after May 11," Mayorkas said at a recent press conference where he announced that the United States will open migrant processing centers in Latin America.
From The Epoch Times