Arizona Gov. Katie Hobbs' press secretary said she is resigning after posting a Twitter post that appeared to suggest violence against "transphobes" following the deadly mass shooting at a Nashville Christian school that left three children and three adults dead.
Hours after the mass shooting took place on Monday, Hobbs press secretary Josselyn Berry wrote: "Us when we see transphobes." It included a GIF image of an actress pointing two handguns from a scene in the 1980 film, "Gloria."
Berry had written that "if you work in the progressive community and are transphobic, you're not progressive" earlier in the day. It's not clear if her Twitter messages were connected to reports saying that 28-year-old Audrey Hale, a biological woman who police said used male pronounces, was named as the suspect in the case.
The controversial post was taken down, and Berry appears to have restricted her account to only her followers. Her Twitter bio as of Wednesday afternoon said that she was the "Press Sec for @GovernorHobbs."
The office of Hobbs, a Democrat, confirmed that Berry resigned from her position to local news outlets on Wednesday. The Epoch Times has contacted Hobbs' office for comment.
A statement from her office said that "the Governor does not condone violence in any form. This administration holds mutual respect at the forefront of how we engage with one another. The post by the Press Secretary is not reflective of the values of the administration. The Governor has received and accepted the resignation of the Press Secretary."
Berry has not issued any public statements after it was confirmed she would resign Wednesday.
Before her resignation, a number of Republicans and conservative users called for her ouster.
"Less than 12 hours after the tragic shooting in Nashville by a deranged transgender activist [Hobbs'] Press Secretary calls for shooting people Democrats disagree with," the Arizona Freedom Caucus wrote Tuesday.
Daniel Scarpinato, a former chief of staff and spokesman for former Gov. Doug Ducey, said that her Twitter post was tone-deaf and offensive. It was also "below the dignity of the office of the governor" given Berry's connection to Hobbs, he told AZCentral.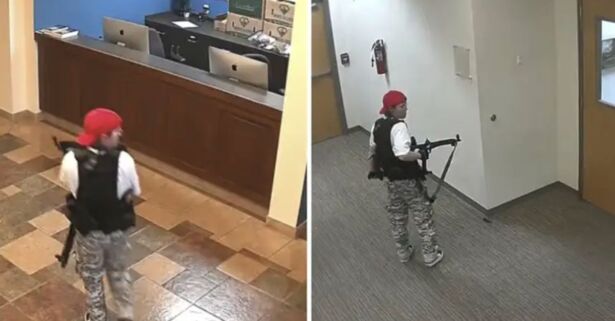 "I don't think anyone, no matter your political leanings, would look at that tweet—any sane, professional person would look at that tweet and say, 'This is how I want one of the top advisers to the governor of my state to conduct themselves,'" Scarpinato told the outlet. "JUST IMAGINE if this was the spokesperson for a Republican Governor," he also wrote on Twitter.
Meanwhile, Kari Lake—Hobb's Republican opponent during last year's midterm elections—claimed earlier on Wednesday that the mainstream media "is silent" on Berry's Twitter post and highlighted what she believes is a double standard amongst Republicans and Democrats.
"If a conservative made light of a mass shooting & called for more violence, they'd be personally & professionally destroyed. But a member of Katie Hobbs' staff did just that & the media is silent. We don't partake in cancel culture – but the media's bias has never been clearer," Lake wrote on Twitter, including Berry's post.
Berry is the former spokeswoman for the Arizona Democratic Party and a former state Senate Democratic caucus spokeswoman. She joined Hobbs's team after the election.
Audrey Hale
On Tuesday, Nashville Police Chief John Drake said Hale was a former student at the school but Hale did not target specific victims there. Hale was under a doctor's care for an undisclosed emotional disorder and was not known to police before the attack, he added.
If police had been told that Hale was suicidal or homicidal, "then we would have tried to get those weapons," Drake said. "But as it stands, we had absolutely no idea who this person was or if (Hale) even existed."
On Tuesday night, Tennessee's governor said one of the victims, 61-year-old substitute teacher Cynthia Peak, was a close friend of his wife, Maria, and that the two had been scheduled to have dinner after Peak taught that day.
"Maria woke up this morning without one of her best friends," Gov. Bill Lee said, adding that his wife once taught with Peak and another victim, Katherine Koonce, and the women and "have been family friends for decades."
The Associated Press contributed to this report.
From The Epoch Times