Arizona State Treasurer Kimberly Yee has vowed not to appoint 13 nominees as state agency directors while temporarily serving as acting governor of the state.
In a statement, Ms. Yee—who is fourth in line in the Arizona governor succession—said she will be serving as acting governor from the evening of Sept. 27 until mid-morning on Sept. 28, while Gov. Katie Hobbs is out of state.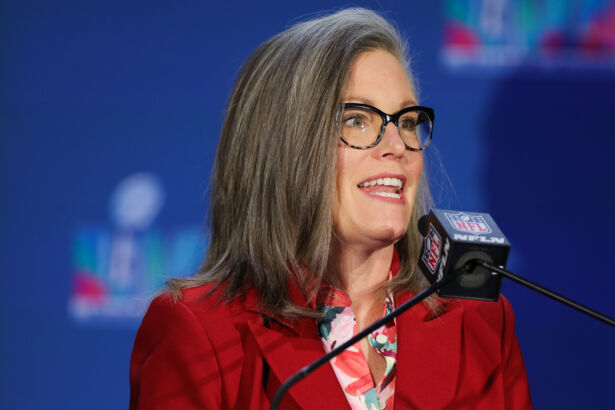 The Republican state treasurer stressed that while she is "pleased to step in this role," the governor will eventually be returning to the state.
She did not provide further details as to why Ms. Hobbs, a Democrat, had left Arizona, and the governor's office did not publish a statement on the matter. However, The Arizona Republic reports that Ms. Hobbs was out of state in Washington, D.C., on Wednesday following a weeklong visit to Taiwan where she met with political and business leaders.
The Epoch Times has contacted Gov. Katie Hobbs' office for further comment.
Ms. Yee, in her statement, said she would "refrain" from using her new power to name 13 nominees as state agency directors or to call the Legislature into a special session to confirm the nominations amid an ongoing tussle to appoint new state agency directors.
Ms. Hobbs had sought to appoint 13 nominees to various state agency positions but her nominations failed to win enough support in the Republican-led Senate.
"I have been notified that I will be serving as Acting Governor beginning later this evening until mid-morning tomorrow. While I am pleased to step into this role, I will refrain from naming directors to the 13 agencies that currently have vacancies and will not call the Arizona Legislature into session to confirm them," Ms. Yee said.
"That being said, I do hope when the Governor returns to Arizona, she will promptly name qualified directors to these important state agencies and remove the legal uncertainty that exists for all of the regulatory actions taken by the agencies. I expect to see a swift resolution to this matter, so we can get back to getting the work done for Arizona taxpayers. The people of Arizona deserve leaders who follow the rule of law," the Republican state treasurer added.
'Political Circus'
Ms. Yee's announcement comes amid an ongoing dispute in Arizona over the appointment of state agency directors, who hold key positions leading various agencies like the Department of Health Service, the Department of Administration, and the Department of Economic Security.
After much back and forth between lawmakers, Ms. Hobbs announced in a Sept. 25 statement that she was taking unprecedented action and withdrawing her nominations in response to what she called a "political circus." She blamed the impasse on the Senate's failure to "act in good faith to review and confirm nominees in a timely manner."
In her statement, Ms. Hobbs took aim at Sen. Jake Hoffman, (R-Queen Creek), who heads the Committee on Director Nominations in Arizona, a first-of-its-kind committee established solely to consider Ms. Hobbs's nominations for state agency heads.
"After months of extremist, fake elector Jake Hoffman creating a partisan political circus out of the director confirmation process, Governor Katie Hobbs has withdrawn her cabinet nominees from consideration by the Senate and will pursue other lawful means of ensuring State government continues to work for Arizonans," her office said.
The Democratic governor went on to accuse Mr. Hoffman of creating a "partisan process designed to slow walk nominees, further his radical political agenda, and attack reproductive freedoms in his ongoing fight to ban abortion with no exceptions for rape and incest."
"The process is holding agencies that serve the people of Arizona hostage and wasting taxpayer dollars. The governor's actions will ensure that small businesses, Veterans, families, and children that rely on the State for critical services can continue to count on the leadership they deserve," she said.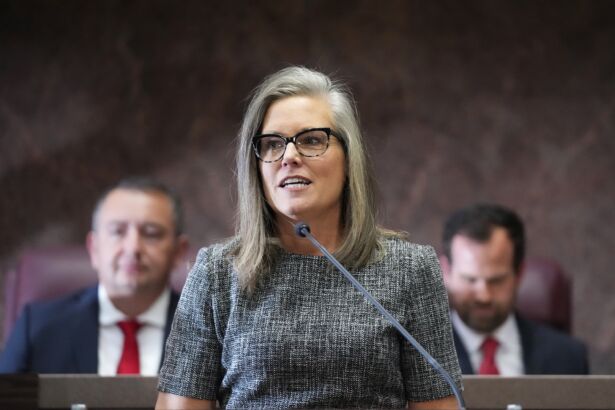 Governor's 'Temper Tantrum'
After withdrawing her 13 nominations, the governor instead gave them the new title of "executive deputy director," bypassing the decades-old process of Senate confirmations to allow the Legislative branch to serve as a check and balance to the executive branch.
Her action has seen her nominees attempt to continue their work as official agency directors while facing contest. Senate President Warren Petersen has called the governor's nominees "fake directors."
Agency directors are only able to serve in their positions for a year if they do not receive Senate confirmation.
In response to her decision to withdraw the nominations, Mr. Hoffman expressed his disappointment in what he said was the governor's "temper tantrum" and accused her government of attempting to circumvent a "fair, comprehensive and committed" confirmation process.
"State agency directors have an immediate impact on the lives and livelihoods of every Arizonan; therefore, the Senate has a crucial role under Arizona law in providing a check and balance on the Governor's choices," the Republican said in a statement.
"With this latest stunt, Katie Hobbs has doubled down on her commitment to weaponizing the government of Arizona to enact her extreme far-left agenda. The people of our state deserve highly qualified, non-partisan individuals to lead these agencies, instead, Hobbs has chosen to nominate partisans and ideologues," Mr. Hoffman said.
"Hobbs is the only person to blame for her nominees struggling to succeed under actual due diligence. She should have done her homework prior to making her nominations, yet she chose not to and is now attempting to blame everyone else except herself for her failures," he continued.
"The only ones who stand to lose in the wake of her childish games are the citizens of Arizona. I'm incredibly disappointed, but I'm certainly not surprised," he added.
From The Epoch Times