LEWISTON, Maine—Authorities carried out a multistate search on land and water Thursday for a man who they say killed 18 people and wounded 13 in a mass shooting at a bowling alley and bar.
Schools, doctor's offices, and grocery stores closed and people stayed behind locked door in cities as far away as 50 miles from the scenes of Wednesday night's shootings in Lewiston.
President Joe Biden ordered all U.S. flags to be flown at half-staff as condolences poured in from around the nation and at home.
The shooting suspect, Robert Card, is considered armed and dangerous and should not be approached, authorities said at a news conference. Mr. Card underwent a mental health evaluation in mid-July after he began acting erratically during training, a U.S. official told The Associated Press.
Police said they have had no reported sightings of Mr. Card since the shootings at Schemengees Bar and Grille and at Sparetime Recreation, a bowling alley about 4 miles away. The Androscoggin County Sheriff's Office released two photos of the suspect walking into the bowling alley with a rifle raised to his shoulder.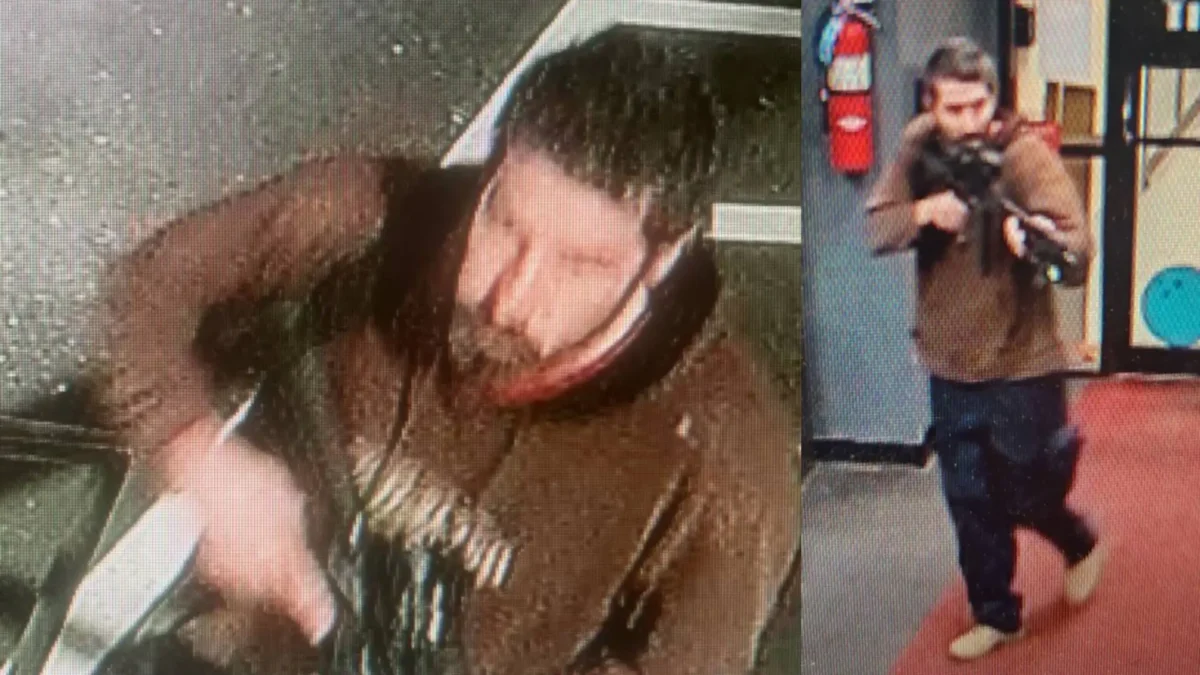 A telephone number listed for Mr. Card in public records was not in service.
Eight murder warrants were issued for Mr. Card, 40, after authorities identified eight of the victims, police said. Ten more will likely be issued once the names of the rest of the dead are confirmed, said Maine State Police Col. William Ross.
Three of the 13 people wounded in the shootings were in critical condition and five were hospitalized but stable, Central Maine Medical Center officials said.
The attack started at Sparetime, where a children's bowling league was taking place, just before 7 p.m. Wednesday.
Authorities launched a multistate search for Mr. Card on land and water. The Coast Guard sent out a patrol boat Thursday morning along the Kennebec River but after hours of searching, they found "nothing out of the ordinary," said Chief Petty Officer Ryan Smith, who is in charge of the Coast Guard's Boothbay Harbor Station.
Mr. Card's car had been discovered by a boat launch near the Androscoggin River, which connects to the Kennebec, and Mr. Card's 15-foot boat remains unaccounted for, Mr. Smith said. But he added that officials didn't have any specific intelligence that Mr. Card might have escaped aboard his boat. "We're just doing our due diligence," he said.
The Canada Border Services Agency issued an "armed and dangerous" alert to its officers stationed along the Canada–U.S. border.
A bulletin sent to police across the country after the attack said Mr. Card had been committed to a mental health facility for two weeks this past summer after "hearing voices and threats to shoot up" a military base.
Immediately after the shooting, police armed with rifles took positions around Lewiston, Maine's second largest city, with a population of 37,000.
Schools 50 miles away in the town of Kennebunk closed as the search continued. Maine's largest city, Portland, closed its public buildings.