At least 11 people got injured in an accident involving a hayride vehicle and a car on Saturday evening in Little Rock Township, Illinois.
The crash happened about 50 miles west of Chicago on River Road between Blackhawk Road and Fox River Drive, west of Yorkville at about 5:30 p.m. when a passenger vehicle rear-ended a tractor-towed hayride wagon causing both vehicles to flip over resulting in at least 11 injuries, Associated Press reported.
The two passengers in the car were treated on the spot by first responders, while most of the casualties were reported among the dozen passengers of the hayride. Many of the injured were unconscious when paramedics arrived, Little Rock-Fox Fire Chief Greg Witek said, according to AP.
Most of the victims were transported with bone fractures to area hospitals. Three were in serious condition, officials said, WBBM-TV reported.
It is unknown what caused the crash. Police do not expect alcohol to have played a part in the accident. The names and ages of those involved have not been made public.
Hayrides or Hayrack rides and other agricultural of traditional forms of traffic are nothing uncommon in the northern states, but they have to compete for space on the road with other forms of traffic which can lead to accidents.
Sometimes, like this one incident in June, it involves a traditional vehicle, like an Amish man with a horse-drawn buggy.
An Amish man in Kentucky faces DUI charges after his horse-drawn buggy collided with a car.
Reuben Yoder, 34, was arrested on June 12 by the Smiths Grove Police Department after deputies responded to the scene of a crash in Smiths Grove—a rural part of the state.
Yoder initially claimed that one of his children was driving the buggy when it allegedly sideswiped a car at the intersection of Hydro Pondsville Road and T. Elkins Road, the Bowling Green Daily News reported.
None of Yoder's seven children, who were all inside the buggy at the time of the accident, admitted to causing the crash. Instead, they told police their father did it.
The children were between the ages of 9-months and 12-years-old. Yoder's wife, Salome Yoder, was also in the buggy at the time of the accident, according to the report.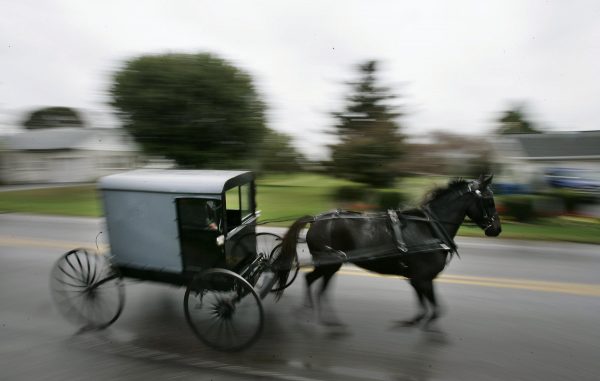 File photo of a horse drawing an Amish carriage. (Chris Hondros/Getty Images)No one was injured in the incident.
Police suspected that Yoder, who had slurred speech and bloodshot eyes, was under the influence of alcohol. He was initially given field sobriety tests and later taken to a medical center for evaluation.
Yoder faces 10 felony counts, punishable by up to 5 years in jail.
Tom Ozimek contributed to this report.