UPDATE: Indonesia's disaster management agency said at 8:35 a.m. local time that the death toll from a tsunami apparently caused by undersea landslides from a volcanic eruption has risen to 43 with some 600 injured.
At least 20 people have died after a tsunami hit beaches around Indonesia's Sunda Strait following volcanic activity in the area.
The tsunami struck at 9:27 p.m. local time on Saturday night, Dec. 22, the country's Meteorology, Climatology and Geophysics Agency (BMKG) said.
Indonesia's national disaster management agency says 165 people were hurt and dozens of buildings have been damaged. The tidal wave was between 0.28 to 0.9 meters at its highest.
Benar, ada tsunami yang menerjang pantai di Selat Sunda pada 22/12/2018, 20.27 WIB. Penyebab tsunami bukan gempabumi. Namun kemungkinan adanya longsor bawah laut pengaruh erupsi Gunung Anak Krakatau. Bersamaan dengan adanya gelombang pasang akibat bulan purnama. pic.twitter.com/5Y2ZY9f0bi

— Sutopo Purwo Nugroho (@Sutopo_PN) December 23, 2018
The agency says the tsunami was most likely caused by volcanic activity related to the eruption seen at the nearby volcano Anak Krakatau (Child of Krakatau)—remnants of the deadly Krakatau volcano that was obliterated when it erupted in 1883. It is estimated that 36,000 people were killed in that explosion, with many more injured.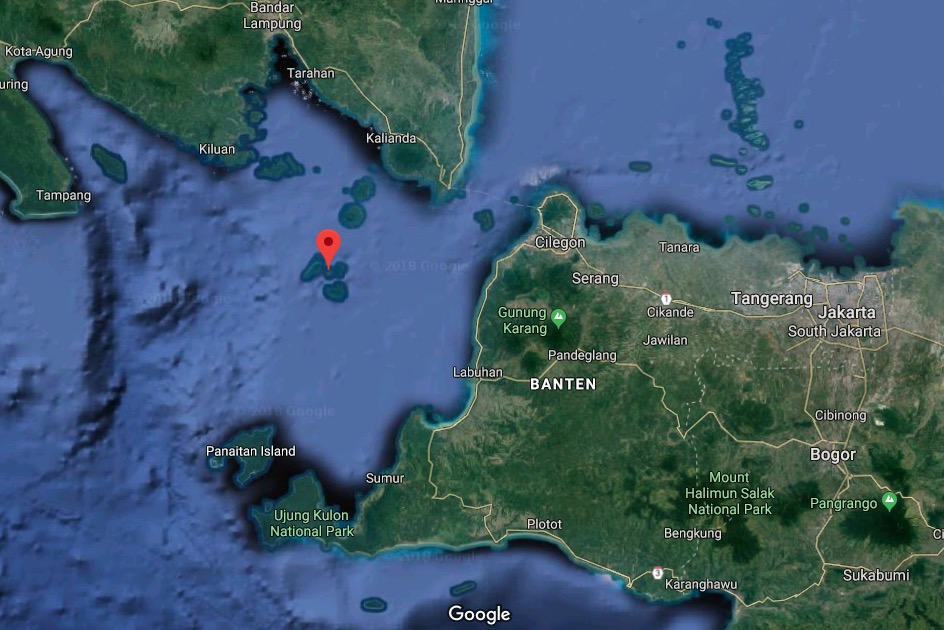 "It was caused by a combination of an undersea landslide resulting from volcanic activity on Anak Krakatau and a tidal wave," disaster agency spokesman Sutopo Purwo Nugroho said.
Anak Krakatau erupted about half an hour earlier at 9:03 p.m. local time, according to BMKG.
Penyebab tsunami di di Pandeglang dan Lampung Selatan adalah kemungkinan kombinasi dari longsor bawah laut akibat pengaruh erupsi Gunung Anak Krakatau dan gelombang pasang saat purnama. BMKG masih meneliti lebih jauh untuk memastikan penyebab tsunami. pic.twitter.com/gbJ9eTND6u

— Sutopo Purwo Nugroho (@Sutopo_PN) December 22, 2018
Yesterday evening disaster striked on my family trip to the coast of West-Java (Anyer) -when we got hit by tsunami…
The Sunda Strait between the islands of Java and Sumatra connects the Java Sea to the Indian Ocean.
Footage posted on social media show the aftermath of the tsunami, with flooded streets and overturned cars.
Data sementara dampak tsunami di Pantai di Kab Pandeglang, Serang dan Lampung Selatan hingga 23/12/2018 pukul 04.30 WIB: tercatat 20 orang meninggal dunia, 165 orang luka-luka, 2 orang hilang dan puluhan bangunan rusak. Data korban kemungkinan masih akan terus bertambah. pic.twitter.com/6f7buuoD5Y

— Sutopo Purwo Nugroho (@Sutopo_PN) December 22, 2018
According to a statement from BMKG, "the tsunami hit several areas of the Sunda Strait, including beaches in Pandeglang regency, Serang, and South Lampung" from where the deaths have been reported.
Endan Permana, head of the National Disaster Mitigation Agency in Pandeglang, told Metro TV that police were providing immediate assistance to victims in Tanjung Lesung in Banten province, a popular tourist getaway not far from Jakarta, as emergency workers had not arrived in the area yet.
"Many are missing," Permana said.
In September, at least 832 people were killed by a quake and tsunami that hit the city of Palu on the island of Sulawesi, which is just east of Borneo.
Reuters and The Associated Press contributed to this report.
Watch Next:
Aurora Australis Illuminates Southern Skies