The Department of Justice (DOJ) is doubling the number of lawyers in its Civil Rights Division with the aim of making sure Americans' right to vote is protected, Attorney General Merrick Garland announced Friday.
Lawyers will utilize provisions in the Voting Rights Act, the National Voter Registration Act, the Help America Vote Act, and the Uniformed And Overseas Citizens Absentee Voting Act "to ensure that we protect every qualified American seeking to participate in our democracy," Garland said during a policy address in Washington.
"We are scrutinizing new laws that seek to curb voter access and where we see violations we will not hesitate to act," he said. "We are also scrutinizing current laws and practices in order to determine whether they discredit against black voters and other voters of color. Particularly concerning with in this regard are several studies showing that in some jurisdictions nonwhite voters must wait in line substantially longer than white voters to cast their ballots."
The DOJ will apply the same scrutiny to post-election audits, according to Garland, to make sure the election reviews fall in line with federal laws meant to protect records and guard against voter intimidation.
Garland referenced the audit taking place in Maricopa County, Arizona, on the orders of the Republican-controlled Senate in the state, noting that the Department of Justice previously sent a letter to Arizona Senate President Karen Fann expressing concern about the review. Fann said in a response letter that the audit was secure and that a previous plan to canvass some voters was on hold indefinitely. The attempted intervention lacked constitutional authority, experts told The Epoch Times.
Fann told The Epoch Times in an email that Garland's remarks did not surprise her.
"The Democrats have been trying every avenue they can to stop or discredit this audit. I'm sure this will be one of many avenues they will pursue post audit as well. What disturbs me more than anything is the fact that according to recent polls, 40 to 50 percent of voters believe there are serious problems or 'serious fraud' in our electoral system and none of these entities think it's important enough for them to do an audit to answer all of our citizens' concerns or questions," she wrote.
The DOJ in the coming days plans to publish guidance outlining laws that apply to the audits along with guidance with respect to early voting and voting by mail. It will also promote access to voting by assisting other agencies in expanding voter registration opportunities, push Congress to pass the John Lewis Voting Rights Act, and partner with other agencies to "combat election disinformation that intentionally tries to suppress the vote," Garland said, warning against people who are considering issuing threats against election workers.
Garland took no questions after his address.
Republicans in over a dozen states this year, including Georgia and Arizona, have passed laws aimed at bolstering election integrity, with measures such as requiring voter identification and mandating stricter regulations for voter rolls.
GOP lawmakers and governors say the laws will prevent fraud and help ensure only qualified voters vote.
Democrats say that the laws will cut down on voting access and that voting fraud occurrences are rare.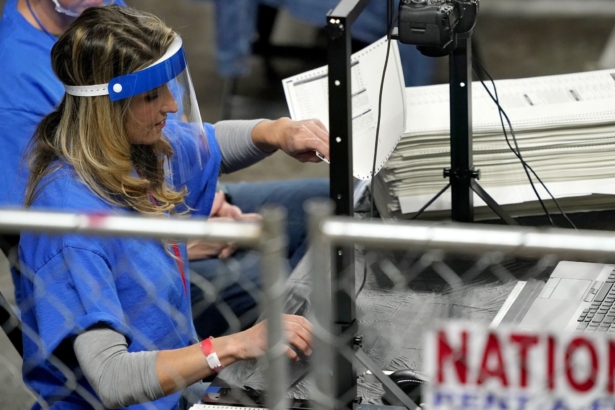 Democrats quickly weighed in on Garland's announcement.
"In April, my colleagues and I called on AG Garland to investigate the recent attacks on voting rights. Doubling the @CivilRights division shows us he sees what's happening around the country and is serious about protecting voting rights," Rep. Bonnie Watson Coleman (D-N.J.) said in a tweet.
"This is great news coming from Attorney General Garland. At a time when the right to vote is under attack by Republicans, we enacted stronger protections in Virginia and it is great to see those protections being expanded on the federal level," added Virginia Attorney General Mark Herring.
The National Association for the Advancement of Colored People and Brennan Center also said they supported Garland's plans.
The announcement came as members of the House Subcommittee on Elections met to discuss polling place quality and restrictions.
Rep. Bryan Steil (R-Wis.), the top Republican on the panel, noted that more people voted in 2020 than ever before.
He said that elections are protected by voter identification and maintenance of voter rolls, among other efforts.
Hans von Spakovsky of the Heritage Foundation, a conservative think tank, told The Epoch Times via email that Garland's claims about voting discrimination "are demonstrably false."
"There is less discrimination today in voting than at any time in our history; it has become a very rare event that can be easily remedied under Section 2 of the Voting Rights Act. In fact, recent elections have seen record levels of registration and turnout. Garland demonstrated that he has no idea what he is talking about when he criticized recent election reforms passed by state legislatures to fix the vulnerabilities that exist in our election system. They are not discriminatory and, contrary to his misrepresentations, protect the fairness and integrity of the election process for all voters," Spakovsky added.
"His vow to double the staff of the Voting Section of the Civil Rights Division when there is so little actual discrimination is an absurd waste of taxpayer money, a partisan public relations ploy that has no justification."
From The Epoch Times