HOUSTON—A hostage rescue that left a suspect fatally shot Thursday in Houston began days ago when three migrants were kidnapped from a vehicle in a neighboring county, according to a prosecutor.
The three migrants had been traveling in a vehicle on Interstate 10 in the southern part of Waller County on March 18 when they were stopped by kidnappers and forced into another vehicle, said Sean Whittmore, a prosecutor with the Waller County District Attorney's Office.
It is believed the migrants' driver called 911 and informed the Waller County Sheriff's Office about the kidnapping, Whittmore said. The sheriff's office later worked with the FBI, whose agents were involved in a shooting early Thursday morning in north Houston in which two people were rescued.
Agents with the FBI's hostage rescue team were rescuing the migrants when the shots broke out, said James Smith, special agent in charge of the FBI's Houston office, during a brief Thursday news conference where he took no questions.
Smith said one suspect was fatally shot while another suspect was taken into custody by the Harris County Sheriff's Office. Senior Deputy Thomas Gilliland, a spokesman for the sheriff's office, said he could not provide any information on the suspect as that person was arrested by the FBI.
Smith said agents rescued two people who were being held at a motel.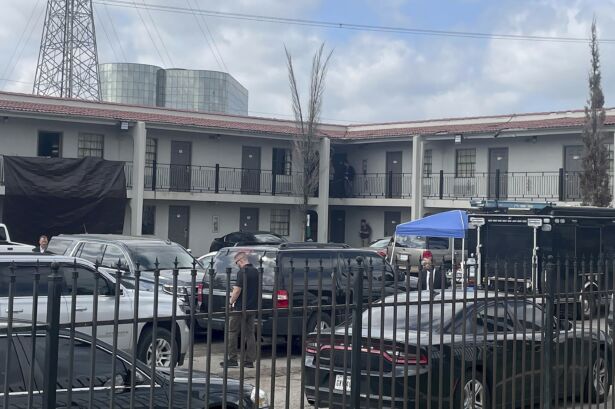 After the news conference, Whittmore told The Associated Press it was still his understanding that three people had been kidnapped. He referred questions on the discrepancy to the FBI. Smith did not address the discrepancy during his news conference.
Smith said no agents were injured and an FBI review team will investigate the shooting.
"In the interest of protecting the integrity of the ongoing investigation, we cannot provide any more details at this time," Smith said.
The FBI's Houston office declined to comment on how they found the migrants, what led up to the shooting or how many agents were involved.
The FBI said that following the shooting, there was no longer a threat to public safety.
Whittmore declined to comment on the migrants' immigration status, nationalities, or whether they were being illegally transported at the time of their kidnapping.
In an email, Tim Oberle, an Immigration and Customs Enforcement spokesman, declined to discuss the people's immigration status, referring all questions to the FBI.