The U.S. banking system is "safe and sound" after federal regulators facilitated the sale of the distressed First Republic Bank, President Joe Biden confirmed.
First Republic became the second-largest bank failure in U.S. history and the third midsize institution to collapse in less than two months.
Speaking from the White House on May 1 to mark National Small Business Week, Biden announced that all First Republic insured and uninsured depositors would be protected, and shareholders would lose their investments. Taxpayers would not be on the hook, Biden stated.
"These actions are going to make sure that the banking system is safe and sound," the president said. "And that includes protecting small businesses across the country who need to make payroll for workers and their small businesses."
Biden noted that he encouraged Congress to provide regulators with the tools they need to ensure all bank executives are accountable. He also called upon regulators to enhance regulations and supervision of large and regional banks.
"We have to make sure that we're not back in this position again, and I think we're well on our way to be able to make that assurance," he stated.
House Financial Services Committee chairman Patrick McHenry (R-N.C.) agreed that the American people should be confident in the safety of their deposits at U.S. banks and lauded the Federal Deposit Insurance Corp. (FDIC) for its "quick work" in resolving the First Republic issue.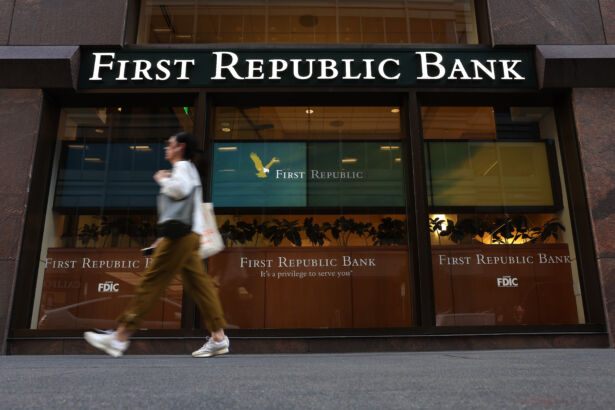 "The question remains, why didn't the FDIC do the same thing in March when SVB [Silicon Valley Bank] was placed into receivership?" McHenry said in a statement. "It's critical that the Biden administration and its regulators not politicize these events."
Last week, the FDIC took the bank into receivership after its financial position deteriorated. The federal agency estimated that taking First Republic into receivership would cost the deposit insurance fund (DIF) about $13 billion. This is in addition to the $22.5 billion hit the DIF endured after the failures of Silicon Valley Bank and Signature Bank.
During a weekend auction, regulators had solicited bids for the company, which included $229 billion in assets and $104 billion in deposits.
"Our government invited us and others to step up, and we did," said JPMorgan Chase CEO Jamie Dimon.
The nation's largest financial institution announced that it would transform First Republic's 84 locations in eight states and reopen them as branches of JPMorgan. As a result, depositors will have full access to all of their deposits.
Like SVB and Signature, a majority of First Republic's clients were wealthy accountholders with uninsured deposits that exceeded the $250,000 limit. The downfall of the two banks resulted in First Republic witnessing substantial account drawdowns, investors pulling their money, and traders selling shares. The company recently confirmed that it lost $100 billion in deposits during the banking panic in March.
But the worst appears to be over, according to Dimon.
"There are only so many banks that were offsides this way," he told analysts in a call following the announcement. "There may be another smaller one, but this pretty much resolves them all. This part of the crisis is over."
Investors appear to be less optimistic about the situation than the JPMorgan head, with regional bank stocks tumbling to kick off the trading week.
West Bancorp, for example, fell about 2 percent; US Bancorp sank as much as 3 percent; Western Alliance dropped nearly 2 percent; and State Street Corp slumped close to 1 percent. In addition, regional banking exchange-traded funds (ETFs) declined on May 1, including the SPDR S&P Regional Banking ETF, which plunged about 2.5 percent.
These banks also contain large amounts of uninsured deposits, especially State Street Bank, with 91.2 percent.
From The Epoch Times