A beer brand that was launched earlier this year as an alternative to Bud Light amid a months-long boycott proclaimed that it shattered its own company records by marketing a special edition can that featured former President Donald Trump's mugshot.
Ultra Right Beer CEO Seth Weathers told Fox News last week that the special edition can was launched after President Trump's mugshot was taken in August after he was indicted in Fulton County, Georgia, on racketeering and other charges stemming from his activity following the 2020 election.
Mr. Weathers told Fox Business that sales of the special edition mugshot can were the equivalent to more than five tractor loads of cans, saying it was now the "most sought-after collector beer can in American history."
"We knew people would go wild over these collector cans, but we had no idea the response would be this crazy," he said in a recent news release, adding that sales of the beer will top $2 million by 11:59 p.m. on Sunday when it is taken off the market.
Sales of the can "have poured in from the moment we launched," he added. "With over $1 million in beer and merchandise sales, we've raised over $50,000 for the legal defense of the Georgia Trump electors and the Georgia Republican Party. Conservative Dad's Ultra Right Beer puts our money where our mouth is—we're doing our part to fight back against the unjust persecution of American patriots."
According to the beer company's website, it touts itself as "100 percent American beer." Ten percent of the beer's sales will be donated to the Georgia Republican Party legal defense fund and the David Shafer Legal Defense Fund.
As for President Trump, the 2024 presidential candidate's campaign released mugshot-inspired gear last month that included T-shirts, coffee mugs, and beer holders. Hours after the mugshot was taken at the Fulton County Courthouse, the former president posted the image on his Twitter, or X, account—the first and only time he's done so since he was allowed back on the platform after his account was suspended in January 2021.
On Sunday, President Trump's mugshot merchandise is still available on his website.
Bud Light Update
Meanwhile, since April, Bud Light has been mired in controversy since it released a promotional beer can featuring transgender activist Dylan Mulvaney for March Madness. As images of the controversial beer can went viral on social media, conservative social media influencers and celebrities suggested a consumer boycott of the brand, causing sales to plummet for months.
Anheuser Busch InBev, the parent company of Bud Light, said in early August its U.S. revenue fell about 10 percent in the second quarter as sales of Bud Light dropped. Revenue fell $395 million in North America, too, it said.
Bud Light U.S. sales through retail stores have fallen by 25 percent or more since April, but the company said they had now stabilized.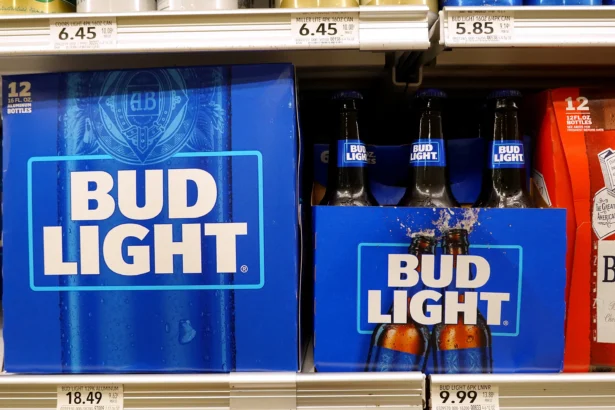 In an investors' call two months ago, CEO Michel Doukeris said that AB InBev's United States team is working hard to win back consumers, adding that the stabilization comes with signs of improvement. Bud Light's loss has spelled gains for Coors Light and Miller Lite, brands of main U.S. rival Molson Coors.
Last week, analysts with Bank of America this week upgraded Anheuser-Busch InBev's stock from neutral to buy, but they stressed that in the United States, it's "hard not to be negative" amid the boycott.
The top bank lifted AB InBev's price target from $65 to $68, according to MarketWatch. The costs of goods sold pressures have begun to ease on the brand, while analysts cited how the brand is doing business in Latin America.
"Over the last few years, [Anheuser-Busch InBev] has transformed its business in many of its key markets (particularly in LatAm), with a more effective portfolio strategy, stepped-up innovation and digitization of its route-to-market with BEES (B2B), a clear competitive advantage," said analysts led by Andrea Pistacchi.
But they cautioned that it's "hard not to be negative" about the brand's U.S. volume outlook. They predicted that the permanent profit damage to Anheuser-Busch InBev due to the Bud Light backlash may exceed $1 billion, CNBC reported.
Reuters contributed to this report.
From The Epoch Times