Chinese smartphone company OPPO launched its chip branch, ZEKU, in 2019 when independent semiconductor chip research and development (R&D) was a national campaign of the Chinese Communist Party (CCP).
Four years later, China's chip bubble finally burst when OPPO abruptly terminated ZEKU. It is believed that more Chinese semiconductor developers will soon follow suit.
Experts analyzed that OPPO's decision is highly related to Xi Jinping's promotion of military industry bureaucrats within the CCP's hierarchy.
The Chip Bubble
When OPPO engaged in chip R&D, China was in a chip mania to develop key technologies subject to international sanctions. Chinese leader Xi Jinping was promising to guarantee financing, tax benefits, and preferable policy treatment to the sector.
In May 2019, the U.S. Commerce officially placed Huawei and its 68 affiliates on its Bureau of Industry and Security's (BIS) "entity list," banning the China-based company from buying components from U.S. companies without government approval and a 120 day grace period.
The sanction effectively choked Huawei's business as the China-based tech giant lost its access to supplies of advanced chips.
Consequently, private enterprises of all sizes in the IT industry, including the e-commerce giant Alibaba, all moved to cater to the authorities' call and joined the rising tide to chase a China-made chip, said Wang Guo-Chen, analyst at the Taiwan-based Chung-hua Institution for Economic Research.
However, Wang says that China's chip R&D has now entered its second phase, which is being led by the military industry, so OPPO's termination of its chip business is inevitable. "It is a new national campaign, the recent reorganization of the political hierarchy with a substantial number of personnel from the military industry has shown the sign," he said.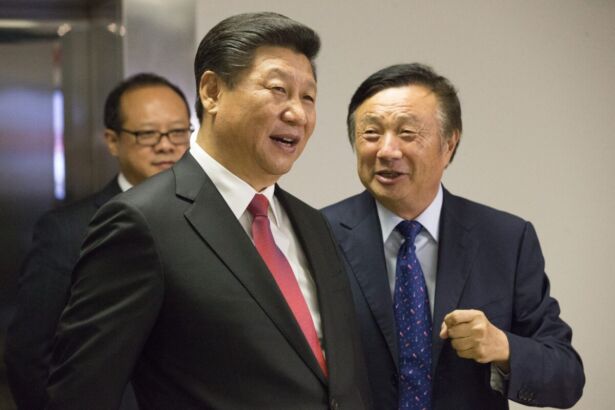 On March 12, Beijing's new leadership introduced two new vice premiers at the State Council with backgrounds in military enterprises as Xi secured his third term as the CCP's leader.
Vice Premier Liu Guozhong, 61, holds a major in fuse design and manufacturing for artillery systems, and Vice Premier Zhang Guoqing, 59, was trained at the East China Institute of Engineering's Department of Artillery.
Shift Focus to Military
In April 2021, the Chinese State Council publicized a call to state-owned enterprises to support a national transition to advanced information technology and chain development.
Large state-owned military industrial groups include the China National Nuclear Corporation, China Aerospace Science and Technology Corporation, China Aerospace Science and Industry Corporation, Aviation Industry Corporation of China, and China State Shipbuilding Corporation.
Wang said the State Council's statement provides the background context explaining the regime's coordination of the military industry and large state-owned enterprises, as well as the integration with national laboratories in chip R&D.
China has been preparing for this new phase of chip development centered on the military industry since the U.S.-China trade war, and it has been going on for a couple of years, according to Wang.
"It will be a matter of internal competition among their own chip production and research facilities," he said, and the increasing military chip R&D role has subsequently impeded the value of private sectors to Beijing. "This is one of the reasons why OPPO shut down its chip department," Wang said.
In January, it was reported that Beijing was pausing its massive investment in growing its self-reliant chip industry as the regime's extreme COVID restrictions was straining national finances.
According to Bloomberg, the CCP began look for an alternative approach to achieve its homegrown chip development, as the costly subsidies to China's chip industry "have so far borne little fruit and encouraged both graft and American sanctions."
Party Stifles Innovation
Tsung-Nan Lin, a professor at the Department of Electrical Engineering, National Taiwan University, said OPPO's move to develop its own chips was a hasty decision.
He gave the U.S. ban on exporting EDA (Electronic Design Automation) software tools as an example. He said the ban won't put an end to the integrated circuits (IC) development or OPPO's smartphone business, the company has failed to recognize that to make its own competitive chip isn't something achievable just by pouring in money.
In August 2022, the U.S. Bureau of Industry and Security announced a new ban on exporting semiconductor tech to China, including EDA software for making 3 nanometer and more advanced chips.
A senior IC designer based in Taiwan, Brad Liao, said Huawei's in-house semiconductor business HiSilicon pretty much operated with a blank check from the CCP which subsidised the company's efforts to develop its core chips. But for a private company like OPPO, to keep its smartphone competitiveness, it would have been a wiser business decision to procure first-class chips than to make its own chips from scratch, Liao said.
In 2020, the Pentagon listed Huawei as one of the "Communist Chinese military companies operating in the United States."
Since then, the Chinese regime has tried to encourage chip development by Chinese companies. Public records show that at least 45,300 Chinese companies dedicated to chip production or design were registered as of July 20, 2020; nearly 10,000 semiconductor companies in China have since closed for lack of expertise, talent, and facilities. In 2022 alone, there were 5,746 such companies applying for deregistration.
Prof. Lin believes that the Chinese chip industry will gradually move toward an internal economic circulation, which will have self-sufficient production for lower-end chips, as the technology and know how has already matured and there remains a huge domestic market.
However, "It will be quite difficult to step up on designing new-generation chips," he said.
Chin-Ho Hsieh, the founder of Business Today magazine, said the semiconductor industry can only develop, nurtur, and succeed when innovation is supported by international coordination, democracy, and tolerating failures in R&D.
Technological innovation leads development in the semiconductor industry, he said. However, the party leader leads everything in China. Under such a system where the party leads the technology, "It won't succeed no matter how much money is injected," he said.
Lin Cenxin and Luo Ya contributed to this report.
From The Epoch Times