The Biden administration will allow nearly half a million Venezuelans already in the United States—including those who illegally entered the country—to file for Temporary Protected Status (TPS), which will allow them to temporarily work and be protected from deportations, the White House announced on Sept. 20.
Secretary of Homeland Security Alejandro N. Mayorkas announced that the department is extending and redesignating its TPS program for Venezuelan nationals for 18 months due to "extraordinary and temporary conditions" in Venezuela that prevent individuals from safely returning.
Mr. Mayorkas noted the ongoing humanitarian, security, political, and environmental conditions in the troubled South American nation.
Some 242,000 Venezuelan immigrants already have TPS status following a 2022 decision for an extension of their protection until March 10, 2024.
However, the Wednesday announcement of redesignation will extend eligibility to applicants who arrived in the United States on or before July 31 this year.
The Department of Homeland Security (DHS) said the redesignation means that another roughly 472,000 Venezuelans currently in the United States may be eligible for protection under the program, which provides illegal immigrants employment authorization and protections from removal for a specified period, usually 18 months.
"Temporary protected status provides individuals already present in the United States with protection from removal when the conditions in their home country prevent their safe return," Mr. Mayorkas said.
"That is the situation that Venezuelans who arrived here on or before July 31 of this year find themselves in. We are accordingly granting them the protection that the law provides. However, it is critical that Venezuelans understand that those who have arrived here after July 31, 2023, are not eligible for such protection, and instead will be removed when they are found to not have a legal basis to stay," he said.
The department noted that immigrants applying for TPS under the redesignation must demonstrate that they are Venezuelan nationals, "or individuals without nationality who last habitually resided in Venezuela," who have been continuously residing in the United States since July and meet other eligibility criteria, like not having a criminal history in the United States.
According to the DHS, some applications from its Sept. 8, 2022, extension are still pending.
"U.S. Citizenship and Immigration Services will continue to process pending applications filed under the previous TPS designation for Venezuela," it said.
Those individuals with a pending application will not need to file a new application, it added, explaining that if the USCIS approves an application under the previous TPS designation for Venezuela, that application will be granted the new end date of March 2025.
Democrats Welcome Work Permits for Immigrants
The extension and redesignation of the TPS program for Venezuelans followed fierce campaigning from Democrats, including New York Gov. Kathy Hochul and Mayor Eric Adams, who called on the Biden administration to direct the federal government to help provide the sanctuary state with housing and support for the recent influx of illegal immigrants who have strained local and state resources and imposed overwhelming demands on New York's homeless shelters.
The New York officials also urged President Biden to expand work access for newly arrived migrants to allow them to resettle in communities more quickly and begin employment immediately.
Ms. Hochul's administration had already allocated $1.5 billion in state aid to address the influx of illegal immigrants, and in August, announced a $20 million investment to help expedite the casework filing process for more than 30,000 individuals seeking asylum.
Earlier this month, Ms. Hochul threatened to grant illegal immigrants in New York state-level work permits, effectively circumventing federal law, after the president failed to address her demands.
"After my productive conversation with President Biden last night, I'm grateful the federal government has acted so speedily to grant one of our top priorities: providing Temporary Protected Status to Venezuelan asylum seekers and migrants who have already arrived in this country," Ms. Hochul said in a statement on Wednesday.
"There's more work to do as we address this crisis, but the State of New York is prepared to immediately begin the process of signing people up for work authorization and getting them into jobs so they can become self-sufficient," she added.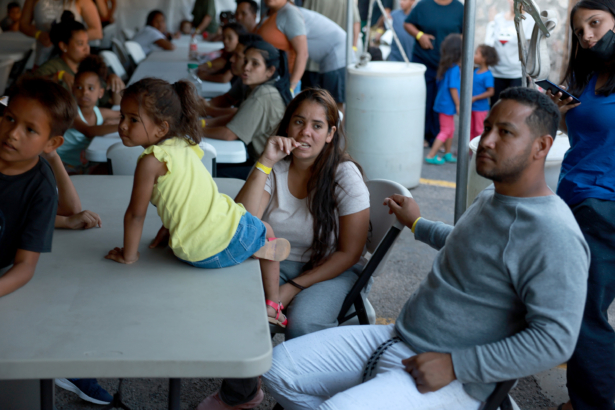 Elsewhere, Mayor Adams said more than 116,000 immigrants have arrived in New York since last spring alone.
"I am hopeful that we can continue to partner with President Biden to extend Temporary Protected Status to the tens of thousands of other migrants in our care from other countries," Mr. Adams said. TPS is currently extended to nationals of 16 countries.
"I look forward to continued work with our state and federal partners to deliver relief for asylum seekers and longtime New Yorkers with a national decompression strategy and expedited work authorizations so those entering our city and our country can provide for themselves and finally have a shot at living out the American Dream."
The latest TPS extension and redesignation stands alongside America's humanitarian parole program that allows entry for 30,000 immigrants from four countries: Cuba, Haiti, Nicaragua, and Venezuela, to be paroled into the United States each month.
The Biden administration also announced on Wednesday that, starting in October, it would begin accelerating the processing of employment authorization documents, or EADs, filed by those approved for TPS who applied via the CBP One app. In contrast with asylum seekers who haven't filed for TPS, TPS recipients are able to apply for work authorization immediately.
This will reduce processing from 90 to 30 days.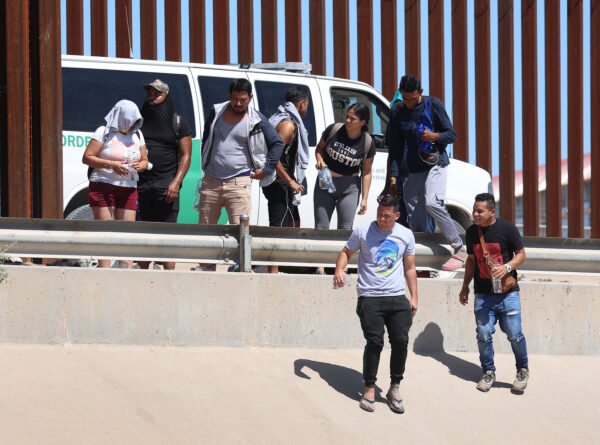 Biden Deploys More Border Agents
The extended TPS program comes amid a renewed surge of illegal immigrants at the southern border, which on Wednesday overwhelmed officials in the small Texas city of Eagle Pass, prompting Customs and Border Protection (CBP) to announce it was closing two bridges affected by the crossings and instead redirecting personnel to assist agents with taking migrants into custody.
"In response to this influx in encounters, we will continue to surge all available resources to expeditiously and safely process migrants. We will maximize consequences against those without a legal basis to remain in the United States. CBP will continue to prioritize our border security mission as necessary in response to this evolving situation," CBP said in a statement.
The bridge crossing into Del Rio remained open as of Wednesday afternoon but was reduced to two lanes.
A day prior, Mexican railroad operator Ferromex suspended its services in the northern region of the country after roughly half a dozen illegal immigrants climbed aboard its cargo trains, leading to some deaths and injuries.
The Biden administration said Wednesday it would deploy an additional 800 active-duty troops to assist Customs and Border Protection at the Southwest border, on top of 2,500 state National Guard personnel.
Nearly 7 million illegal immigrants have entered the United States since President Joe Biden took office, significantly overwhelming border towns and so-called "sanctuary states."
The Biden administration's handling of the ongoing immigration crisis has prompted concerns among Republican lawmakers who have taken aim at its "failed border policies."
In its press release Wednesday, the Department of Homeland Security (DHS) said that President Biden has "called on Congress to pass comprehensive immigration reform since his first day in office" and blamed lawmakers for failing to enact the reform.
This, officials said, has led to the president using the "limited tools" he has available to secure the border and "build a safe, orderly, and humane immigration system while leading the largest expansion of lawful pathways for immigration in decades."
From The Epoch Times