John Bolton, who served as national security adviser during the Trump administration, said on Monday that he will be briefed by Biden administration officials during a scheduled meeting on Feb. 15 about Chinese spy balloon incursions that happened during the Trump administration.
During an appearance on "Meet the Press NOW" on Feb. 13, Bolton said he's looking forward to the briefing, noting that he has "even more questions now" than when senior officials revealed last week that new intelligence found China had been conducting surveillance across the United States for "several years."
Bolton also said that he was not informed who will lead the meeting and if he would be the only former Trump official who has been invited to the briefing.
"It will be exciting to find out," the longtime diplomat who previously worked in the Ronald Reagan and George W. Bush administrations said.
Bolton is the first official who worked under former President Donald Trump to confirm publicly that he's receiving a briefing on three Chinese spy balloons that reportedly entered U.S. airspace during Trump's tenure. Bolton was asked on the show to issue an update on the matter after attending the Feb. 15 briefing.
At a press briefing on Feb. 6, John Kirby, coordinator of the National Security Council, confirmed that similar balloons like the one shot down on Feb. 4 near the South Carolina coast have transited U.S. airspace "at least three times" during the Trump administration and once at the beginning of the Biden administration.
White House national security adviser Jake Sullivan said improved surveillance capabilities allowed the United States to identify the Chinese spy balloon that traversed the country in early February and officials then detected similar balloon incidents that occurred during the Trump years.
Bolton, meanwhile, denounced the Biden administration's response during the Feb. 13 interview, explaining that he senses "confusion, disarray, and disorder" coming from the current administration.
"It was as big as three buses. It was 200 feet tall. Could we say with certainty it didn't carry a nuclear device, could we say with certainty it didn't have biological pathogens and toxins? We didn't really know, but it sailed all the way across the country. I think that was a huge mistake," Bolton said.
Responding to President Joe Biden's order to allow the balloon to remain in the air for days, which was at the recommendation of top military officials who suggested that downing the high-altitude balloon could cause potential harm to civilians on the ground, Bolton said the safety of innocent civilians certainly has to be considered, but he believes a lot of things could have been done to bring the balloon down safely.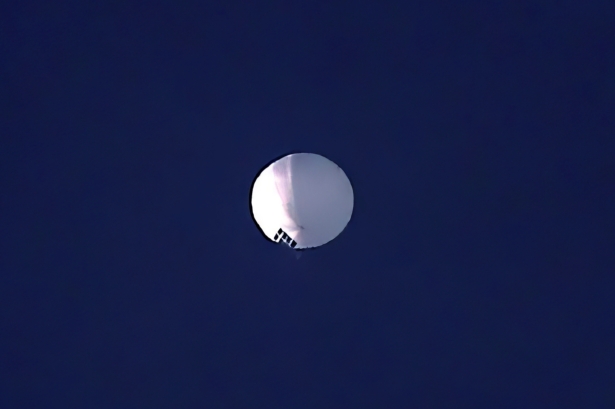 "There are large spaces in the United States—particularly in Alaska and Montana—that are sparsely populated. With aggressive efforts using the national guard, local law enforcement, a lot of things could've been done to bring it down on land," Bolton said.
"Not necessarily by firing a side-lined missile," he continued. "There could have been other ways to bring it down more slowly, I can't believe we don't have the technology to do that, and if we don't, now is the time to develop that."
Recovery Efforts
On Monday, the U.S. Northern Command confirmed that key electronics have been recovered from the suspected Chinese surveillance balloon, including sensors that are believed to have been used for intelligence gathering.
"Crews have been able to recover significant debris from the site, including all of the priority sensor and electronics pieces identified as well as large sections of the structure," the U.S. Northern Command said in a statement.
In addition to the Feb. 4 shootdown of the Chinese spy balloon, the United States shot down three more objects, which have not been clearly identified, in Canadian and U.S. airspace.
Canadian Defense Minister Anita Anand said on Monday that the country's Royal Air Force deployed multiple aircraft to search for debris from the object that was shot down on Feb. 11 over the Yukon Territory.
A CC-130H Hercules, two CC-138 Twin Otters, a CH-148 Cyclone, and a CH-149 Cormorant aircraft were deployed by the Royal Canadian Air Force to help recover the debris, Anand said on Twitter.
"Additional support is being provided from units forward deployed to Whitehorse, and Dawson City, Yukon Territory," she said. "The debris is located in a remote location northeast of Dawson City, in complex alpine terrain that is prone to challenging northern weather conditions."