The Biden administration announced on Friday it expects to end the public health emergency on monkeypox, also referred to as mpox, citing a low number of cases.
Department of Health and Human Services (HHS) Secretary Xavier Becerra said that because of the low number of cases, HHS "does not expect that it needs to renew the emergency declaration when it ends on January 31, 2023."
The administration this year first declared the 2022 monkeypox outbreak a public health emergency on Aug. 4. It renewed the emergency declaration at the start of November before Becerra's latest announcement.
Becerra said HHS "will continue to monitor the case trends closely and encourage all at-risk individuals to get a free vaccine."
While there are no vaccines or treatments specifically designed for monkeypox, treatments for smallpox, which belongs in the same family of viruses as monkey pox, have been made available to people most susceptible to the disease. This includes Jynneos smallpox vaccine and the antiviral drug TPOXX (tecovirimat).
New monkeypox cases in the United States have continued to drop after having peaked in early August, according to data from the Centers for Disease Control and Prevention (CDC). The seven-day moving average for cases as of Nov. 30 is 7—a large reduction from figures of above 500 back in early August.
As of Friday, 19 people have died from the monkeypox outbreak in the United States. The country has seen more than 29,500 cases. Globally, the CDC reported more than 82,000 cases.
Sexual Activity Cited For Mpox Spread
The monkeypox outbreak has spread primarily via the sexual activity of gay and bisexual men, according to a major study published in late July in the Journal of New England Medicine.
"About 98 percent of [Monkeypox] cases are among men who have sex with men–and primarily those who have multiple recent anonymous or new partners," Rosamund Lewis, the World Health Organization (WHO) technical lead for monkeypox, had told a press conference July 20.
The CDC in early August stated that men who have sex with men should "take a temporary break" from sexual activity until they are considered vaccinated, to help "contain … the outbreak." The agency also recommended that they limit their number of sexual partners; avoid places for anonymous sex with multiple partners; use condoms; and wear gloves during particular sexual activities.
"Monkeypox is not considered a sexually transmitted disease, but it is often transmitted through close, sustained physical contact, which can include sexual contact," the CDC said on its "Safer Sex, Social Gatherings, and Monkeypox" webpage which contains detailed and specific information tailored to lowering the risk of transmission during particular sexual activities.
Besides sexual activity, the virus can also spread through contaminated bedding, clothing, and towels, according to the CDC and WHO. More evidence, however, shows that the monkeypox virus is spreading through sexual contact and that many symptoms are similar to those experienced in sexually-transmitted infections.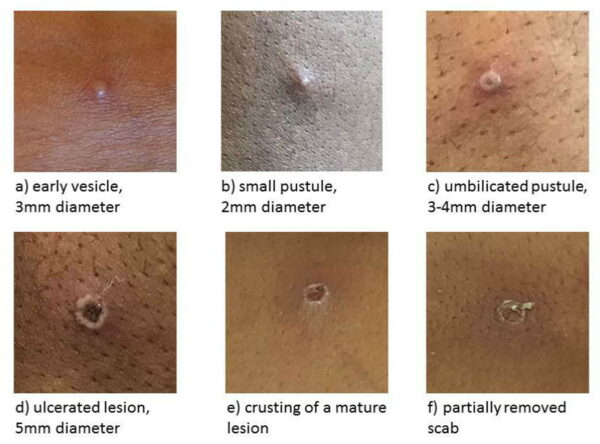 Cases Reported Among Children, Dogs
Monkeypox cases in the 2022 outbreak have been reported in juveniles and children. For example, around late July, CDC Director Rochelle Walensky confirmed that two children from opposite coasts of the United States contracted the monkeypox virus, adding that the children can be traced back to people from the "gay men's community." Walensky noted that infections may be due to household transmission, but did not elaborate on the link.
On Aug. 10, the first human-to-dog transmission of monkeypox was recorded in France in an article published in The Lancet journal. The dog, a pet of a homosexual male couple, was reported to have "mucocutaneous lesions, including abdomen pustules and a thin anal ulceration." The male couple had reported co-sleeping with the dog, according to the article.
The WHO recently recommended that monkeypox be referred to as "mpox" as the preferred term. It had announced its intention to provide a new name for the disease in June after a group of scientists called for monkeypox to have a "non-discriminatory and non-stigmatizing classification."
"When the outbreak of monkeypox expanded earlier this year, racist and stigmatizing language online, in other settings, and in some communities was observed and reported to WHO. In several meetings, public and private, a number of individuals and countries raised concerns and asked WHO to propose a way forward to change the name," the UN agency said in a statement on Nov. 28.
Caden Pearson contributed to this report.
From The Epoch Times