SAN DIEGO, Calif.—Australia will purchase up to five nuclear-powered attack submarines in the next decade as part of a much-anticipated deal formally announced on March 13 by U.S. President Joe Biden, Australian Prime Minister Anthony Albanese, and British Prime Minister Rishi Sunak in California.
Under the agreement, Australia will buy three Virginia-class hunter submarines by the early 2030s, with an option to buy two more—perhaps, Los Angeles-class attack subs—as part of the trilateral security pact known as AUKUS.
The submarines will be added to Australia's aging six-sub fleet in response to China's increasingly aggressive posture in the Indo-Pacific, especially in the South China Sea where it is building military bases on artificial islands abreast shipping lanes and air trade routes.
Biden, Albanese, and Sunak formally endorsed the deal at Naval Base Point Loma, a U.S. Navy attack submarine base in San Diego, as part of the AUKUS project.
"The United States has safeguarded stability in the Indo-Pacific for decades for the enormous benefit of nations throughout the region," Biden said, standing in front of the attack submarine USS Missouri. "We're showing again how democracies can deliver our own security and prosperity, and not just for us but for the entire world."
In a joint statement, the three leaders launched a proverbial flare across China's bow, claiming the submarines a needed check on its South China Sea ventures.
The statement called the agreement "the first major initiative of AUKUS," which was launched in 2021 to increase greater exchanges of naval technology and cooperation between the Americans, British, and Australians.
Under AUKUS, the navies will join forces for joint submarine patrols in the South China Sea to counter the Chinese regime.
U.S. Navy attack sub-rotational deployments will go from one Western Australia-based boat to four by 2030. The British will also permanently deploy a submarine to Western Australia, where the U.S. Navy has been scouting for a base for decades.
The pact will also deliver a new submarine class, called the SSN-AUKUS, with the UK to produce the first SSN-AUKUS to the Royal Navy in the 2030s, and Australia to deliver this submarine built in Australia to its Navy in the early 2040s, according to the joint statement.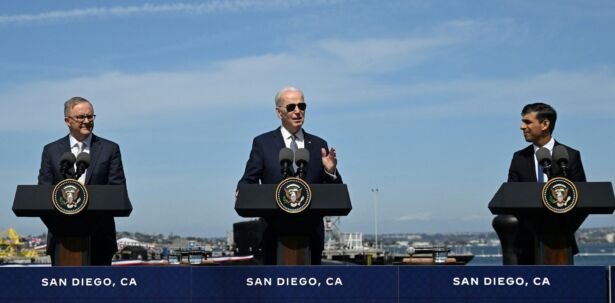 No Talk of Western Australia Base
There was no indication from the three leaders if a joint AUKUS submarine base—long-rumored near or on Dirk Hartog Island—will be part of "the second stage of AUKUS," which will include collaboration on hypersonics and other quickly-deployed weaponry.
The agreement also calls for industrial integration with shipyards in all three nations involved in producing the new Virginia-Class submarines and working on a new class of submarines being built with British designs and American technology.
"This plan is designed to support Australia's development of the infrastructure, technical capabilities, industry and human capital necessary to produce, maintain, operate, and steward a sovereign fleet of conventionally-armed, nuclear-powered submarines," the joint statement said. "Australia is fully committed to responsible stewardship of naval nuclear propulsion technology."
The sale caused friction among Western allies when the Australians in 2020 canceled a $66 billion contract with French builders to build 12 diesel-powered submarines.
The new agreement comes after an 18-month study by the Australian Navy to confirm securing a contract with Virginia-class manufacturer General Dynamics Corp. for up to five ships was the nation's best option.
US Will Share Secrets
The AUKUS submarine project is significant because the U.S. Navy has not shared its nuclear-propulsion technologies since partnering with Britain in the 1950s.
But the rewards of cooperation outweigh the risk of sharing secrets, the three leaders said.
Implementing AUKUS will "require robust, novel information sharing and technology cooperation," the joint statement said. "Our nations are committed to further trilateral collaboration that will strengthen our joint capabilities, enhance our information and technology sharing, and integrate our industrial bases and supply chains while strengthening the security regimes of each nation."
The deal will also make Australia the first nation outside the "Club of Five"—United States, Russia, China, Britain, and France—to put a fleet of nuclear submarines to sea.
U.S. Secretary of Defense Lloyd Austin in a statement emphasized the cooperation and integration between builders and navies in launching what the Pentagon is calling the "first phase of 'Optimal Pathway.'
"One of the most important parts of this partnership is increasing each of our countries' submarine capabilities," he said. 'I look forward to working with my team and with our Australian and British counterparts to continue to move toward our shared vision of a stable, secure Indo-Pacific and an open world of rules and rights."
No Talk of Critical Minerals
Before Biden arrived at the Point Loma submarine base, National Security Adviser Jake Sullivan had revealed various aspects of the deal, noting Australia's fleet of six Collins-class diesel submarines are essentially obsolete in contending with China, which has the world's largest Navy and has been building submarines at a rapid pace.
Albanese told reporters while visiting India on March 11 that the SSN-AUKUS deal is the single-biggest defense investment in the nation's history and that workers in South Australia and Western Australia would benefit from the deal, saying it "is about jobs, including jobs in manufacturing."
Sunak told reporters in England before departing for the United States. that AUKUS is "binding ties to our closest allies and delivering security, new technology, and economic advantage at home."
While the leaders did not mention how AUKUS will affect the exchange of strategic and critical minerals between the three nations, Australia currently produces half the world's lithium, which is a key component in electric vehicle (EV) batteries.
Australia exports most of its lithium to China, which manufactures more than 80 percent of the world's EV batteries and maintains a dominant "mine to market" position.
From The Epoch Times