President Joe Biden applauded the tentative deal reached between Hollywood writers and major studios on Sunday.
"I applaud the Writers Guild of America and the Alliance of Motion Picture and Television Producers for reaching a tentative agreement that will allow writers to return to the important work of telling the stories of our nation, our world—and of all of us," President Biden said in a statement on Sept. 25.
The Writers Guild of America (WGA), representing more than 11,000 writers, has been on strike since May 2. They have been demanding improvements in salary, particularly residuals for streaming programs, staffing requirements in writers' rooms, and limiting the use of artificial intelligence.
On Sunday, the WGA announced it had reached a "tentative agreement" with the Alliance of Motion Picture and Television Producers (AMPTP). However, the deal is "subjected to drafting final contract language," and the union members are not to return to work "until specifically authorized to by the Guild."
"We are still on strike until then. But we are, as of today, suspending WGA picketing," the WGA said, while encouraging writers to join the Screen Actors Guild-American Federation of Television and Radio Artists (SAG-AFTRA) picket lines this week.
The SAG-AFTRA, which represents more than 160,000 actors, went on strike on July 14.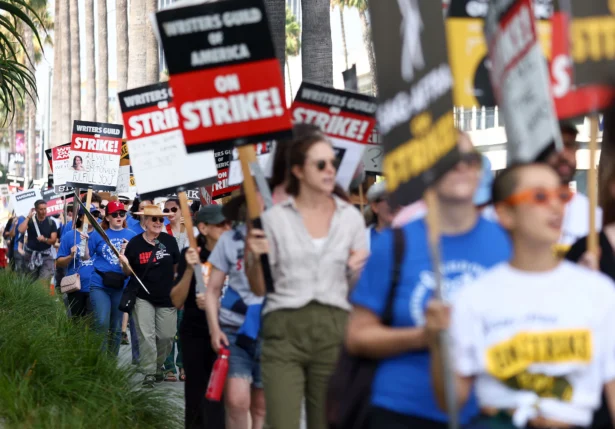 "This agreement, including assurances related to artificial intelligence, did not come easily. But its formation is a testament to the power of collective bargaining," President Biden added. "There simply is no substitute for employers and employees coming together to negotiate in good faith toward an agreement that makes a business stronger and secures the pay, benefits, and dignity that workers deserve."
"I urge all employers to remember that all workers—including writers, actors, and autoworkers—deserve a fair share of the value their labor helped create," the president concluded.
President Biden, who is trying to win the support of the working classes, has been endorsed by the AFL-CIO, the country's top union organization, for his 2024 reelection bid. The president is scheduled to travel to Detroit on Sept. 26 to show support for the United Auto Workers' strike against the Big Three automakers.
Several prominent Democrats also issued statements welcoming the agreement, including California Gov. Gavin Newsom, New York Gov. Kathy Hochul, and former House Speaker Nancy Pelosi (D-Calif.).
"I am grateful that the two sides have come together to reach an agreement that benefits all parties involved," Mr. Newsom said. "For over 100 days, 11,000 writers went on strike over existential threats to their careers and livelihoods—expressing real concerns over the stress and anxiety workers are feeling."
"I am pleased to see that the WGA and AMPTP have reached a tentative agreement to end the writers' strike," Ms. Hochul said.
"New York's film industry is the backbone of our economy, creating more than 50,000 direct and indirect jobs each year and generating at least $35 billion in investment over the past decade, and as the SAG-AFTRA strike continues, I hope that all of the parties can move quickly toward final agreements that get New Yorkers and businesses back to work," Ms. Hochul added.
Ms. Pelosi called the tentative agreement "a testament to the power of solidarity and another step in the right for the rights and dignities of working people."
From The Epoch Times