President Joe Biden authorized the Pentagon to order up to 3,000 reserve troops to be ready to deploy to Europe.
Mr. Biden said in his order that he determined "it is necessary to augment the active Armed Forces of the United States for the effective conduct of Operation Atlantic Resolve in and around the United States European Command's area of responsibility."
It's not immediately clear whether the Pentagon plans to actually deploy the reservists any time soon.
Operation Atlantic Resolve has provided deployments of combat-credible forces to Europe since 2014. The effort was launched in response to Russia's annexation of Ukraine's Crimean peninsula. Continued rotational deployments of troops to Europe seek to build military readiness.
Mr. Biden's order designates Operation Atlantic Resolve as a contingency operation for the first time.
Army Lt. Gen. Douglas Sims, the director of operations for the Joint Staff, told reporters at a press briefing on Thursday that the new designation "benefits troops and families with increases in authorities, entitlements and access to the reserve component forces and personnel."
Mr. Biden's executive order "reaffirms the unwavering support and commitment to the defense of [the North Atlantic Treaty Organization (NATO)'s] eastern flank in the wake of Russia's illegal and unprovoked war on Ukraine," he said.
Force Posture Levels in Europe Remain the Same
The lieutenant general noted that the reservists who may be ordered to active duty "are not additional forces; these are forces that will augment what we already have there."
As an example, he said the U.S. European Command might decide over time that someone from a reserve component unit may be able to take over tasks currently being done by active-duty troops. "In terms of where forces will go, it's really up to the U.S. European Command commander's decision."
U.S. European Command is preparing to use the new authority to continue the United States' commitment to NATO's collective security, spokesman Navy Capt. Bill Speaks said in a news release on Thursday.
"These authorities will ensure long-term resilience in EUCOM's continued heightened level of presence and operations. This will not change current force-posture levels in Europe," he noted.
Lt. Gen. Sims said that the Pentagon's support requirements have grown based on the level of troop presence and operations in the U.S. EUCOM area of operations. The new authorities provided by Mr. Biden's order will help the Pentagon better sustain its enhanced presence and levels of operations there, he said.
According to Mr. Biden's order, the units deployed can't exceed 3,000 total members at any one time.
Of these, up to 450 may be members of the Individual Ready Reserve. This mobilization category covers soldiers who recently departed from active duty but have a contractual commitment to their branch or soldiers who have moved from active duty to be part of the reserves but have not been assigned to a particular unit.
Cluster Bombs Have Arrived In Ukraine
In 2022, the Biden administration enhanced the U.S. force posture in Europe, which included adding 20,000 additional U.S. forces, bringing the total of U.S. military personnel in Europe to 100,000.
Since Russia invaded Ukraine in February 2022, the United States has provided Ukraine with over $40 billion in security assistance.
Lt. Gen. Sims told reporters on Thursday that the controversial cluster bombs the Biden administration last week announced it would send to Ukraine have since arrived.
The so-called cluster munitions, after they are fired, open in midair and release small bombs (bomblets) over a wide area to strike several targets simultaneously. They can be delivered by planes, artillery, and missiles. Two-thirds of NATO countries have banned such weapons because they can cause many civilian casualties.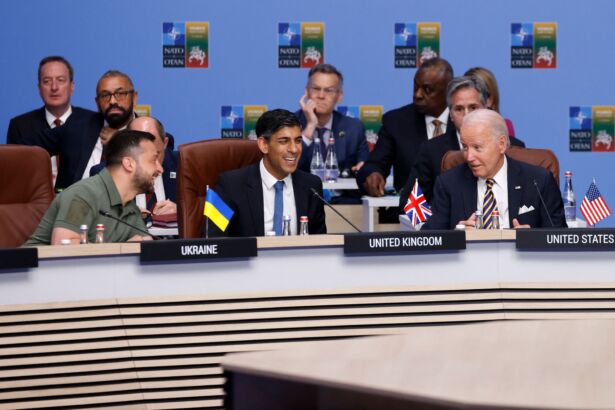 Earlier this week Mr. Biden met Ukrainian President Volodymyr Zelenskyy and other Group of Seven (G-7) leaders at the NATO summit in Lithuania, during which he and other G-7 leaders issued a joint declaration of support for Ukraine.
Mr. Biden said the declaration will "make it clear that our support will last long into the future," adding, "we're going to help Ukraine build a strong capable defense, across land, air, and sea."
Mr. Zelenskyy expressed frustration during the NATO summit that NATO members have failed to provide a timeline for Ukraine to join NATO, writing on Twitter on July 11 that it is "unprecedented and absurd when a time frame is not set neither for the invitation nor for Ukraine's membership."
U.S. national security adviser Jake Sullivan on July 12 reiterated the Biden administration's position that admitting Ukraine to NATO would likely result in conflict with Russia.
"Look, I understand Ukraine's desire to be in NATO as fast as possible. That is absolutely their right to seek admission, and press for it, and to advocate for it," he told the news channel. "But every NATO ally, including the United States, needs to look squarely at the fact that admission of Ukraine into NATO at this juncture means war with Russia. That is an inescapable fact."
Emel Akan and Michael Clements contributed to this report.
From The Epoch Times