President Joe Biden broke his silence on the deadly Maui wildfires on Aug. 15, promising that he and First Lady Jill Biden would visit the site as soon as they could.
While delivering remarks at a clean energy plant in Milwaukee, the president first took a moment to address the crisis in Hawaii, noting that he had spoken with Hawaii Gov. Josh Green on the flight to Wisconsin.
"My wife, Jill, and I are going to travel to Hawaii as soon as we can—that's what I've been talking to the governor about," he said. "I don't want to get in the way; I've been to too many disaster areas. But I want to go, make sure we've got everything they need. Want to be sure we don't disrupt the ongoing recovery efforts."
The fires broke out on Aug. 8 as the high winds from nearby Hurricane Dora combined with local drought conditions to create the perfect environment for dangerous wildfires.
The devastation was great in the historic resort town of Lahaina, where the conflagration reduced entire blocks of buildings to ash. The disaster is now the nation's deadliest wildfire in more than a century, having claimed the lives of at least 101 people.
"I've spoken to Gov. Josh Green multiple times and reassured him the state will have everything it needs from the federal government," President Biden said, noting that he had quickly approved the governor's request for a major disaster declaration.
He also said he had been in contact with Federal Emergency Management Agency (FEMA) Administrator Deanne Criswell to discuss the ongoing federal response efforts.
To date, FEMA has provided affected residents with 50,000 meals, 75,000 liters of water, 10,000 blankets, 500 beds, and other supplies. The agency has also authorized one-time payments of $700 per household to those impacted, and activated its Transitional Sheltering Assistance program to temporarily house displaced families in approved hotels and motels.
Pledging to continue to coordinate with local officials, the president added that his "thoughts and prayers" were with the people of Hawaii.
"But not just our prayers. Every asset, every asset they need will be there for them. And we will be there in Maui as long as it takes. As long as it takes—I mean that sincerely."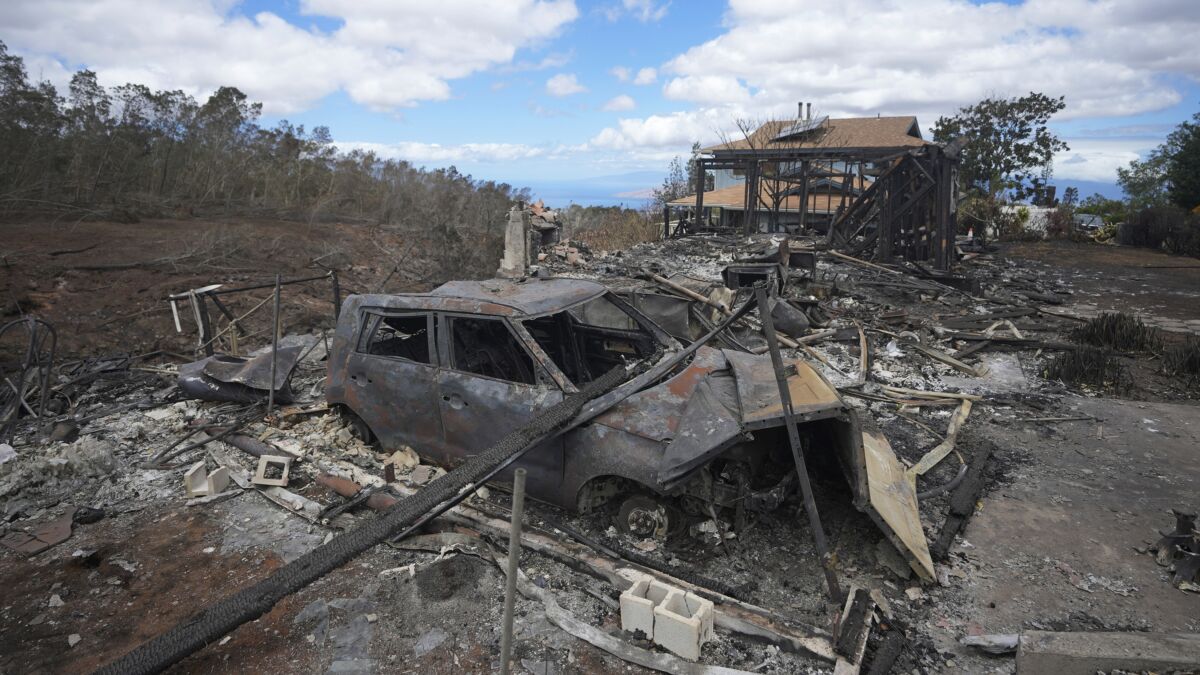 Criticism for Response
President Biden's comments came a day after he drew criticism for telling reporters he had "no comment" on the rising death toll from the disaster.
Conservative pundits and politicians slammed his lack of response and the fact that he spent the weekend vacationing on the beach in Delaware instead of visiting with Hawaiians who were suffering.
"Joe Biden couldn't be bothered to comment on the horrible tragedy in Hawaii. Too busy vacationing at the beach," wrote Rep. Ronny Jackson (R-Texas), a former White House physician, in an X post. "The tragic truth is he's not the one running the country. He has no idea what's going on. We deserve much better!"
Hours later, White House press secretary Karine Jean-Pierre responded to the criticism by assuring reporters that President Biden was "deeply concerned about the people in Maui" and that he was praying for them.
Noting the president's disaster declaration and the continuing response efforts, she added, "There's more than a dozen federal agencies that are dealing with this issue right now … and it is a devastating sight."
At the time, Ms. Jean-Pierre said the president had not scheduled a visit to the area
'Bidenomics'
The president made the trip to Wisconsin, a battleground state, to talk up his economic policies—which have been dubbed "Bidenomics"—as he vies for reelection next year.
"Guess what, folks? … It's working," he said of his plan, noting recent drops in inflation and the unemployment rate.
"At the same time, the pay for low-wage workers has grown at the fastest rate in two decades," he stated. "Wages are growing faster than inflation. Folks, that's Bidenomics."
But critics were quick to point out that food prices and overall inflation have increased since President Biden took office in January 2021.
"In America, you shouldn't have to take an early distribution from your retirement account or sell blood plasma in order to go to the grocery store," Sen. John Kennedy (R-La.) told Fox News.
According to Mark Zandi, chief economist for Moody's Analytics, the typical American household spent $709 more in July than they did two years prior for the same goods and services.
Meanwhile, during the first half of the year, bankruptcies reached their highest level in more than a decade. And just last week, Americans' credit card debt surpassed $1 trillion for the first time in history.
"President Biden is out there saying prices are high and your 401(k) is crashing because the economy is so good," Mr. Kennedy said. "He just doesn't get it."
The Associated Press, Emel Akan, and Tom Ozimek contributed to this report.
From The Epoch Times