WOODSIDE, Calif.—President Joe Biden has again called China's communist party leader Xi Jinping a dictator after their second face-to-face meeting that ended with the two countries addressing a set of contentious issues, including military communication, fentanyl, and Taiwan.
"After today, would you still refer to President Xi as a dictator, the term that you used earlier this year?" a reporter asked the president during a press conference after the meeting.
"Well, look, he is," President Biden replied. "I mean he's a dictator in the sense that he is the guy who runs a country which is a communist country based on a form of government totally different from ours."
The remarks came after a roughly two-hour long meeting at the secluded historic estate about half an hour south of San Francisco. The two spoke of their first interaction over a decade ago before heading into a closed-door meeting, with the U.S. side making clear that their goal was to stabilize the tumultuous bilateral relations rather than a complete reset.
The two sides agreed to restore military contacts that China cut off in August 2022 following the then-Speaker Nancy Pelosi's trip to Taiwan, as well as communications on the senior level.
"We're back to direct, open, clear direct communication on a direct basis," President Biden said at a late afternoon press conference. "He and I agreed that each one of us can pick up the phone call directly and we'll be heard immediately."
Aside from getting a Chinese commitment to stop the outflow of fentanyl precursors, President Biden said he also raised issues such as U.S. citizens barred from leaving China, human rights, China's "corrective activities" in the South China Sea, and peace and stability around Taiwan Strait. They also exchanged views on Ukraine and the Gaza conflict, the president said.
A senior administration official, in a background briefing just before the press conference, said that the president "did not pull punches."
"He was respectful but very clear."
The high-stakes meeting on the sidelines of the Asia Pacific Economic Cooperation summit was the second time the two met each other face-to-face during the Biden administration. Their previous in-person engagement happened during the G20 summit in Bali, Indonesia, last November.
Chinese state media have struck a positive tone toward the United States during the summit. The coverage focused on ties with the United States and bilateral agreements reached during the meeting.
A senior administration official, during a background briefing on Nov. 14, said that they had "come into this meeting with a high degree of confidence."
"I think China is facing some real challenges," the official told reporters. "These are not a secret," he said, pointing to the record-high youth unemployment and the property market crisis, a sector that's a key pillar of the Chinese economy.
"I would simply say that I think we feel good about the context in which the United States meets with the other leaders of the Indo-Pacific."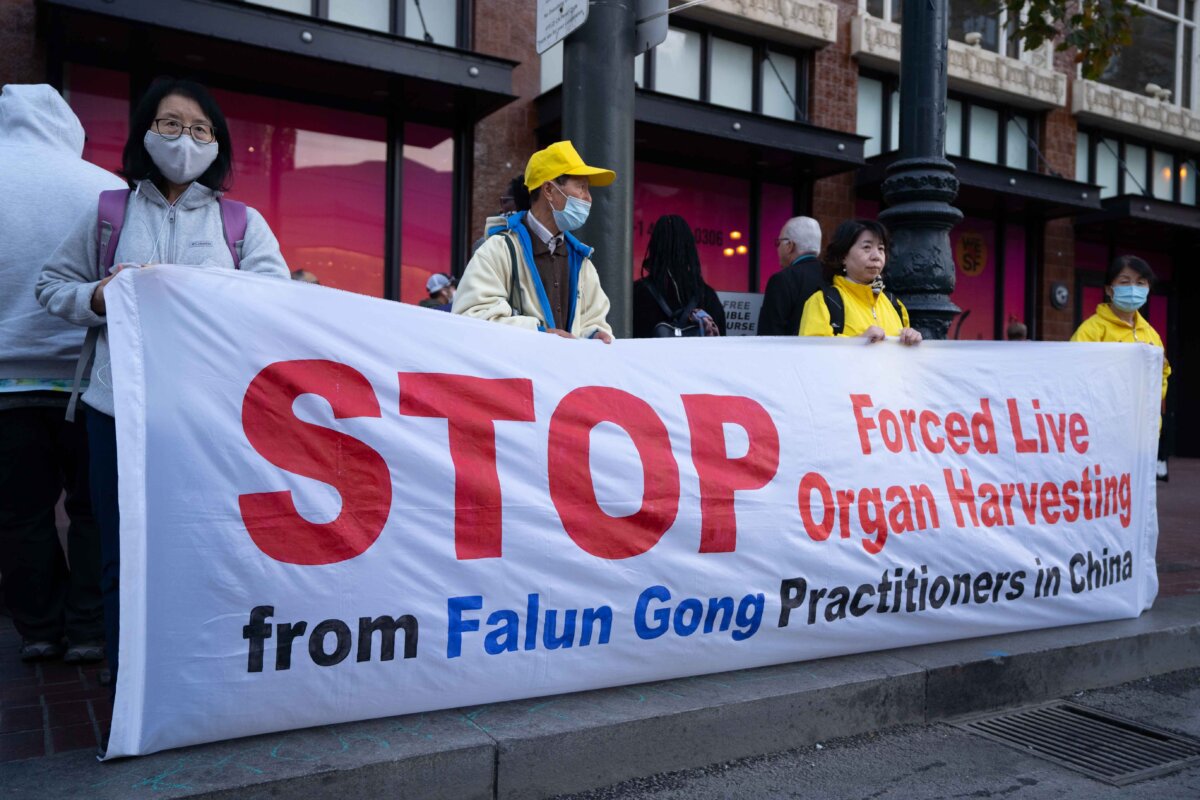 'Communist Party step down!'
The summit has drawn a diverse group of activists to San Francisco who were determined to spotlight the human rights abuses in China.
"I want to try all I can to tell people about the persecution" in China, said protester Jenny Zhang, a Falun Gong practitioner who was expelled from her university in China because of her refusal to give up her faith.
She added that her fellow adherents in China have been sent to labor camps and forced to make Christmas decorations that might end up in a U.S. household.
Everyone should play a part in ending these abuses, she told The Epoch Times.
Around noon on Wednesday, hundreds of protesters critical of the Chinese Communist Party (CCP) marched through downtown San Francisco, chanting slogans such as "free Tibet" and "Free Hong Kong."
A sizable number of pro-democracy activists also gathered outside the historic estate where the Biden-Xi summit took place, holding banners bearing words such as "CCP virus."
"Communist Party step down!" They shouted at one point. Next to them, pro-Beijing protesters waved large communist red flags.
The Epoch Times has reported that Chinese consulates are paying the Chinese community to entice their participation in counter-protests.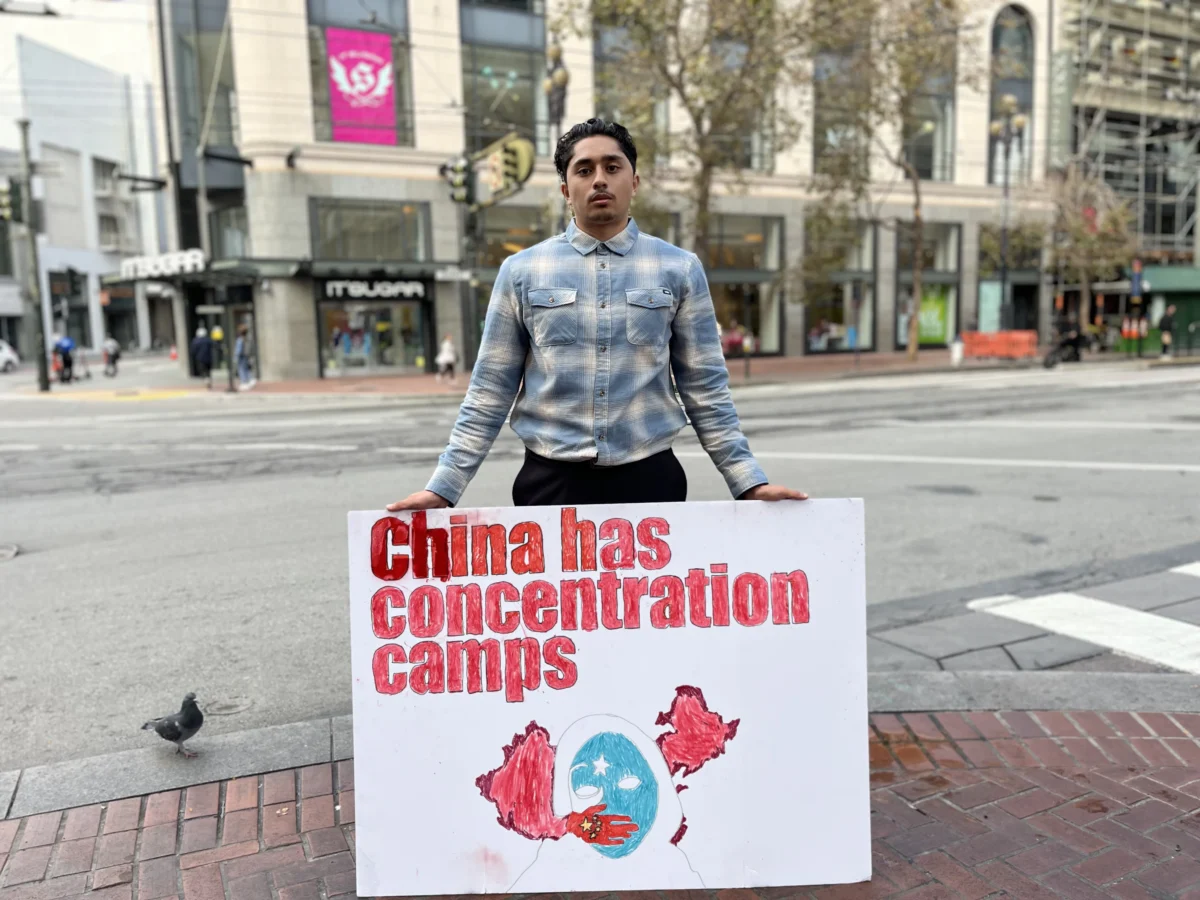 One solo protester who staged days of demonstrations in downtown San Francisco was Cruz Fairfield, an 18-year-old from Central Valley, California,
"Everybody in our media, including my own president, calls the dictator of China a president. China does not have a president, China has a dictator," Mr. Fairfield told The Epoch Times on Nov. 14.
Mr. Fairfield held a sign reading "China has concentration camps."
"I'm just here to spread awareness," he said. He hopes that when people think of an economic summit, they think I don't want to buy Chinese-made products.
President Biden has previously used the word dictator to describe Mr. Xi. In June, while recalling the spy balloon incident after Secretary of State Antony Blinken concluded his high-profile visit to China, President Biden said the balloon's takedown had upset the communist leader because he "didn't know it was there."
"That's a great embarrassment for dictators. When they didn't know what happened. That wasn't supposed to be going where it was. It was blown off course," he said at a fundraiser event in California.
A number of Republican lawmakers have called on the administration to "bring concrete deliverables" rather than concessions ahead of the bilateral meeting.
"Will President Biden confront President Xi for the Chinese Communist Party using TikTok to spy on and manipulate Americans?" House Energy and Commerce Republicans asked in a statement released ahead of the meeting. "Will President Biden hold China accountable for the lies it spread during the COVID-19 pandemic that has killed more than one million Americans?"
Rep. Mike Gallagher, who chairs the House Select Committee on CCP, meanwhile noted that Xi is hosting a dinner after the summit with business executives paying thousands to attend.
"It is unconscionable that American companies might pay thousands of dollars to join a 'welcome dinner' hosted by the very same CCP officials who have facilitated a genocide against millions of innocent men, women, and children in Xinjiang," he wrote in a statement.
From The Epoch Times