President Joe Biden said Thursday that he had no regrets that the Chinese spy balloon that traversed the United States wasn't shot down sooner, saying that he doesn't consider it to be a "major breach."
"I said I wanted it shot down as soon as possible, and they were worried about the damage that could be done, even if a big state like Montana," Biden said during an interview with Noticias Telemundo, referring to the Intelligence Community's concerns.
"This thing was gigantic. What happened if it came down and hit a school in a rural area? What happened if it came down? So I told them as soon as they could shoot it down, shoot it down. They made a wise decision. They shot it down over water, they're recovering most of the parts, and they're good," he said.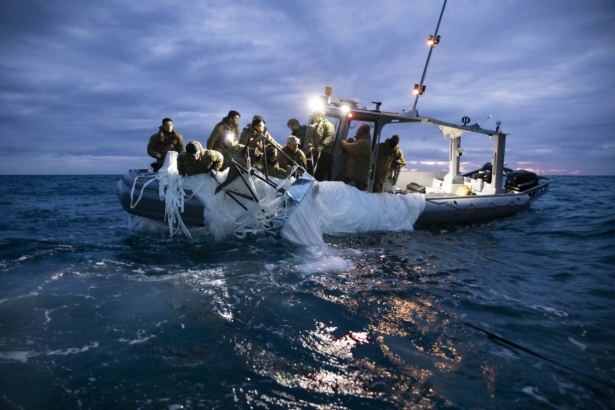 The majority of the wreckage from the balloon that was shot down off the coast of South Carolina on Feb. 4 is still floating in the ocean. The FBI has only recovered a small amount of physical evidence from the crash site and has not yet obtained enough information to determine the balloon's capabilities.
Biden disagreed when asked if the Chinese spy balloon being allowed to traverse the United States for several days was a significant security breach.
"No. The total amount of intelligence gathering that's going on with every country around the world is overwhelming. And the idea that a balloon could traverse … break American airspace is … anyway, it's not a major breach," Biden said.
"I mean, look, it's totally … it's a violation of international law. It's our airspace. And once it comes into our space, we can do what we want with it."
Biden said he instructed the military to shoot the balloon down as soon as possible over concerns that it could drop into a populated area if shot down over land.
Biden has come under fire from some lawmakers who say the spy balloon should have been shot down as soon as it entered U.S. air space.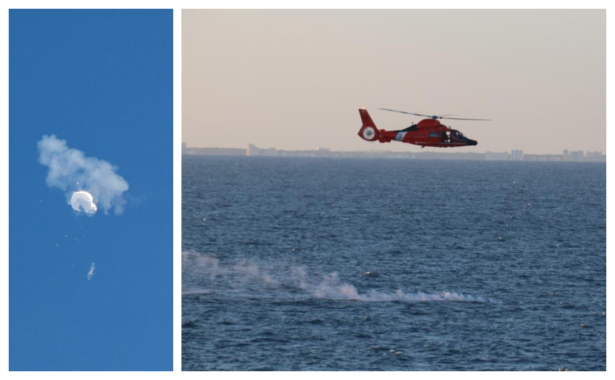 China's Widespread Spying Campaign
The United States has accused China of conducting a worldwide espionage campaign using similar balloons.
Secretary of State Antony Blinken announced that the United States is sharing intelligence with 40 nations targeted by China, revealing that they have discovered four prior instances of Chinese spy balloons entering U.S. airspace.
Pentagon spokesman Brig. Gen. Pat Ryder confirmed those incidents on Wednesday, saying that Chinese spy balloons had entered U.S. airspace in an apparent effort to spy on "strategic sites," in each case.
The presence of the spy balloon and its potential to gather information on U.S. nuclear sites has raised concerns about the possibility of an attack by China in the event of a conflict. Some experts believe that similar balloons could be used to activate electromagnetic pulse weapons over U.S. nuclear facilities, causing significant harm to the country's arsenal.
According to Paul Crespo, president of the Center for American Defense Studies, the FBI has not discovered any indications that the balloon carried a payload capable of causing harm.
"We have not identified any sort of any energetic or offensive material," he said.
A spokesperson from the State Department said that the firm that made the balloons for China's espionage program had a direct connection to the Chinese military.
The FBI officials stated that they currently do not have any information on where the balloon parts were produced. However, they said that once the evidence is obtained, it could be used for intelligence purposes or to bring criminal charges.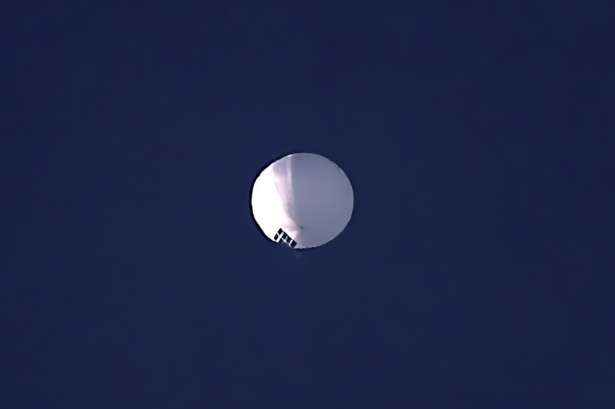 'Completely Unacceptable'
During a Senate Appropriations Defense hearing on the matter of China's high-altitude surveillance balloons, lawmakers said they'd hold members of the defense community accountable should Congress find fault with the Department of Defense's (DOD) decision-making.
"Make no mistake about it: What China did last week was completely unacceptable and a real threat to American sovereignty," said subcommittee Chair Jon Tester (D-Mont.). "It deserves a real response from a united America."
"I am prepared to hold anyone accountable, including the people seated before this committee today, to get real answers. This administration owes Americans answers not only on what happened this week but on what steps they're going to take to ensure that this never happens again."
The DOD officials at the hearing revealed that the U.S. military first detected the Chinese spy balloon over Alaska on Jan. 28, but deemed it harmless and took no action.
It wasn't until the balloon entered the airspace of the continental United States via Canada on Jan. 30 that the military informed Biden.
The United States' inability to identify or respond to the previous instances of espionage by the Chinese Communist Party probably encouraged Beijing to continue their spying activities, according to Tester.
Andrew Thornebrooke contributed to this report.
From The Epoch Times