President Joe Biden is ignoring Speaker Kevin McCarthy (R-Calif.) and his repeated call for negotiations on the nation's debt ceiling following House passage of a Republican debt and spending bill.
For weeks, Biden has refused to negotiate over raising the $31.4 trillion debt limit saying that doing so would put the "full faith and credit of the United States" at risk. The president has repeatedly called on Congress to pass a "clean" increase in the borrowing limit, unencumbered by restrictions on future spending.
Biden has also refused to talk about spending cuts, saying there would be no point until Republicans brought forward a spending proposal as a basis for discussion. The president released his 2024 budget proposal on March 9.
Republicans hurriedly packaged the Limit, Save, Grow Act, rushing it through committee in a single day and passing it by a 217-215 majority on April 27. GOP leaders intended it to be the basis for talks with Democratic leaders.
The bill authorized a $1.5 trillion increase in the debt ceiling, the unused portion of which would expire on March 31, 2024. The bill included spending cuts and caps that both Biden and Senate Democrats have said are unacceptable.
Moments after the bill passed, McCarthy renewed his call for the president to negotiate.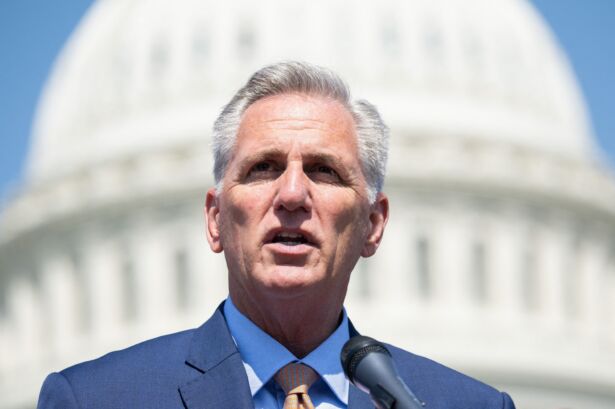 "It's up to you now," McCarthy told reporters, as if addressing Biden. "Whether the economy gets in any trouble, it's you. Because Republicans raised the debt limit. You have not. Neither has [Senate Majority Leader Chuck] Schumer."
However, the following day, White House Press Secretary Karine Jean-Pierre, when asked whether the president was ready to negotiate, repeated Biden's refusal to discuss the debt ceiling.
"The United States has never failed on its debt obligation," Jean-Pierre said at the press briefing on April 27.
"House Republicans are threatening a default and crashing the economy. As the president said yesterday, he is happy to meet with Speaker McCarthy but not to negotiate the debt limit."
When asked why the president was waiting, Jean-Pierre said, "They have put together an agenda—extreme MAGA. We cannot allow this to happen. I don't have anything new to say."
Several Democrats have voiced concern over the president's refusal to negotiate, notably Sen. Joe Manchin (D-W.Va.).
"Our elected leaders must stop with the political games, work together and negotiate a compromise. Instead, it has been more than 78 days since President Biden last met with Speaker McCarthy. This signals a deficiency of leadership, and it must change," Manchin said in a statement on April 20.
The debt limit would have been breached in January if not for extraordinary measures taken by the Treasury. Estimates on how long those measures will last have ranged from early June to late summer.
From The Epoch Times