President Joe Biden and Vice President Kamala Harris announced nearly two dozen endorsements on Nov. 4 for Virginia Democratic candidates running for the state's legislative elections this year.
Virginia is one of four states—the others are Louisiana, Mississippi, and New Jersey—with legislative elections in 2023, where all registered voters will be eligible to vote in the state's Nov. 7 general election.
All 40 state Senate seats and 100 state House seats are up for grabs this year, and both parties have put a huge amount of money and effort into winning as many seats as possible, particularly in the state Senate and suburban areas.
However, the balance of power will likely be determined by a handful of competitive districts in northern Virginia near Washington, D.C., central Virginia near Richmond, and southeast Virginia in the Hampton Roads area.
"With so much on the line this year, we can't afford to let this important election pass us by," President Biden and Ms. Harris said in a joint statement to the Richmond Times-Dispatch, announcing the endorsements. "So much hangs in the balance—not just for Virginia but for the direction of this country."
Endorsed Candidates
In a statement on X, formerly known as Twitter, the Democratic Legislative Campaign Committee (DLCC) revealed the slate of 23 endorsements, including some for swing-district Democrats.
The seven state Senate candidates endorsed by President Biden and Ms. Harris are state Del. Schuyler VanValkenburg (SD-16), Clint Jenkins (SD-17), state Sen. Aaron Rouse (SD-7), state Sen. Monty Mason (SD-24), Joel Griffin (SD-27), state Del. Danica Roem (SD-30) and Russet Perry (SD-31).
BIG NEWS: President @JoeBiden & VP @KamalaHarris just endorsed a slate of Dem candidates for the Virginia legislature! They know that these are the most important races of the year – it's critical that Dems hold control of the state Senate & flip the House of Delegates blue. ? pic.twitter.com/GGfKbDA7b5

— Democratic Legislative Campaign Committee (@DLCC) November 4, 2023
They are also endorsing 16 Democrats in the state House of Delegates, which are: state Del. Michele Maldonado (HD-20), Joshua Thomas (HD-21), Travis Nembhard (HD-22), Atoosa Reaser (HD-27), Marty Martinez (HD-29), Amy Laufer (HD-55), state Del. Rodney Willett (HD-58), Joshua Cole (HD-65), state Del. Shelly Simonds (HD-70), Stephen Miller-Pitts (HD-75), Kimberly Pope Adams (HD-82), state Del. Nadarius Clark (HD-84), Karen Jenkins (HD-89), Phil Hernandez (HD-94), state Del. Kelly Fowler (HD-96) and Michael Feggans (HD-97).
President Biden, who has not announced any plans to campaign in Virginia before next week's general election, also recently sent out a fundraising email on behalf of Virginia candidates through the DLCC.
While it's not unusual for a sitting president to support fellow Democratic candidates in state contests, it's usually candidates for governor or Congress rather than for the legislature. President Biden's last-minute involvement also appears to highlight Democrats' increased uncertainty in the battleground state.
In 2021, Republicans won a 52-48 majority in the House of Delegates and swept every statewide constitutional office. Meanwhile, Democrats hold a 22-17 majority in the state Senate.
Democratic Donors Going Big
The GOP hopes to gain full control of the state legislature and clear a path for Gov. Glenn Youngkin to enact his proposals on taxes, education, abortion, and other key policy priorities. Democrats, meanwhile, seek to maintain control of at least one chamber and possibly flip the other to continue to serve as a check against Mr. Youngkin's political agenda.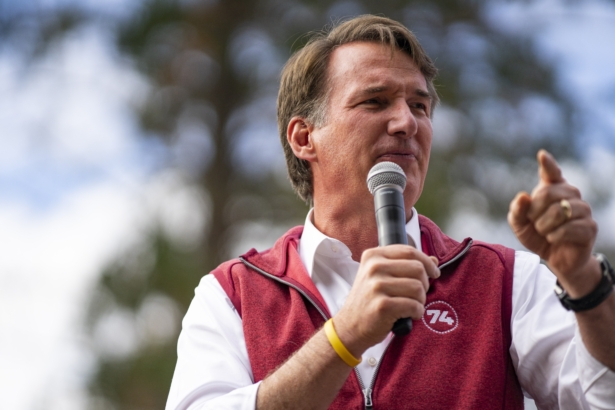 While Mr. Youngkin has been leading an effort to get Republicans elected to the state's House of Delegates and Senate, Democrats have top leaders, including former House Speaker Nancy Pelosi (D-Calif.), campaigning and holding fundraising for Virginia's state senate candidates and former President Barack Obama encouraging Virginians to vote.
The latest figures from Virginia Public Access Project (VPAP), which cover funds raised between Oct. 1 and Oct. 26, show Democrats outraising Republicans, more so in House races but with a smaller margin between the parties' totals in the Senate.
VPAP Senate finance data shows Democrats raised a total of $12.7 million to the GOP's $10.6 million. For House candidates, Democrats raised $14.2 million and Republicans $8.4 million.
The Nov. 7 election is being called a bellwether for 2024 of how the electorate may lean in congressional and presidential contests and the reason the two parties have poured millions into these midterm elections because whoever controls Virginia is more likely to win the White House.
Mr. Youngkin, who continues to be mentioned as a possible late entrant into the 2024 presidential race, has called the upcoming election one of the most important, not just for Virginia, but the nation.
The governor said he is hopeful Republicans can win the state Senate majority, and it is the next natural step since before he was elected, Democrats had a trifecta. Still, he was able to win his election in 2021, and right after that, Republicans won back the House majority.
In just a few days, it will be decided if Republicans achieve their trifecta, Democrats hold onto the Senate and take back the House, or if each party controls one chamber for another two years.
The Associated Press and Masooma Haq contributed to this report.