President Joe Biden has extended an executive order that declared a "national emergency" in the United States because of Russian actions in Ukraine that conflict with U.S. interests, according to a White House notice.
Signed in March 2014 by then-President Barack Obama, Executive Order 13660 declared "a national emergency" amid the "unusual and extraordinary threat to the national security and foreign policy of the United States constituted by the actions and policies of persons that undermine democratic processes and institutions in Ukraine; threaten its peace, security, stability, sovereignty, and territorial integrity; and contribute to the misappropriation of its assets," the March 2 notice states.
While the order was signed after Russia annexed the Crimean Peninsula from Ukraine, it has been expanded over the years with additional executive orders, including the taking of additional sanctions.
Just days before the Russian invasion of Ukraine in February 2022, Biden signed another executive order that "further expanded the scope of the national emergency declared in Executive Order 13660" and "relied on for additional steps taken" in other orders.
"The actions and policies addressed in these Executive Orders continue to pose an unusual and extraordinary threat to the national security and foreign policy of the United States," the White House said, adding that Biden will continue "for 1 year the national emergency declared in Executive Order 13660."
The White House added that executive orders "deal with" individuals who "undermine Ukraine's democratic processes" as well as threaten the country's security, peace, and sovereignty.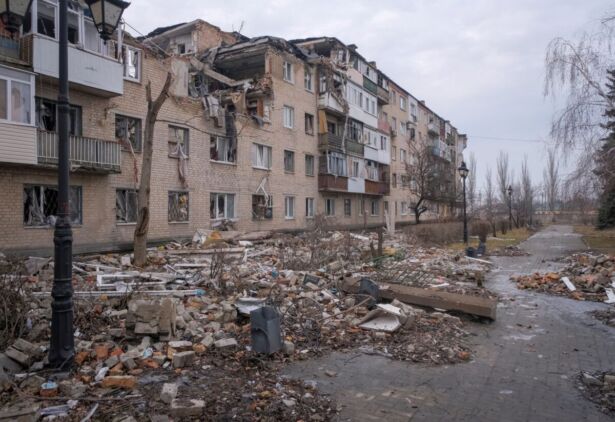 The statement comes as the war between Russia and Ukraine intensified in recent weeks in Bakhmut, located in the eastern Donetsk Oblast.
Ukrainian forces held out in the embattled eastern city of Bakhmut against Russian attackers on March 2, while President Vladimir Putin said Russia had been hit by what he called a terrorist attack in its southern Bryansk region bordering Ukraine.
Putin vowed to crush what he said was a Ukrainian sabotage group that had fired at civilians. Russia's FSB security force said later that the situation there was "under control."
Bakhmut has been reduced to a wasteland, with only a few thousand of its 70,000 pre-war residents still there amid street-by-street warfare. Russian troops, bolstered by Wagner Group mercenaries, have been advancing north and south of the city to cut it off.
The city has limited strategic value but Ukraine says it's exhausting Russia's invasion force in what has become the bloodiest battle of the war.
"Sooner or later, we will probably have to leave Bakhmut. There is no sense in holding it at any cost," Ukrainian lawmaker Serhiy Rakhmanin said late on March 1. The aim was to "inflict as many Russian losses as possible."
Also on March 2, U.S. Army Gen. Mark Milley, the chairman of the U.S. Joint Chiefs of Staff,  said he spoke with his Ukrainian counterpart, according to a Pentagon readout.
"They discussed the unprovoked and ongoing Russian invasion of Ukraine and exchanged perspectives and assessments. The chairman reaffirmed unwavering support for Ukraine's sovereignty and territorial integrity," Joint Staff spokesman Col. Dave Butler said in a statement about the call.
In Washington, National Security Council spokesman John Kirby said Biden and German Chancellor Olaf Scholz will discuss Ukraine assistance when they meet at the White House on March 3; the United States will announce another military aid package for Ukraine, Kirby told reporters at the White House.
Reuters contributed to this report.
From The Epoch Times