President Joe Biden made an unannounced visit to Kyiv, Ukraine on Monday, in a major show of support days ahead of the one-year anniversary of Russia's invasion.
Biden met with Ukrainian president Volodymyr Zelenskyy, who said he and the U.S. president discussed the provision of long-range weapons for Kyiv amid Ukraine's repeated urgent appeals for more military support.
The U.S. president pledged an additional half-billion dollars in aid and vowed that the United States would continue to stand by Ukraine in the conflict.
"As the world prepares to mark the one-year anniversary of Russia's brutal invasion of Ukraine, I am in Kyiv today to meet with President Zelenskyy and reaffirm our unwavering and unflagging commitment to Ukraine's democracy, sovereignty, and territorial integrity," Biden said in a statement.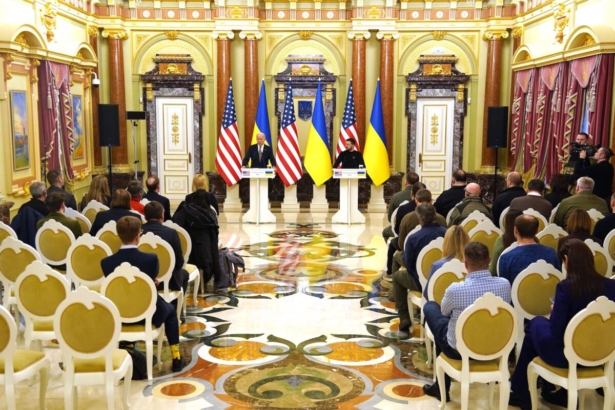 Biden's visit comes a day before Russian President Vladimir Putin is set to make a major address, in which he's expected to lay out Moscow's objectives for the second year of what he calls a "special military operation."
Putin has long argued that Moscow's actions are a kind of preemptive strike taken in self-defense to neutralize a growing military threat by Ukraine.
The Kremlin claims Western powers led by the United States have sought to establish as a NATO bulwark on Russia's borders.
Vasily Nebenzya, Russia's envoy to the United Nations, several days ago accused the West of scuttling a Russia–Ukraine peace framework known as the Minsk Agreements.
"The Minsk process was just a smokescreen to rearm the Kiev regime and prepare it for war against Russia in the name of your geopolitical interests," Nebenzya said in a statement.
'Ukraine Stands'
At a joint press conference in Kyiv, Biden recounted the early days of the invasion and fears at the time that the invasion might spell the end of Ukraine.
"One year later, Kyiv stands, and Ukraine stands," Biden said. "And America stands with you, and the world stands with you."
"This is the largest land war in Europe in three-quarters of a century and you're succeeding against all and every expectation except your own," Biden said, adding that he has "every confidence you're going to continue to prevail."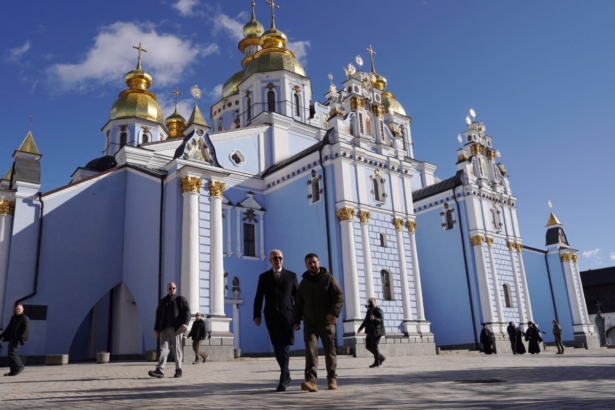 Biden announced in addition to the half-billion dollars in aid to Ukraine, howitzer shells, anti-tank missiles, air surveillance radars, but no new advanced weaponry that Kyiv has been seeking.
Ukrainian leaders have repeatedly called for Western powers to provide fighter jets. On the sidelines of the Munich Security Conference several days ago, Ukrainian Foreign Minister Dmytro Kuleba reiterated his appeal for the jets.
The West has been reluctant to send fighter jets into the conflict zone, fearing an escalation that might spill across the border into NATO-allied countries and potentially trigger the alliance's Article 5 provisions that an attack on one is considered an attack on all.
Zelenskyy said at the joint press conference that he and Biden spoke about "long range weapons and the weapons that may still be supplied to Ukraine even though it wasn't supplied before," though he did not go into details.
Biden also said that he would also announce later in the week additional sanctions against Russia.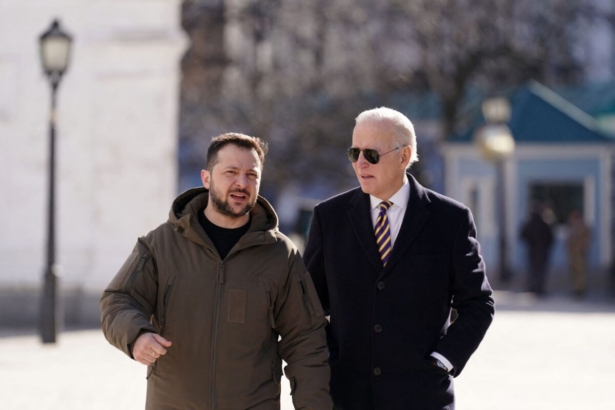 Biden Heads to Poland
The U.S. president's surprise visit to Kyiv comes ahead of a scheduled trip to Warsaw, Poland, which has been a major supporter of Ukraine in the conflict and which serves as a key hub for supplying weapons and other aid.
"I also look forward to traveling on to Poland to meet President Duda and the leaders of our Eastern Flank Allies, as well as deliver remarks on how the United States will continue to rally the world to support the people of Ukraine and the core values of human rights and dignity," Biden said.
There had been speculation ahead of Biden's trip to Kyiv whether the U.S. president would pay a visit to Ukraine around the anniversary of Russia's invasion.
The White House repeatedly said that there was no trip planned, though analysts said that security concerns would have made information about such plans tightly held.
Reporters asked White House National Security Council spokesman John Kirby on Friday whether Biden might visit other destinations aside from Poland.
"Right now, the trip is going to be in Warsaw," Kirby said at the time.
Biden's trip to Kyiv marks his first visit to a war zone as president.
From The Epoch Times