National security adviser Jake Sullivan held an unscheduled meeting with China's top diplomat Wang Yi in Malta during the weekend, the White House said.
The meeting was part of the Biden administration's efforts to reopen the high-level communication lines with China's communist regime and manage bilateral ties that have deteriorated over a slew of issues, from trade to Taiwan.
In the past three months, President Joe Biden has dispatched four cabinet-level officials to Beijing: Secretary of State Antony Blinken; Treasury Secretary Janet Yellen; John Kerry, President Joe Biden's climate envoy; and Commerce Secretary Gina Raimondo.
The White House called the recent meeting "candid, substantive, and constructive," while China's foreign ministry described the meeting as "frank, substantive, and constructive."
Mr. Sullivan and Mr. Wang discussed "key issues in the U.S.-China bilateral relationship, global and regional security issues, Russia's war against Ukraine, and cross-Strait issues," among others, a White House readout of the weekend's meetings said.
Mr. Sullivan "noted the importance of peace and stability across the Taiwan Strait" during the meeting, according to the White House statement.
The Chinese Communist Party (CCP) claims the self-ruled democratic island of Taiwan as its own territory, to be taken by force if necessary. In the past three years, Beijing has increased the warplanes it regularly sends to fly near the island. On Sept. 14, Taiwan's defense military reported that 68 Chinese military aircraft and 10 vessels were seen in its surrounding region.
During the meetings with President Biden's top aid, Mr. Wang reiterated the Chinese regime's stance on Taiwan, saying that "Taiwan issues is the first insurmountable red line in Sino-US relations," according to the summary of the talks issued by Beijing's foreign ministry.
The two sides agreed to maintain "maintain high-level exchanges" between the two countries, China's foreign ministry said.
Durability
The exchange came ahead of next week's U.N. General Assembly gathering in New York. While the U.S. State Department had expressed hopes that Mr. Blinken could sit down with Mr. Wang on the sidelines of the meeting or before the end of this year, China's foreign ministry on Friday said they're sending Vice Premier Han Zheng, instead. Mr. Wang attended the high-level engagement last year.
Mr. Wang is scheduled to travel to Moscow on Sept. 18 to have a meeting with Russian Foreign Minister Sergey Lavrov. The two top diplomats plan to "discuss a wide range of bilateral cooperation issues, including top-level and high-level contacts" and will "focus on efforts to strengthen collaboration on the international scene, Moscow's foreign ministry said.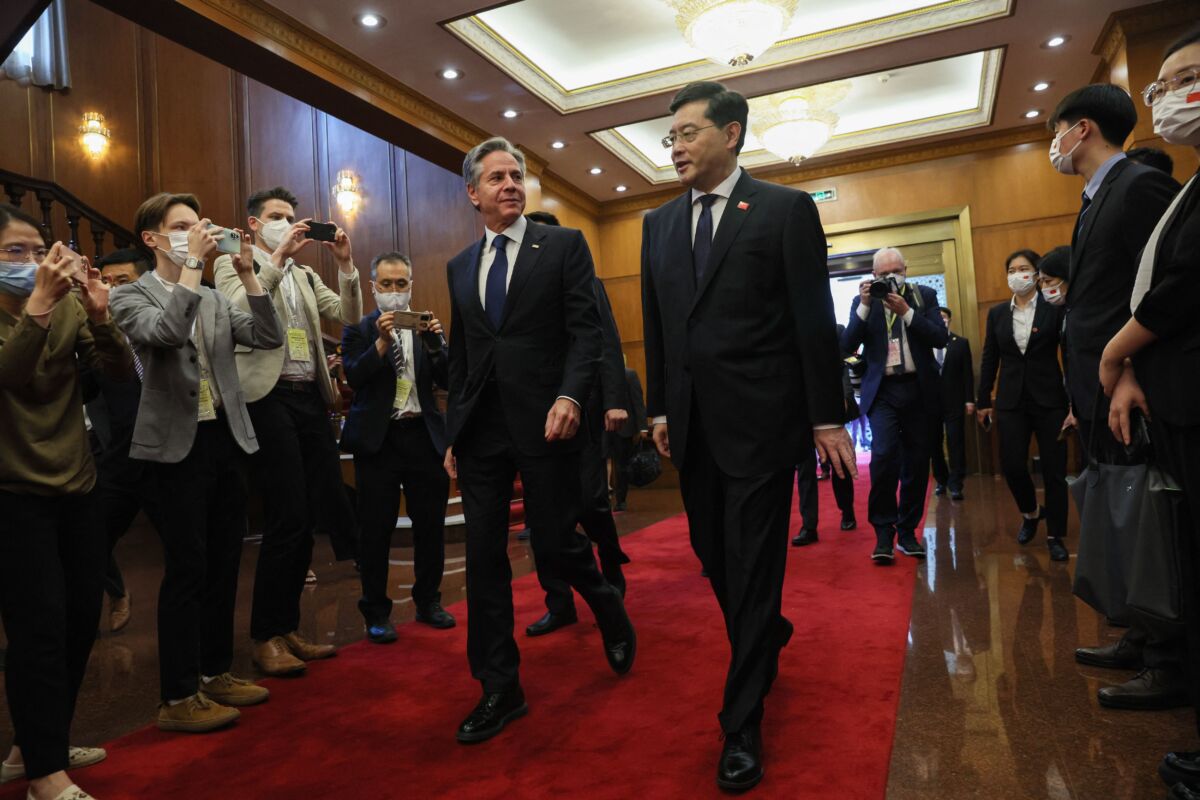 The meeting also came as the apparent instability of Chinese leader Xi Jinping's cabinet is under scrutiny.
In June, when China's then-foreign minister Qin Gang hosted Mr. Blinken in Beijing, the two sides agreed to continue their conversation in Washington at a time convenient to both sides.
Just over a week later, Mr. Qin vanished from the public eye.
On July 25, after a month-long, unexplained disappearance, Mr. Qin lost his foreign minister's job. No reason was provided in the brief official statement issued by state media.
Shortly after his dismissal, the foreign ministry erased nearly all of Mr. Qin's profile and public engagements from its website. While some of the mentions reappeared on the ministry's official page later, Mr. Qin, who was widely seen as Mr. Xi's protégé, has not made any public appearances since June.
Mr. Wang was reappointed to the foreign minister's post. The veteran diplomat had served as foreign minister for nearly a decade before being appointed to the CCP's Foreign Affairs Commission in January, a post that outranked the ministerial position in the regime's opaque political system.
As mysteries around the diplomat deepened, Mr. Xi on July 31 removed two top commanders he appointed to oversee the country's nuclear arsenal unit. Gen. Li Yuchao, the head of the People's Liberation Army's Rocket Force, and the military unit's political commissar, Gen. Xu Zhongbo, had not appeared in state media for months when their successor was announced without fanfare. The reason for their dismissal and their current whereabouts are unknown.
Now, China's Defense Minister, Gen. Li Shangfu, is missing from the public eye. A stream of reports citing sources in China and U.S. officials suggest that Gen. Li has been stripped of his responsibilities and is possibly under investigation for corruption, which would make him the fourth senior Chinese official falling from grace less a year into Mr. Xi's third term.
As of Sunday, Gen. Li hasn't been heard from publicly for 19 days. His last public appearance was on Aug. 29, when he addressed a security forum and held talks with visiting defense ministers from Ghana, Zambia, and several other African countries.
"As Shakespeare wrote in Hamlet, 'Something is rotten in the state of Denmark,'" Rahm Emanuel, the U.S. ambassador to Japan, wrote in a social media post on Sept. 15.
Mr. Emanuel has previously called the growing list of missing members of Mr. Xi's cabinet a resemblance to Agatha Christie's novel, "And Then There Were None."
Chinese authorities remain tight-lipped on the situation.
When asked about the defense minister at the briefing on Sept. 11, foreign ministry spokeswoman Mao Ning replied, "I'm not aware of the situation you mentioned."
During a press call on Sunday, a senior administration official told reporters that the two missing Chinese ministers "didn't come up" during the two days of exchange.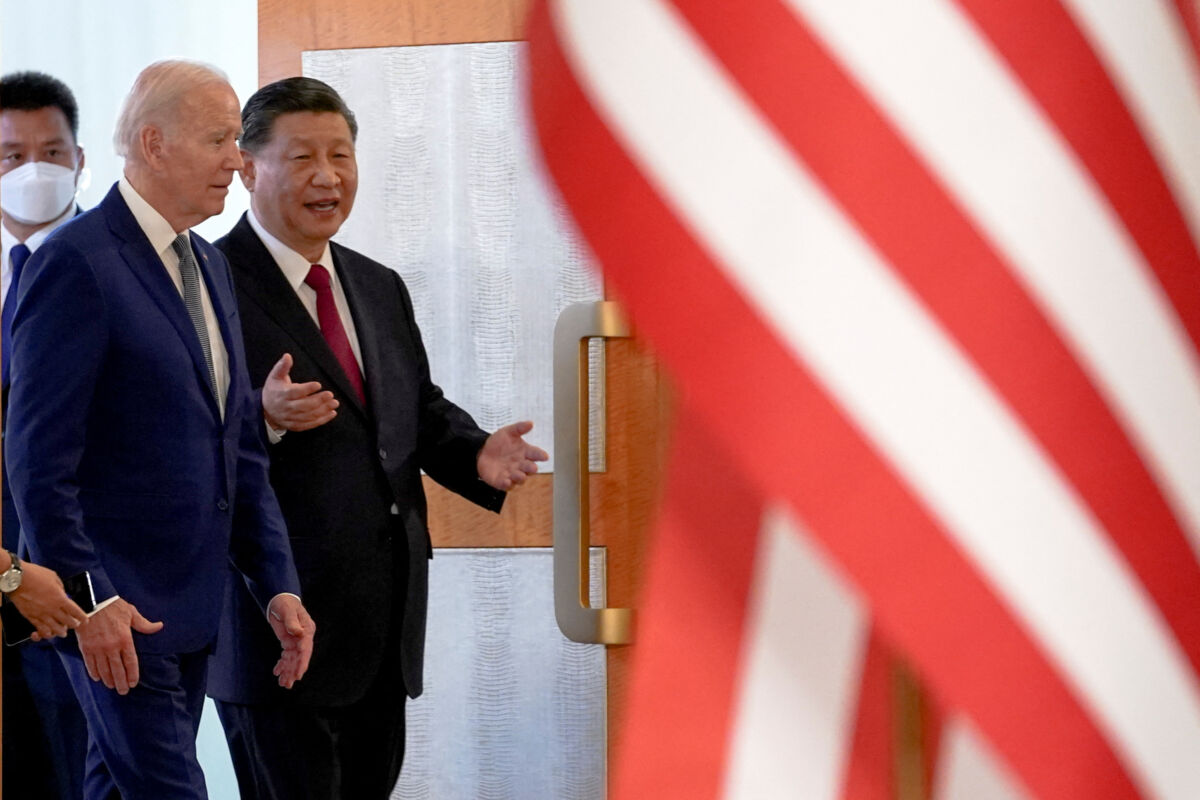 The senior administration official said Mr. Sullivan and Mr. Wang spent about 12 hours together over the past two days.
It's expected that these talks could help lay the groundwork for a meeting between President Biden and Mr. Xi during the Asia-Pacific Economic Cooperation (APEC) summit in San Francisco in November.
The senior administration official said there was no fresh information about the possibility of a Biden–Xi meeting in November at the APEC summit. But she stressed that it was a "constructive" discussion, with participants from both sides realizing the value of maintaining open lines of communication.
The meeting in Malta comes four months after Mr. Sullivan and his counterpart met secretly in Vienna. Mr. Sullivan underscored during the Malta meeting that the United States and China are in competition and that the United States does not seek confrontation, the senior administration official told reporters.
Emel Akan and Eva Fu contributed to this report.
From The Epoch Times