The United States has offered to provide additional support to Canada to help it respond to the devastating wildfires that continue to rage across the country, impacting air quality in eastern parts of the United States.
President Joe Biden offered Canadian Prime Minister Justin Trudeau the extra support during a phone call between the two leaders on June 7, according to a statement from the White House.
The call came as an estimated 414 fires continue to burn in Canada, of which 239 are considered "out of control," according to the Canadian Interagency Forest Fire Centre.
More than 3.8 million hectares have burned across the country so far, including roughly 500,000 acres in Quebec alone, sending thick plumes of smoke into the United States and drastically impacting air quality.
According to Natural Resources Canada, June will likely see continued higher-than-normal fire activity across most of the country.
Following his call with Trudeau, Biden subsequently directed his administration to deploy "all available Federal firefighting assets" to help rapidly assist in suppressing the fires impacting both Canadian and American communities, according to the statement.
The United States has already deployed more than 600 firefighters and support personnel as well as various equipment to help tame the fires in Canada, the White House said.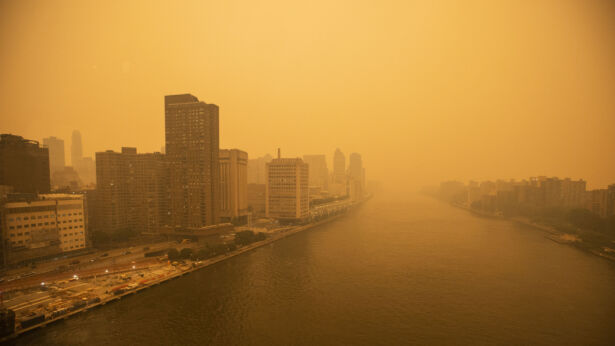 Air Quality Issues
Biden and Trudeau also discussed "continued cooperation" to prevent further wildfires and address the health impacts that such fires have on communities, according to the readout.
"They agreed to stay in close touch on emerging needs," officials said.
Trudeau's office, meanwhile, said he had thanked the U.S. president for his support so far in helping battle the wildfires, which officials believe are likely to have been accidentally caused by human activity and lightning.
"Prime Minister Trudeau noted that this contribution is yet another example of our two countries' long-standing cooperation and friendship. The two leaders agreed to remain in close and regular contact," the readout said.
Taking to Twitter shortly after the call, which in a bizarre twist of fate took place on National Clean Air Day in Canada, Trudeau said more and more wildfires were occurring as a result of "climate change."
"These fires are affecting everyday routines, lives and livelihoods, and our air quality," the Canadian leader wrote. "We'll keep working – here at home and with partners around the world – to tackle climate change and address its impacts."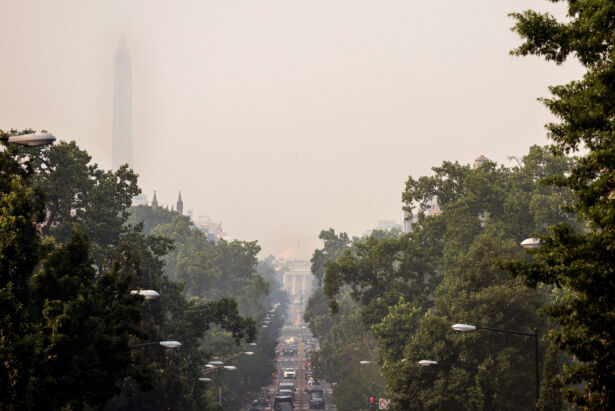 New York in 'Crisis'
Wildfire season typically begins in Canada in May, according to the National Oceanic and Atmospheric Administration, but this year fires broke out in British Columbia and Alberta in late April following record-breaking hot and dry weather, which increases the risk of fires.
Other fires then began in Quebec, Nova Scotia, and Ontario, sending thick clouds of polluted air into several U.S. states including Connecticut, Delaware, Indiana, Minnesota, and New York, among others.
On Wednesday, New York City became one of the most polluted cities in the world as smoke from the fires turned the clouds a hazy red, leading to decreased visibility and prompting some schools to cancel outdoor activities.
In a statement on Wednesday, New York Gov. Kathy Hochul called the sub-standard air quality across the city a "crisis" and a "dangerous situation."
"We've been monitoring this for well over a week since the fires started in Eastern Canada. And I would say over the last 48 hours, it has gotten significantly worse," Hochul said before urging New Yorkers to stay indoors wherever possible.
"This is detrimental to people's health. In New York State, we have over 1.4 million people who already have asthma. And when the air quality is bad, it's a significant risk for these individuals as well as seniors, children," the governor said.
From The Epoch Times